You'll study and learn with academics who are active researchers, experts in their field and have a passion for their subjects. Our approach to teaching will provide you with the knowledge, opportunities, and support you need to grow and succeed in a global workplace. Find out more about our approach to teaching and learning.
Teaching format
Teaching includes field-based learning, research-led teaching and a more traditional combination of lectures, tutorials, and seminars. Practical work is a key feature, both in individual projects and in groups.
Field trips form an important part of your course, with excursions (residential and non-residential) each year.
You'll participate in field trips to the North York Moors (Year 1) and to Tenerife (Year 2)
For the Placement Year, a dedicated member of staff will guide you through the process of finding a placement. You will be assigned a supervisor for your placement and be expected to contribute academic work based on your experience. Placements can be local, national or international.
Timetabled activities
In your first year, you can expect:
| | |
| --- | --- |
| Lectures | 4-6 hours per week |
| Seminars | 1-2 hours per week |
| Workshops | 2-4 hours per week |
| Practicals | 2-4 hours per week |
| Field trips | 1 week |
These figures are representative of a typical week. Your contact hours will vary throughout the year due to your module choices, non-compulsory classes, exam periods and changes to scheduled activities.
Outside your timetabled hours, you'll study independently. This may include preparation for classes, follow-up work, wider reading, practice completion of assessment tasks, or revision.
In the UK, full-time students are expected to spend 1,200 hours a year learning. That's about 40 hours of classes and independent study each week during term time. Everyone learns at a different rate, so the number of hours you spend on independent study will be different to other students on your course.
Facilities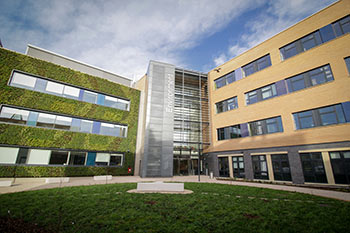 Our state-of-the-art building contains purpose-built labs, lecture theatres and seminar rooms.
Teaching location
You will be based in the Department of Environment and Geography, which is based on Campus West.
Your contact hours will be divided between the Department of Environment and Geography, the Department of Biology and other locations nearby.
About our campus
Our beautiful green campus offers a student-friendly setting in which to live and study, within easy reach of the action in the city centre. It's easy to get around campus - everything is within walking or pedalling distance, or you can always use the fast and frequent bus service.
Assessment and feedback
Each module will be assessed either by coursework, closed examination or a combination of both. Coursework can include:
practical write-ups
oral presentations
data analysis exercises
essays
reflective writing
In your final year, you will complete an independent research project based on your interests and career aspirations.
Percentage of the course typically assessed by coursework and exams
| | | | | |
| --- | --- | --- | --- | --- |
| | Year 1 | Year 2 | Year 3 | Year 4 |
| Written exams | 35% | 54% | 0% | 27% |
| Coursework | 60% | 39% | 100% | 73% |
| Practical exams | 5% | 7% | 0% | 0% |
The figures above are based on data from 2016/17.