Undergraduate study
A York degree is recognised and respected all over the world.
We hold a Gold Teaching Excellence Framework award, which marks our outstanding teaching, learning and outcomes for our students. As a student here you'll be challenged and stretched in a supportive environment through a variety of opportunities inside and outside the lecture theatre. From leadership to volunteering we'll expand your horizons and help you develop your skills to land your dream job.
Looking for a late place? Plan ahead, find out more, get tips and advice and sign up for our clearing and adjustment updates.

Open Days
Get to know us better and find out what studying and living in York is really like.
Find out more
Why York?
As a student at York, you'll be inspired by brilliant minds, discover exciting new activities and develop your ambitions in our supportive environment.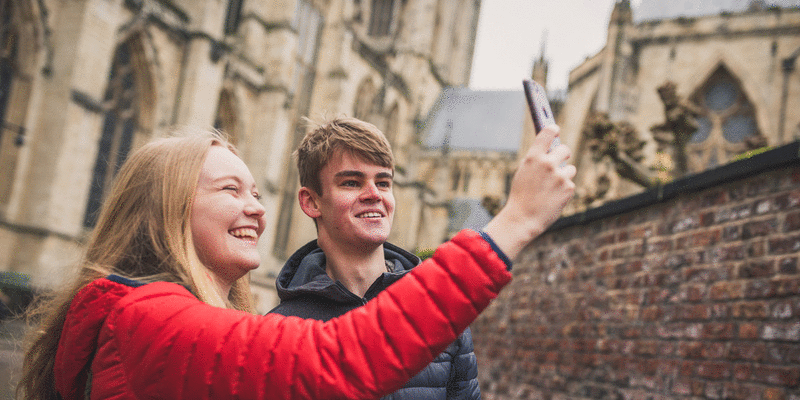 Life at York
University life is about much more than the lecture theatre. Through societies, sports clubs and college life, you'll get to harness your passions, try something new and you'll gain a wealth of experience that will impress future employers.
Accommodation
We offer a range of campus accommodation to suit you and your budget, from economy to premium.
Student life
Explore campus and city life and hear what our current students have to say about living here.
The city
Lively, full of culture and beautiful, York is regularly voted one of the best places to live and visit in the UK.
Preparing for your future
From the moment you arrive at York, we provide you with opportunities that will enhance your learning and set you up for a bright future in whatever you want to do.
Teaching and learning
Our research-led teaching means you'll be taught by academics who are involved in research that changes the world.
Your future career
We'll ensure you're equipped to compete with the brightest graduates for the best jobs, all over the world.
Study abroad
York has links with elite institutions and employers all over the world, where you can take part in a study exchange or internship.
What do you want to be?
Do you want to be challenged and inspired? Do you want to be able to think openly and be independent? Do you want to be taught by leaders in their field?
Watch our new video to find out what some of our students think about studying and living in York.
"I chose to come to York because it is a world-class university with a big focus on research and using that research to inform the study that you do here as well." Adam