Industrial Placements and Internships
Physicists play a vital role in many research and development based industries on a global scale. Due to their advanced analytical and transferable skills, the high demand for graduate physicists means that many students chose to enhance and build their CVs via scientific and technical work experience in an applied setting. Our industrial led placements allow you to gain practical, real world experience, enhancing your degree and enabling you to make informed choices on your career path and areas of expertise.
Undertaking an industrial placement will enable you to:
Gain practical work experience in a professional context
Enhance your transferable skills in applied settings
Develop project management, teamwork and problem solving skills
Gain salaried work, recruitment experience and opportunities of further employment
Led by the White Rose Industrial Physics Academy (WRIPA), who promote unique collaborations between leading industrial development partners, you will access support and guidance from our dedicated placement team to find the best opportunities to suit you.
Our industrial placements can be accessed through a variety of routes including final year projects, summer placements and a year in industry. In recent years our students have undertaken placement opportunities in leading companies and research organisations such as:
Kromek
Dyson
MM Microwave
BAE Systems
Jaguar Land Rover
Airbus
Selex ES
Institut Laue Langevin
Food & Environment Agency
MBDA Systems
Science and Technology Facilities Council
Thales
Placement and Internship Opportunities
An industrial placement year takes place in the penultimate year of study. After completion of your additional year placement you will return to York to complete the final year of your chosen BSc or MPhys studies. During an industrial placement, you will be assigned an industrial supervisor, who is an employee of the company, and an academic supervisor from the department; both will support and monitor your progress through your placement year. Registration onto the programme takes place during the first and second year and is open to all single honours physics students. As a year in industry student you will be responsible for applying and securing your chosen placement opportunity. Our dedicated placement team will assist you in placement opportunities and the application process, running a series of industrial visits and events to assist in your search. Placements however are not guaranteed and students who are not successful in obtaining a placement will be transferred to the standard physics pathways.
Summer Technical Placements
We operate and facilitate a wide range of summer placements designed to enable students to gain valuable work experience during the vacation period. These projects provide an excellent opportunity to undertake a challenging assignment in active areas of research and evolving technologies. Summer placements are normally conducted between an eight to ten week period and in many cases provide paid opportunities for students. Past summer placements have included MBDA Systems, Spirent Communications, Documobi, Jaguar LandRover, Rolls Royce and EDF Energy.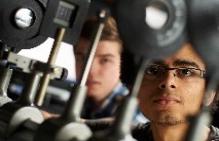 ‌
Industrial Final Year Projects
Undertaking an industrial final year project will allow you to work collaboratively with one of our industrial partners. It will provide you with the opportunity to design, build and evaluate new methods and apply solutions in an industrial context. Projects have included characterising the performance of a new type of radiation detector with Kromek; understanding the physical principles related to air flow and dust pickup with Dyson and examining the heat transfer to solids under different conditions including in air and liquids with Reckitt Benckiser (RB).
Any questions?
If you have any queries concerning the year in industry, please contact

Year in Industry Coordinator: Dr Andrew Hirst

+44 (0)1904 322285

andrew.hirst@york.ac.uk


Employability and Placement Officer: Mrs Beth Medley
+44 (0)1904 322850
Attn: Dr Andrew Hirst or Beth Medley
White Rose Industrial Physics Academy
Department of Physics
University of York
Heslington
York
UK
YO10 5DD