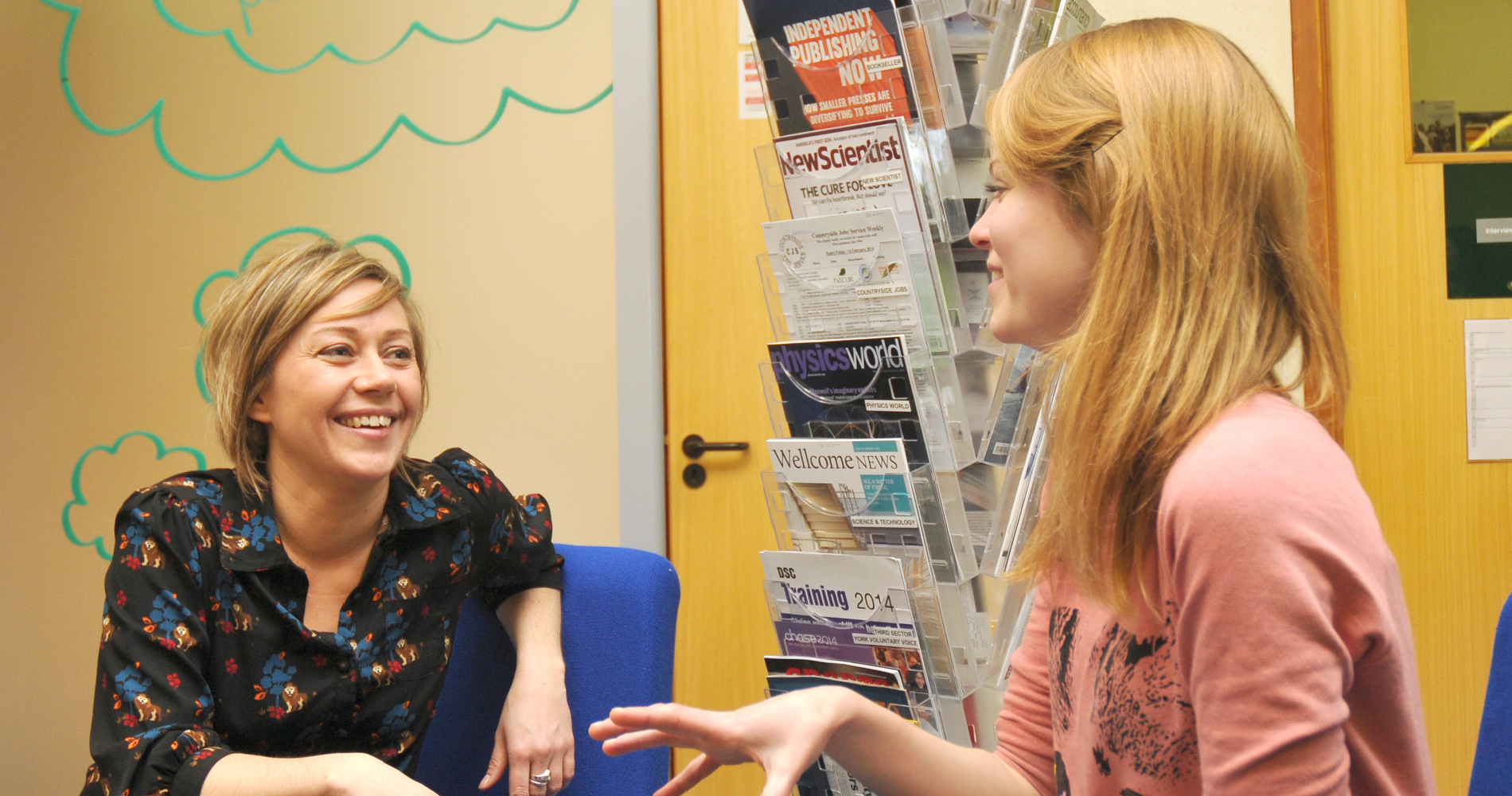 Physics visit and interview days
Here at York, we interview all promising undergraduate Physics applicants before making an offer. We'll invite you to our campus for a visit day, including an interview, so you can experience what York offers first-hand and find out if it's right for you. The interview is also a great chance for you to show off your skills to us.
Why do we interview?
There are lots of reasons to interview, but mainly we want to meet you and give you the chance to meet us. During the visit day you can find out more about student life at the University of York, and the interview allows us to better understand your potential. The most important part of this experience is the opportunity to chat one-on-one with an academic. This kind of interaction is a key part of your learning experience at York, so we feel it important to give you a flavour of it.
What should I expect?
Your visit will be packed with activities, including opportunities to find out more about the course and our facilities. We also offer a separate programme for guests. Student ambassadors and staff members will be available to show you around and share their perspectives. There's no formal dress code for the visit day - we want you to feel comfortable.
After your interview, our senior admissions tutor will combine the feedback from the academic leading your interview with the information you provided via your UCAS form. On the basis of this we will hopefully be able to make you an offer to join one of our courses.
We'll invite you to campus for 11am, aiming to finish the day around 4pm. All activities will take place in the Physics Exhibition Centre.
10am - Optional pre-booked laboratory activity
11am - Welcome and introduction to Physics at York
11:30am - Student Life Talk by Student ambassadors
12-3pm - Afternoon activities:
Lunch in a college dining room
Campus tour
Interview with academic staff
You may also:
Visit the undergraduate labs
Tour the Astrocampus
Participate in a Theoretical Physics lab session
Attend an introduction to the Department of Mathematics or the Department of Philosophy
3pm - Mini lecture
3:45pm - Complete questionnaire and depart
Please note that this is a sample timetable and actual timings on your visit day may differ.
Applicants' guests are welcome to join our guest visit day programme. Guests will have the opportunity to speak with student ambassadors and staff, as well as tour the campus and our Physics facilities.
We'll invite you to our Physics Exhibition Centre for 11am, aiming to finish the day around 4pm.
10.30am - Optional tour of the undergraduate laboratories
11am - Welcome and Introduction to Physics at York
12pm - Buffet lunch in the Exhibition Centre
12.30pm - Optional tour of the undergraduate laboratories
1.10pm - Tour of campus
2.10pm - Refreshment break
2.30pm - University of York Talk
3:00pm - Mini Lecture
3.45pm - Complete questionnaire and depart
For those able to join us a little earlier, we offer applicants the chance to take part in a hands-on physics laboratory session from 10am. Spaces for this activity are limited and allocated on a first come, first served basis.
Due to the limited number of places, this activity we are only able to offer this opportunity to applicants.
The interview is a chance to showcase your skills and potential. The academic leading your interview will patiently support you through this process, even if you're feeling a little nervous beforehand. Our aim is that you can relax and enjoy the experience of talking with an expert about a subject you are passionate about.
We encourage you to treat the interview as a discussion. Feel free to share ideas, ask questions, or seek help. We are interested in your approach to learning something new and we see mistakes as part of the learning process.
Interview format
We'll ask you some general questions about your application and also some technical maths and physics questions. For example, we'll want to hear about why you have applied for York, and for the particular course that you've chosen.
Example questions may include:
Do you have a passion for any particular subject in physics?
What attracts you to York?
What are your plans for your future career?
The technical questions are designed to see how you think about and explain things. The physics questions will be open-ended and might not be on a topic that you have studied before. You'll apply your existing knowledge to the questions asked with the support of your interviewer.
At the end, you'll have the chance to ask any questions you may have about the course, the University, or the city of York itself.
Remember: be honest, be yourself and relax.
If you are unable to join us in person, the admissions team considers requests to conduct your interview online via a Zoom video call. The format of the interview will be very similar to that of an in-person interview, but we allow a little more time in case of technical delay.
We encourage you visit our campus in person if you are able, either before or after your online interview, so that you can experience the campus and facilities first-hand. The University of York offers a range of visit and open days, and we will do our best to accommodate informal visits too.