Maths is about patterns, numbers and geometry as well as more abstract concepts. It's also about applying those concepts in practical problem solving. Study the world with us through the prism of mathematics.
Why study maths at York?
Our courses cover the full spectrum of mathematical sub-disciplines, taught in traditional lectures supported by seminars. You'll use abstract concepts to solve practical problems in a variety of fields, such as finance, IT, engineering, weather forecasting and more.
Learn from leading mathematicians in lectures, and get close support from our academics in group tutorials and seminars. We're a friendly departmental community, where our staff strive to make every student feel supported. We run drop-in sessions on first-year modules and the student-run Mathematics Society holds weekly peer-assisted learning groups.
Course options
There are opportunities for you to spend time abroad during your course. You'll also have the chance to take a placement year. If you're studying at a university outside the UK, you may be able to spend up to a year in York as a visiting student.
Supportive learning environment
2nd for 'assessment and feedback' and 'academic support' in mathematics, of the Russell Group universities included in the National Student Survey (2022).
High quality courses and teaching experience
14th in the UK for Mathematics (Complete University Guide 2023).
Dedicated study spaces
A productive environment for individual and group projects, and for study events led by our student-run Mathematics Society.
Maths graduates are in great demand from a wide range of employers. You'll learn sought after skills in communication, problem-solving and critical analysis.
Our dedicated support team will help to prepare you for the next step of your career. This includes advice for CVs and cover letters and an annual careers fair specifically for maths students.
You can choose to spend a year completing a placement in the UK or abroad to gain work-related experience, apply your academic knowledge and improve your employability. Or spend a year abroad and boost your confidence, independence and language skills.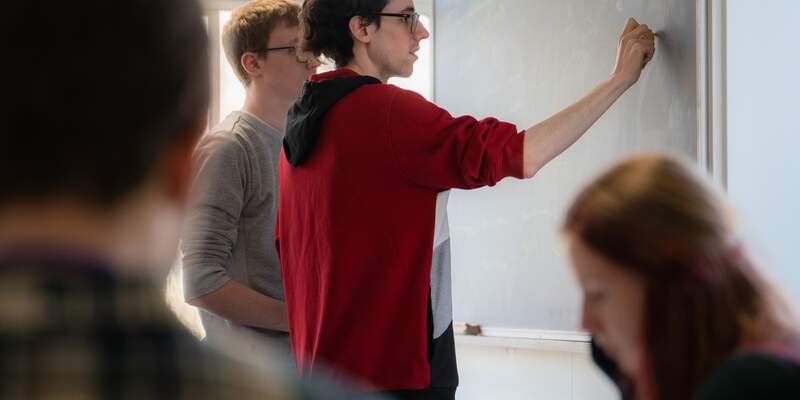 Student and graduate stories
Hear what our students and graduates have to say about studying with us.
There is so much to do at York and many things that made my time so enjoyable: MathSoc, interview days, the study space, Roger Kirk lunches… I could go on! During my time at York the department consistently gave me opportunities to not just study but do outreach work as well, such as working on Pi Day for local schoolchildren.

Chris, MMath Mathematics
Having the opportunity to study a wide range of subjects was really fantastic. My options ranged from data structures to 3D heat distribution to quantum mechanics. It's that breadth that has given me a wonderful grounding as I've moved around.

I've always worked in building and running computer systems. I worked in London and Denmark before moving back to York to work for a startup. I'm currently working for Sir Tim Berners Lee at Inrupt.

David, BSc Mathematics