Prof Chantrell receives the Achievement Award of the Magnetics Society
Prof. Chantrell is to receive the Achievement Award of the Magnetics Society of the Institute of Electrical and Electronics Engineers. This is the highest award of the society, and is awarded annually for technical achievements. Professor Chantrell will receive the 2018 award, "For contributions to the theory of interacting spin systems and application to the understanding of magnetic recording media and ultrafast magnetization processes." The award will be presented at the Intermag conference in Singapore in April.
More information about the award and previous recipients can be found here
1st Advanced Vampire Workshop:
10-15 September 2017 ‌
The first advanced VAMPIRE workshop will be held in the Department of Physics at the University of York between 10th - 15th September 2017. The workshop is targetted at scientists and engineers wishing to study magnetic materials and devices at the atomistic level. The workshop will cover the basic and advanced features of the VAMPIRE code which can be used to study a wide range of magnetic materials and phenomena, from zero temperature ground states, equilibrium properties and magnetization dynamics.
For more information, please visit Vampire workshop website. Click here to register.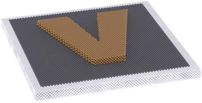 Congratulations and welcome back to Jay and Noi
Dr Jessada Chureemart (Jay) and Dr Phanwadee Chureemart (Noi) have been awarded the status of Honorary Visiting Fellow and will rejoin the group.
Dr Jessada Chureemart and Dr Phanwadee Chureemart are Assistant Professors in the Department of Physics, Mahasarakham University, Thailand. They have worked with the computational magnetism group since graduating with PhDs from York in 2013. They have strongly collaborated with the group led by Professor Chantrell and Dr Richard Evans in many projects: A Samsung project in MRAM, Seagate projects and a collaborative project under the Newton fund (IAPP). The aim of the collaborative projects are to develop the link between Mahasarakham University and the University of York, to share the knowledge as well as to enable strong international interactions among leading physicists and students.
They said "It is a great honour and opportunity for us on being awarded the status of Honorary Visiting Fellow. We are looking forward to strengthening our collaborations and pass this on to our students and learn experiences from the people in York".
C-MAG joins the SpinTronicFactory
The C-MAG group recently became a member of the SpinTronicFactory (STF) , the main aims of which are:
• Increase the industrial impact of spintronic applications in the European Union
• Develop synergies among Key Enabling Technologies (KETs) and different H2020 programs (FET, NMBP, ICT, ITN, ECSEL)
• Create links with other industrial networks as for example EFFRA, AENEAS, etc.
• Build new synergies among partners and potential consortia for future EU calls
• Improve visibility of spintronics in EU and work on the related dissemination
For more details see http://magnetism.eu/88-the-spintronicfactory-stf-.htm.
As part of the STF consortium York is involved with a coordination and support activity (CSA) application to the EU H2020 FETOPEN programme. The CSA has the aim of enhancing collaboration within the EU and creating a business-oriented Roadmap for Spintronics to involve the industry in spintronics applications and ultimately organize the community for its participation in a future EU Flagship program.
January 2017: Visit to Santiago
Cristina, Sergiu and Ewan head off to Santiago to attend a workshop on the use of magnetic nanoparticles for hyperthermia.
Workshop: Magnetic nanoparticles for hyperthermia – experiments and simulations,
The event is jointly organized by the York Computational Magnetism Group and the USC Technological Research Institute, with partial funding from The Royal Society under the International Exchanges Scheme project between UoY and USC.
Date: Thursday 19th and Friday 20th January 2017
Location: University of Santiago de Compostela (USC), Galicia, Spain
Programme:
Thursday 19th January:
Debate on latest advancements, challenges and future research lines for magnetic nanoparticles in the treatment of cancer via magnetic hyperthermia.
Further discussions on biomedical applications.
Friday 20th January:
Invited speaker Professor Chantrell from the University of York will deliver his talk on "Multiscale magnetic models; from electronic structure to device design".
European Magnetic Materials Modelling Council
As members of the European Magnetic Materials Modelling Council (EMMC) Roy Chantrell and Richard Evans are part of a Consolidation and Support Action (CSA) recently awarded EU funding. The aim is to develop advanced approaches to the multiscale problem linking computational models at the electronic, atomistic and continuum lengthscales and to develop a collaborative programme between academic code developers and commercial software owners. Long-term the EMMC-CSA will work towards the establishment of advanced materials models as support for European industrial developments. Richard and Roy recently attended the kick-off meeting of the EMMC-CSA in Brussels where planning for the first phase of the project took place. "It was great to meet with a diverse range of academic researchers, code developers and commercial software owners to discuss how the project will tackle the barriers to using state of the art simulation software for real industrial problems. Over the next few years new guidelines and methods for interoperability of codes and data will help to build connected simulation environments, allowing device design from electrons to atoms to products."
Richard and Roy with members of the EMMC CSA consortium at the kick-off meeting.
Welcome
Mara Strungaru and Daniel Meilak join the group to study for their MSc by Research.
Changes
We say a sad farewell to Chudong Xu, who returns to Guangzhou in China after working with us for 2 years. We look forward to future collaborations with him.
Welcome to Cristina Munoz Menendez who joins us for 6 months from Universidade de Santiago de Compostela and welcome back to David Serantes who has been away on paternity leave.
Lewis Atkinson sets off to Thailand to work at Mahasarakham university.
Past, Present and Future
Sarah Jenkins, Razvan Ababei, Sam Westoreland and Richard Evans
‌head off to the 8th Joint European Magnetic Symposiain Glasgow ‌to demonstrate their cutting edge research on computational ‌magnetic materials. Richard will be discussing atomistic spin models while Sarah's talk deals with the atomistic origin of exchange bias in IrMn/CoFe bilayers. The group will also be presenting their posters on antiferromagnetic properties of IrMn alloys and magneto-elastic anisotropy energy.
Welcome to Galen Brown and Jake Manning
Two students join us for the summer, working with Sergiu Ruta on Nuffield projects.
Welcome to Zuwei Fu
‌
‌Zuwei's visit aims to improve the understanding of the Heat Assisted Magnetic Recording (HAMR) process which will enable further study of HAMR.
‌‌
‌‌
Current work involves studying the energy transfer between different species by tracking the effective spin temperature, to gain an insight of an "opposite" transient ferromagnetic-like state. ‌
Welcome back to Noi and Jay
‌
Dr P Chureemart and Dr J Chureemart rejoin the group after spending the last two years working in Thailand.
Noi and Jay are here for 6 months, working on increasing the spin accumulation model, which will then be integrated into Vampire.‌
Congratulations to Richard Evans
Dr Evans starts his new role as Lecturer in Computational Magnetism.
‌
August 10 - 15, 2015 report by Dieter Weller
‌My first official week at the University of York was an exciting starting point of my new career as Visiting Professor. My background and experience is thirty years R&D in the magnetic recording hard disk drive (HDD) industry worldwide (SIEMENS, IBM, Seagate, Hitachi and Western Digital). Key efforts include magneto-optical (MOKE), longitudinal (LMR), perpendicular (PMR), bit-patterned media (BPM) and heat-assisted magnetic recording (HAMR). During my visit I interacted with the computational magnetism group of Prof. Roy Chantrell and also spent time with the experimental magnetism group of Prof. Kevin O'Grady.
Key interactions in Roy's group were with (i) Dr. Richard Evans who uses Constrained Monte Carlo algorithms for determination of temperature dependent ‌anisotropies and energy barriers in magnetic systems, such as HDD media, Nd2Fe14B hard magnets, permalloy and also CoFeB/MgO (with Samsung),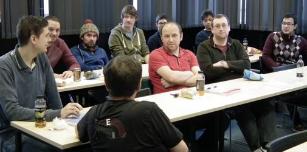 ‌NdFe12 (with Toyota), exchange bias (with Seagate), MRAM (with Samsung), (ii) Dr. Ramon Cuadrado (post doc) who has high performance programming skills and (iii) Dr. Thomas Bose(post doc) works on spin-caloritronic phenomena and randomness as well as light-induced effects in magnetization dynamics. PhD students areMatthew Ellis(magnetization dynamics, atomistic scale model, FePt for HAMR), Lewis Atkinson(model capable of reproducing relevant physics in HAMR) and Sergiu Ruta(interaction effects of nanoparticles in magnetic recording media and hyperthermia).‌‌
Students are Sarah Jenkins(computational magnetism) and Razvan Ababei (atomistic models including Fe-FePt multilayers).
On Tuesday, I interacted with Prof. Kevin O'Grady's group in the Department of Electronics. Dr. Atsufumi Hirohata leads the Quantum Nanoelectronics effort and discussed optimization of exchange-biased Heusler alloys Co2FeSi (F) with IrMn(AF). This effort is "proof of principle" that high areal density perpendicular recording media based on exchange bias can be achieved. I follow the respective literature to better understand this alternative effort to HAMR and "down-the-road" plan to support these efforts. I also talked to Director Edward Boyes, who leads the York JEOL Nanocentre in the Helix House. He showed and explained diverse TEM Microscopes with resolution down to 0.8A. ‌‌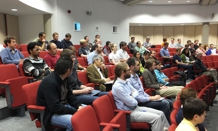 My seminar on Wednesday included Scanning TEM and electron energy loss spectroscopy (EELS) to characterize microstructure and chemistry on atomic scale of grain boundaries and seed layer interfaces in FePt HAMR media. In MgO/FePt the a-parameter lattice mismatch is 9.6%. Alternative seed layers are MgAl2O4 (MAO) (4.9%), SrTiO3 (STO) (1.4%), and (La, Sr)(Al, Ta) O3 (LSAT) (0.4%). This is a key topic where atomistic modeling can help to explain and improve interface structure and chemistry, which we discussed with Keith McKenna. In a separate meeting we discussed atomistic simulations of FePt-Fe Exchange Coupled (ECC) very relevant future media with Razvan Ababei, Mathew Ellis, Lewis Atkinson and Richard Evans.
‌‌
I also participated in other discussions with Roy Chantrell's students (i) about skyrmion lattices in the chiral itinerant-electron magnet MnSi which astoundingly appear stable up to 100T magnetic field and (ii) about Gd/Fe multilayers as possible candidates for All Optical Switching (AOS) which is a key topic expanding research efforts worldwide. ‌‌‌
‌
I very much enjoyed my first visit to the University of York, which covers excellent and very relevant topics in science and technology. I am personally excited to interact and collaborate with Roy Chantrell and Kevin O'Grady.
Sarah Jenkins wins the 2015 Goodwin prize for the best MPhys project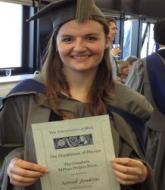 ‌
Congratulations to Sarah Jenkins, who has won the 2015 Goodwin prize for the best MPhys project. Her work on models of exchange bias in FeCo/IrMn bilayers, supervised by Richard Evans and Roy Chantrell produced important results including the observation that exchange bias only naturally arises in the case of disordered IrMn. Exchange bias is an important phenomenon and very poorly understood. In fact Sarah's calculations are the first to predict realistic values of the exchange bias. We are very fortunate that in October Sarah will be joining us as a PhD student.
Model of spin accumulation and spin torque
Generalised spin accumulation model reveals the limitations of the micromagnetic approach to describe spin-transfer torque. Read more...
New phase of 'green magnets' project
Since 2012 the Computational Magnetism Group of the Condensed Matter Physics Institute has been involved in a major project (MagHem)aimed at the development of improved permanent magnet materials. The project runs until 2020, subject to periodic reviews, and is funded by the Japanese government and Toyota Motor Corporation. The aim is to reduce the reliance on strategic rare-earth elements while at the same time increasing the performance of the magnets by a factor of two, which will be reflected in the performance of hybrid and all-electric cars. The first project review was successfully completed at the end of 2014 and MagHem is now moving into a second phase involving investigations of numerous potential approaches using nanostructured materials. York is involved in a joint investigation of the fundamental magnetic properties, coupling theoretical models (York, Exeter, Vienna) with experiments in Grenoble and Darmstadt. Roy Chantrell and Sam Westmoreland recently attended a MagHem meeting in Grenoble to kick off the new stage of the project. Sam recently joined the York Computational Magnetism group as a PhD student having done his MPhys in theoretical physics at York, and the Grenoble meeting was his first contact with 'actual experiments'. Sam
A unified model of magnetic hyperthermia for cancer therapy
Magnetic nanoparticle systems generate heat when exposed to an alternating magnetic field. The phenomenon, referred to as 'magnetic hyperthermia' has recently been shown useful as a cancer therapy. Magnetic nanoparticles are injected into a tumor and the hyperthermia effect used to raise its temperature locally. The heating can give rise to temperatures of up to 45C, which is enough to shrink the tumor without damage to surrounding tissue. Although it has been shown to be clinically effective, the hyperthermia phenomenon is not completely understood. In particular, there is an argument about two apparently disparate heating mechanisms, which are generally treated with separate approaches even though both probably contribute. In a paper recently published in the open access Nature journal Scientific Reports, CMPi researchers Sergiu Ruta and Roy Chantrell, in collaboration with Ondrej Hovorka (Southampton), have developed a model which links the physics of both heating mechanisms and incorporates them in a unified formalism.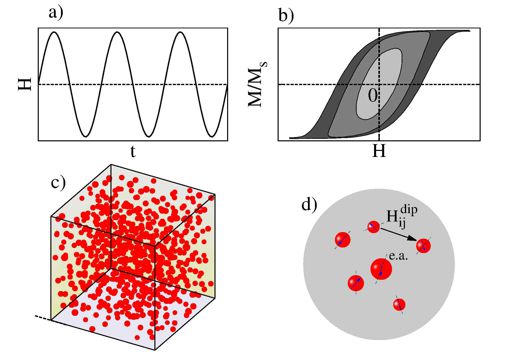 (a) Sinusoidal external driving magnetic field magnetising the
particle system and producing (b) dynamical or metastable hysteresis loop
depending on the applied field frequency. (c–d) Typical distribution of
particles of varying positions, size, anisotropy, and controllable packing
fraction allowing to tune dipolar interactions between the particles.
They also show that the magnetic interactions between the nanoparticles have a profound effect on the heat generation. According to Sergiu Ruta 'the new model is an important development since it treats the main heating mechanisms on an equal footing. Our calculations also show that the most efficient heating occurs in the transition region between the two heating mechanisms and puts into question previous estimates of the optimal particle size for heating, which should be reconsidered in the light of the new model calculations'. The new model, with its strong physical basis and its inclusion of the effects of interparticle interactions is expected to prove an important tool in understanding the hyperthermia process and optimizing it as a cancer therapy.
Schematic view of focusing of the laser beam on the detecting MTJ
The use of optical interconnects has become a front runner to replace more traditional (usually Cu based) electrical interconnects in many modern devices. One of the major drawbacks of optical interconnects is overcoming the need for photodetectors and (power hungry) amplifiers at the receiver. Such detection is in most cases performed by CMOS circuits or direct band gap semiconductors. As part of a collaboration lead by engineers at Perdue University, IN, USA a new use of ultrafast heat induced switching, originally published in Nature Communications, has been proposed as a means of using optical signals directly with standard CMOS circuits.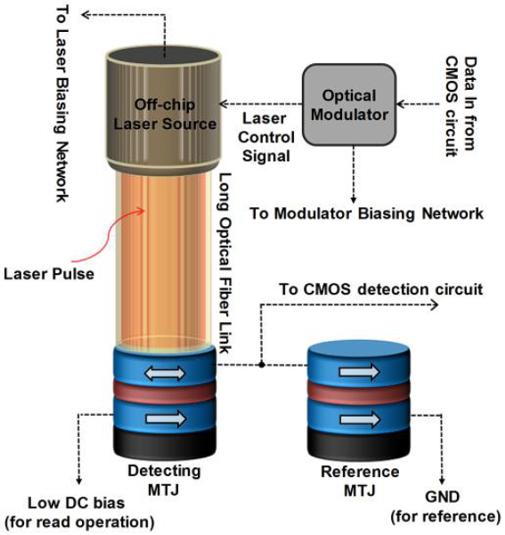 The data is transmitted using femtosecond laser pulses that induce magnetisation reversal in a magnetic tunnel junction (MTJ) in the receiver. The proposed scheme offers almost a 40% energy improvement over current technology and speeds of up to 5 GBits/sec for a single link. The preprint of the article can be found on arXiv.