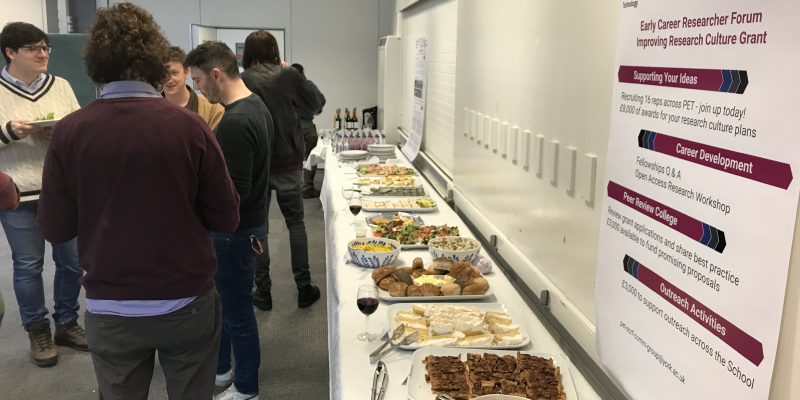 The Early Career Researchers' Forum committee
We have excellent links to ECRs and Research Support staff in other departments in the Faculty of Science, and commonly organise joint events.
Our activities are driven by the ECRF committee, consisting of:
the Chair
co-chairs as appropriate, and
typically two appointed representatives from each research area in the School:

a postdoctoral or technical staff member, and
a postgraduate research student member

ordinary members
We meet quarterly in advance of reporting to the academic School Research Committee, but more often to discuss and organise upcoming events.
We also encourage our representatives to liaise with interdisciplinary networks such as the York Biomedical Research Institute and the Institute for Safe Autonomy.
Become an ECRF representative
Becoming an ECRF representative is a rewarding and CV-boosting experience.
As an ECRF representative you will:
engage in creative event planning
receive research-specific training
manage our social content
have the opportunity to sit on other University bodies which direct significant influence over how the University works
Representative positions are held for one year with associated funding to run your own ECR events.
We set out a informal call each Spring for applications, but we are happy to welcome new ordinary members at any time. Typically, there are departmental resources available for anyone interested in contributing ideas.
If you are interested in joining please contact us directly (pet-ecrf-comm-group@york.ac.uk).
The Early Career Researchers' Forum committee
Chair/s
Alex Payne-Dwyer
(former Chair and Treasurer, Physics ECRF, SRC rep)
Co-chairs
Christopher Arran
(York Plasma Institute)
Nils Morozs
(Electronic Engineering, Concordat Implementation Group, SRC rep)
Shrishty Bakshi
Jack Bradley
(Research Culture Working Group & Physics Social Committee)
Sarah Graham
Katy Hollands
Patrick Hunter
(Biology Outreach)
Christina Ingleby
(Physics Social Committee)
James White
(Graduate Studies Committee)
Robert Woolley
(former Chair, Electronics ECRF)
Within PET you should be automatically signed up to our bulletins via either the pet-research-staff or pet-pg-research mailing lists operated by the Head of School's Office (pet-hos-pa@york.ac.uk).
If you are interested and would like to come along to our next committee meeting, please get in touch with any of our committee members.