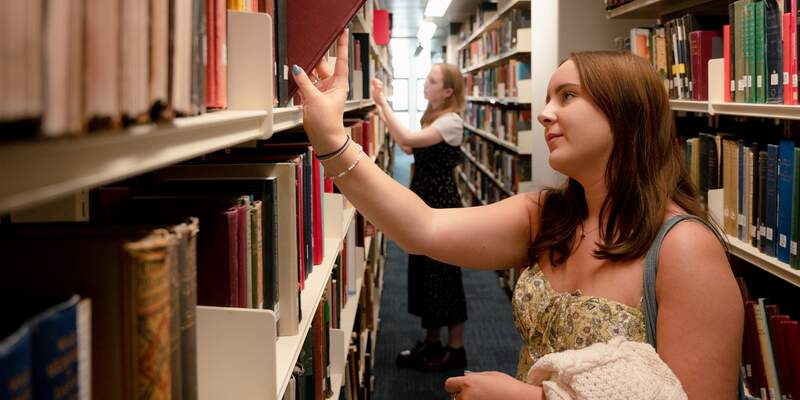 Tell us what you need
If the Library does not hold the resource you need for your studies or research, you can ask us to obtain it for you.
Before making a request
There are a few places you can check to see if we already have what you need:
Make a request
Tell us what you need using these request forms. You can ask us for books, journal articles, book chapters or theses for your research and we will find the best way to get you access to the material.
Information about requesting
When you request an item, we will aim to obtain an electronic copy. If an electronic version is not available, we may purchase a print copy or borrow a copy from another library through Interlending. If we cannot source your item we will contact you.
You can request ebooks, even if we have physical copies of the book. Please bear in mind that not everything is available for the Library to buy as an ebook, even if a Kindle version exists.
Resources for staff and teaching
New resources required for teaching should not be requested through the form, but should be added to your Reading List. The Library monitors Reading Lists to purchase newly added items.
In order to manage budgets for resources with ongoing costs, we have to carefully consider the impact of taking out new subscriptions. If you would like the Library to subscribe to a journal or database not currently available in our collection, please speak to your Academic Liaison Librarian who will advise you how to complete the Subscription request form.
We have additional funds available to support the purchase of expensive library resources in strategically important research areas, across any discipline. If you would like to submit a request to this fund, please contact your Academic Liaison Librarian in the first instance to discuss putting together a bid.
You will be notified by email when we have processed your request, and again when it's available.
When will my material be available?
Ebooks are usually available within a few days of purchase. Journal articles or book chapters may be available even sooner, especially if you provide the ISSN/ISBN on the request form.
Standard print orders may take several weeks to arrive, depending on availability. If you need an item soon, please tell us on the request form.
Your Library Account will tell you the status of your interlending request. This may say:
Created borrowing request
Your request is waiting to be processed by the Library.
A possible lending library has been found and we are waiting for a response.
Physically received by the library
The item has arrived and you can collect it from the Library holdshelf.
If you wish to cancel your request, please contact the Library.
Electronic documents will be delivered by email.
If your document is supplied from the British Library, you will receive an email with the subject line "British Library Order ... Ready for download".
Interlending items you have on loan are listed in your Library Account.
If you want to renew an interlending item, please only do so two to three days before the due date.
Most items can be renewed if they are not needed by someone else. To renew an item that you have on loan:
Log in to YorSearch and go to your Library Account
Select the checkbox next to the interlending item you want to renew
Select 'Renew Selected' (Note: the 'Renew All' option does not include interlending items)
The due date will not change until interlending staff have processed your renewal request
You will be notified of the new due date as soon as possible
Please do not return the book until you have heard from us via email
To renew an item that is for use in the Library only, please contact infodir-ilds@york.ac.uk.
Please return loans to the Morrell Library or the King's Manor Library. If you are unable to return the items in person, you can use our free postal returns service
If you keep an item that has been recalled, or if you lose it, the British Library (which supplies many of the items) may charge you £179.20 to cover administration and the cost of a replacement. This charge is non-refundable. Other libraries will have their own charges.
Interlending information for other libraries
We are happy to supply material to other libraries. Please get in touch by email: infodir-ilds@york.ac.uk
Please note, we do not lend:
Theses
Rare books (eg York Minster Library, National Railway Museum or Borthwick Institute for Archives material)
Items on reading lists or reference items