Foundations: the birth of a university
Before the Second World War, Heslington was a quiet rural retreat with a local aristocracy, and a working village with around 12 farms.
Groceries were bought in the very modest village shop, and a bus stopped twice-weekly for trips into the city. Before the arrival of piped water in the 1930s, the whole village relied on pump water from the well. There was no electricity and the Charles XII was lit by gas.
The picturesque village, just outside York, was also a popular focus for city-dwelling families' Sunday walks.
War years‌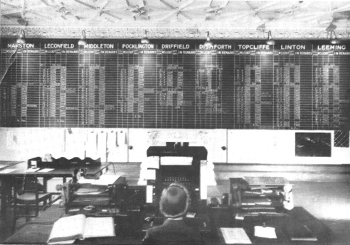 With the outbreak of war, the Deramore family evacuated, and the RAF took over the Hall as the headquarters of 4 Group Bomber Command.
Every night, the two pubs were filled with servicemen and women. "Outside the Charles XII pub ... two young WRAF girls sat on a stuffed rhinoceros that had been left when everything had been sold off from the Hall. I was later told it had been shot by one of the Lord Deramores and had been left in the stables. The last I saw of it was ... when it was giving rides between the two pubs," wrote Donald Ward, retired Vanbrugh porter, in his Heslington Memories.
Photo gallery
A "bizarre" ambition?
The Deramores did not return after the war. Heslington Hall stood empty until the decaying house and its acres were bought in the 1950s by J B Morrell, twice Lord Mayor of York and a distinguished member of the City Council, who for many years had a long-cherished ambition to create a folk park.
His plans included a village green (with maypole), gypsy camp, water mill, urban street and boat house in the grounds of the Hall. However, as the possibility of a university became greater, Morrell felt that building this would be a worthier use for the site.
But the Hall and King's Manor, which were to be the University's core accommodation, had seen better days, and when Lord James, the first Vice-Chancellor, came to view the site in 1960, he was left with very mixed feelings:
"King's Manor had passed into the ownership of York City Council which was using it as workshops for the blind. The courtyards were adorned with weeds, some of them literally head height. That this, or indeed Heslington Hall, could ever be even the most temporary home of a university seemed not so much improbable as positively bizarre," wrote Lord James.
Explore our history
Timeline
1641
A petition was drawn up for a university in York but this was not sent out because of the outbreak of the Civil War
1647
Another petition was submitted by the city fathers to Parliament but it was not granted
1820s
Debates about a university in York took place
1832
Durham University was founded, dashing York's hopes
1946
The Archbishop of York gave a sermon to the Company of Merchant Adventurers on 'The value of history', including a passage on the importance of universities and reasons why York was a suitable location
1947
An application was made by a group of local citizens to the University Grants Committee which was unsuccessful
1948
York Academic Trust (set up by the Civic Trust) established the Institute of Advanced Architectural Studies and the Borthwick Institute
1959
An approach was made to the University Grants Committee
1960
Permission was granted and Lord James appointed
1962
Interviews for the first cohort were held
1963
On 9 October 230 students registered for courses in Economics, Politics, English, Education, History and Mathematics