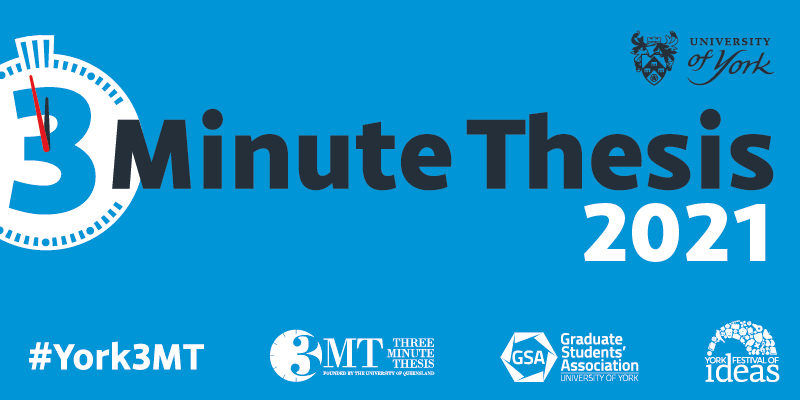 University of York 3MT 2021
Ten finalists competed for first place in the 2021 University of York Three Minute Thesis (3MT) competition final.
Pitching themselves against the clock to communicate the impact of their research, these PhD students delivered captivating and inspiring research presentations, showcasing the strengths of postgraduate research at York.
Winners
Congratulations to all who took part and to our 2021 winners!
1st place: Theo Issitt (Mechanistic Biology) - The smell of cells
2nd place: Laura Cowell (Mechanistic Biology) - The recipe for making muscle
3rd place: Kate Mooney (Health Sciences) - Unequal memories: Is children's learning a matter of social circumstance?
People's Choice: Theo Issitt (Mechanical Biology) - The smell of cells
Watch again
Meet the finalists
Rhys Ashton
(Electronic Engineering)
Everyday electronics detecting deadly diseases
Covid-19 testing is helping us make more informed decisions in this pandemic, but current methods are far from perfect. Now consider the number of people drinking contaminated water in low income countries or the scale at which mosquitoes are spreading malaria. In all of these cases no current testing method combines the most essential features, negatively impacting human lives and leaving unfulfilled potential on testing for deadly diseases. My research aims to develop a new sensor by combining the everyday electronics at the heart of our smartphones with a powerful biological process called LAMP. If successful, the sensor will have the most important features from other types of test, along with the flexibility to target any specific disease-causing organism, by looking for its DNA or RNA. With such a sensor we could help improve the lives affected by these and many more issues.
Taryn Bell (Archaeology)
The comfort of things
Whether it's a battered old teddy bear or a priceless ring, many of us have an object to which we are emotionally attached. These 'attachment objects' give us feelings of comfort and security which can prove vital for our mental health and wellbeing. In my PhD, I explore these 'attachment objects' in more detail. I'm considering questions such as why people across many different cultures become attached to objects, what factors influence the likelihood of being attached to an object, and what these objects have in common. By better understanding the emotional significance of even everyday objects, there is the potential to inform how we as a society develop approaches to improving mental health and wellbeing.
Laura Cowell
(Mechanistic Biology)
The recipe for making muscle
Muscle wasting diseases, such as muscular dystrophy, affect around 70,000 people in the UK alone. Sadly, these diseases cause progressive muscle weakening over time and can make even the simplest everyday task a struggle. Fortunately, my research may help to improve future treatment of muscle wasting diseases and severe muscle injuries. Through my experiments, I aim to understand how stem cells (which have the potential to form any cell type) specifically become muscle. I am currently investigating the roles and resulting interactions between two crucial components in this complicated process. Once we fully understand how muscle is formed, we can use this knowledge to develop new targeted treatments to improve thousands of people's lives.
Mariya Geneshka (Health Sciences)
Is nature medicine?
Recently, we have seen an increase in diseases that are long-term and non-transmittable from person to person. Examples include diabetes, heart disease, depression and anxiety. Once acquired, they stay present for long periods of time and are often difficult to treat and manage. Theories, however, have proposed that certain parts of nature, like green vegetation, can have a positive impact on our health. This project summarised the research that has previously tested this. The results showed that in most cases nature has no effect on health, which could be explained by failure to capture all aspects of green vegetation, like type, where it is found in our cities and how easily accessible it is for the public to use. My project aims to use a higher quality dataset to test whether different types of vegetation, like trees and urban parks, and their position in the city affect our health differently.
Joanna Greenman
(Mechanistic Biology)
Platelets: A clot more than you think…
For many years, the tiny cells in your blood called platelets, were just known for their role in preventing excessive bleeding by sticking together and forming clots. However, this understanding is evolving, and platelets are now thought to play a key role in the fight against infection too. In many different infections, including some severe cases of Covid-19, platelets have been found interacting with different immune cells. My PhD uses the parasitic infection schistosomiasis, which affects more than 250 million people worldwide, as a model system for studying the novel roles of platelets. A better understanding of the close interactions between platelets and immune cells will help us to examine how these cells are communicating. Platelets may be re-programming immune cells to help fight infections more effectively or may be inhibiting these responses; whether friend or foe remains to be discovered?
Theo Issitt (Mechanistic Biology)
The smell of cells
Your body is made up of trillions of cells and each one has its own specific smell which gives us vital information about how each cell is behaving. The gases which make up these smells are called volatile organic compounds and each breath you take releases and absorbs thousands of these chemicals. Interpreting the changes in these volatiles can give us the ability to diagnose diseases and monitor therapy through breath tests. To identify the volatile organic compounds which make up the specific smell signature of disease, cells can be grown in the lab and the gases they release and consume can be investigated. This work investigates cancer cells and changes to their environment which produce volatile organic compounds specific to cancer and environmental stress. This research is key in identifying the signals which make up disease specific markers in breath, taking us one step closer to a breath test for not only cancer, but for a range of disease.
Daisy Johnson (Education)
Understanding young girls through their writing
Research shows us that young girls who write are often understood as child first and author second, and that they write the stories they think they should write rather than their own. I found this problematic and so ran a series of creative writing workshops with girls ranging from seven to eleven years old. We discussed a story written in the 1940s by a girl of the same age before I asked the participants to write a story. These stories depicted the experience of 'being a girl' in an often complex and challenging world and suggest that when young girls tell the stories they want to tell, they become able to assert control over the act of authorship and define it under their terms - a process I dub 'authership'.
Kate Mooney (Health Sciences)
Unequal memories: Is children's learning a matter of social circumstance?
Working memory is our 'mental post-it-note' for storing and processing information in the present moment. We use our working memory every single day for learning new information and following written or spoken instructions. Working memory is crucial for children in the classroom, and research has found it to be consistently associated with children's educational attainment. Given how important working memory is, it is important to understand what factors may influence it. My research asks: is family socio-economic disadvantage at birth associated with differences in children's working memory? We already knew from national education data that children from socio-economically disadvantaged families tend to do less well at school - my research may show us a potential reason why. If we can better identify children who struggle with their working memory, we can help them to achieve what they are capable of in school, and reduce social inequalities in educational attainment.
Callum Reilly (Archaeology)
Dream big or go home: Can garden villages transform society?
The UK is in the midst of a major housing crisis, prompting urgent efforts to build more homes. Despite more than 40 new 'garden villages' planned across England alone, there are signs that these communities are not delivering – for example, with reports that some places risk becoming too expensive for those on low incomes. As a distinct settlement type, garden villages first emerged as a response to a different crisis: the poor conditions of early twentieth-century cities. My research investigates the impact of design and planning in two of the earliest garden villages: New Earswick and Woodlands, both in Yorkshire. Although more ambitious than those of today, compromises meant that not everyone was able to benefit from the better conditions offered. The lesson for today's planners and policymakers is that if we turn to solutions of the past, we must acknowledge both their strengths and their limitations.
Annis Stenson (Education)
Does lad culture lead to sexual violence in universities?
Annis's research looked at 'lad culture' in a UK university setting, investigating this form of masculinity as one which is given more power than others. Based on the findings of interviews with self-identified lads, this presentation addresses whether there is a link between lad culture and sexual violence. Rather than simply suggesting that lads are sexually violent, this presentation argues that the norms of lad culture create a social context which may make sexual violence seem normal, or even invisible. This will mean that violence goes unchecked, and survivors of sexual violence feel unable to report their experiences to their university.
Meet the judges
Grace Allen
Dr Grace Allen joined The Conversation as Cities and Young People editor in January 2020. Previously, she spent two years working in industry print media as a writer and editor. She has a PhD in history from the Warburg Institute, University of London and has held postdoctoral positions at the University of Manchester and the Fondazione Giorgio Cini in Venice.
Kate Arnold
Dr Kate Arnold has been Dean of York Graduate Research School since September 2020. An ecologist by background, for 20+ years she has carried out research at the interface of science, policy and regulation. Current projects, based in York's Department of Environment and Geography, are investigating the effects of environmental change, including chemical contaminants and habitat management, on wildlife. From 2018-2020, she worked for Defra heading up an EU exit strategy team focusing on circular economy and single use plastic policies and legislation.
George Eleftherakis
Prof George Eleftherakis is a Professor of Information Systems at CITY College, University of York Europe Campus. Since 2017 he is the Director of the PhD programme at CITY College, and a Senior Researcher and Expert at SEERC. He received the Senate Award for Sustained Excellence in Learning and Teaching from the University of Sheffield in May 2014. He is a Senior Member of the Association for Computing Machinery (ACM) and the Chair of ACM's Council of European Chapter Leaders. He is a member of the administration board of the Greek Computer Society since 2002.
Zainab Kidwai
Zainab Kidwai is a 3rd year PhD student at the Department of Health Sciences, University of York. She trained as a dentist and did her Masters in Dental Public Health before pursuing her passion for oral cancer research. She won the 3MT First Prize and People's Choice Award in 2020 and was among the Top 12 UK finalists. She is a National Institute of Health Research (NIHR) academy member and a recipient of their Short Placement Award for Research Collaboration (SPARC).