National Student Survey reveals the strengths of the School of Physics, Engineering and Technology at York
News | Posted on Thursday 17 August 2023
The results of a nationwide survey have revealed that the School of Physics, Engineering and Technology is home to some of the happiest astronomy and physics students in the UK.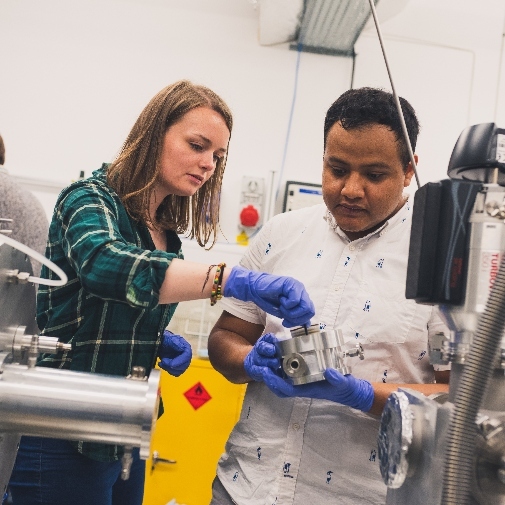 1st in the Russell Group for 'Academic support' in National Student Survey
We placed 1st for 'Academic support' among the Russell Group universities included for physics in the 2023 National Student Survey (NSS), with a score of 95%. We received 95 per cent for Q15 How easy was it to contact teaching staff when you needed to? and 93 per cent for Q16 How well have teaching staff supported your learning?.
Our Astrophysics degrees were rated particularly highly for 'teaching on my course'. Within the subject of astronomy, they scored 92 per cent, including:
Q01 How good are teaching staff at explaining things?

95 per cent

Q02

How often do teaching staff make the subject engaging?

84 per cent
Q03 How often is the course intellectually stimulating? 95 per cent
Q04 How often does your course challenge you to achieve your best work? 92 per cent

Professor Kieran Gibson, the Head of School, said "Supporting students through their studies is critical to helping them achieve their full potential, and allowing them to gain the most from their university experience. We are very pleased to see this recognition of the strong emphasis the School places on guiding and encouraging our students during their time at York."
What is the National Student Survey
The NSS is a nationwide survey of final-year students in higher and further education. They answer questions on a variety of aspects of their university experience, including their department and course.
Over 339,000 took part in the 2023 survey, helping prospective students to compare courses and make informed decisions about where to study. The survey empowers those taking part to shape the future of their course, giving universities honest feedback on what they are doing well and where they can improve.
York's overall position
York performed strongly in this year's National Student Survey, featuring in the top 10 for multiple categories among Russell Group universities.
The University as a whole placed 4th in the Russell Group for Learning Resources, 5th for Academic Support and 6th for Organisation and Management.
Thirteen subjects featured in the top three in the Russell Group for Academic Support, while a further 12 were placed in the top three for Teaching On My Course. Read more about York's excellent NSS results.