'Movie Magic and Future Performance' lab gets go ahead for West Yorkshire
News | Posted on Thursday 13 July 2023
A new facility in Wakefield will help drive the next generation of production technologies to revolutionise the UK's film, TV and performing arts industries.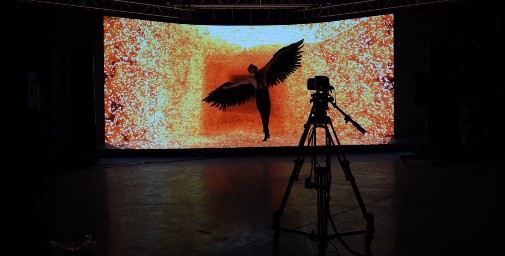 The state-of-the-art lab is part of the Creative Industries Sector Vision, which sets out the Government's ambition to maximise the potential of the UK's creative industries so they generate an extra £50 billion for the economy and support a million more jobs by 2030.
A consortium, led by the University of York, has been selected by the UK Government to host one of four new labs specialising in the future of virtual production – a range of techniques that use computer-generated imagery (CGI), hyper-real sound, augmented reality and motion capture to create virtual sets and environments.
Large-scale
Lab Director, Professor Gavin Kearney from the School of Physics Engineering and Technology at the University of York, said: "We are thrilled to announce our new lab facility; it will build upon the University's world-leading applied research for the creative industries, as well as the support and growth initiatives of Screen Yorkshire and XR Stories in the screen industries sector across our region."
Virtual production allows filmmakers and theatre directors to create large-scale digitally-generated environments that performers can interact with in real-time using LED panels, as a faster and less expensive alternative to green screens. The technology has been used to great success in the ABBA Voyage live concert at the Queen Elizabeth Olympic Park in London and on Disney's hit show The Mandalorian.
Live events
Located alongside studios and leading entertainment technology companies at Production Park in Wakefield, the lab will bring together expertise from the University of York, Vodafone, Screen Yorkshire, and support from Wakefield Council and the York and North Yorkshire Local Enterprise Partnership.
The lab will focus on applying new virtual production technology to live events and how the latest developments can be used to ensure the UK has the skills and infrastructure to stay on the cutting edge of this type of technology.
The lab is part of UKRI's Convergent Screen Technologies and performance in Realtime (CoSTAR) programme, supported by £75.6 million of government funding and £63 million of new industry investment, which will form the largest virtual production research and development network in Europe, with four facilities across the country.
Future technology
Culture Secretary Lucy Frazer said: "Yorkshire has a rich history in film, TV and the performing arts, home to unforgettable scenery and highly skilled creatives behind popular productions including The Duke, All Creatures Great and Small and Happy Valley.
"Now we're putting West Yorkshire at the forefront of future technology for the next generation of filming and live events. Together with experts across the UK, this new lab will make sure the UK stays ahead of the latest developments transforming our screens and stages."
Economy boost
The network will include a national lab at Pinewood Studios, and a new Insight and Foresight Unit led by Goldsmiths and the British Film Institute. Three regional hubs, in Dundee, Yorkshire and Belfast, are expected to contribute a combined £33 million to the economy and support 423 jobs. Partners involved across the programme include the National Film and Television School, BT and BBC Northern Ireland as well as Royal Holloway, Ulster and Abertay universities.
Film and TV productions in Yorkshire boosted the local economy by more than £235 million in 2019 and the region has provided backdrop for some of this year's biggest blockbusters, including Mission:Impossible 7 and the latest Indiana Jones film (Indiana Jones and the Dial of Destiny).
Researchers to unlock potential of fusion as abundant source of clean energy
News | Posted on Thursday 13 July 2023
Researchers are working on a new £12 million research project to speed up the development of fusion as a safe, clean and abundant source of energy.
Fusion has the potential to provide a near-limitless source of low carbon energy by copying the processes that powers the sun and stars where atoms are fused to release energy, creating nearly four million times more energy for every kilogram of fuel than burning coal, oil or gas.
Members of the University of York's York Plasma Institute will join forces with researchers at Imperial College London, University of Oxford, and industrial partners First Light Fusion and Machine Discovery on the project.
The research team will explore material and plasma science in order to address the question of how the conditions of intense heat and pressure needed for fusion can be achieved in order to produce a commercially viable and clean energy source for the future.
Specific phenomena
The work of the researchers will involve the study of matter, heat and radiation flow at extreme temperature, pressure and density, and examining how these flows change at interfaces between materials.
Dr Andrew Higginbotham, Professor Chris Ridgers and Professor Nigel Woolsey from the School of Physics, Engineering and Technology at the University of York will investigate specific phenomena relating to material response, heat transport and hydrodynamics.
Dr Higginbotham said: "By recreating extreme conditions that range from solid materials through warm dense matter to hot plasma states we can test and further our fundamental understanding of the behaviour of matter."
New measurements
As part of the partnership, researchers from across the three universities and two companies will work together to study the behaviour of materials used by First Light Fusion in its experiments.
Professor Ridgers said: "There are enormous opportunities to extend our theoretical understanding of transport in these exotic states of matter, we've had great success so far and we need new measurements to push our understanding forward."
Nuclear fusion occurs by combining nuclei of two atoms to create a different element. For example, fusion occurs in the Sun by combining hydrogen atoms to create helium, and this releases a huge amount of spare energy.
Demanding conditions
Fusion as a power source has the potential to be transformational as a safe, clean, and abundant source of energy. Most approaches aim to fuse deuterium and tritium, heavy isotopes of hydrogen, to produce a helium and a neutron, but the conditions required to achieve this are demanding and need intense heat and pressure.
These conditions are so difficult to achieve, that we have generated only limited amounts of energy so far.
Predictive modelling
Professor Woolsey said: "The understanding of matter under these extreme conditions is common to all approaches to inertial fusion as well as planetary and stellar systems. This field of work will benefit from our new measurements and theory and this will enhance our predictive modelling.
"The aim is to help accelerate the development of inertial fusion and increase our knowledge of plasmas found in exoplanets and the stars."
University of York scientist wins prestigious award
News | Posted on Wednesday 18 October 2023
Nuclear physicist Professor David Jenkins has been awarded the 2023 Institute of Physics Ernest Rutherford medal and prize.
Professor Jenkins has received this prestigious award for his work as a research leader who has made outstanding contributions to experimental nuclear physics, nuclear applications and widening participation in physics.
The Institute of Physics (IOP) is the professional body and learned society for physics, and the leading body for practising physicists, in the UK and Ireland.
The Ernest Rutherford medal and Prize is named after the eponymous New Zealand physicist, who was a pioneering researcher in both atomic and nuclear physics. Rutherford has been described as "the father of nuclear physics".
Collaborators
Professor Jenkins, Head of the Nuclear Physics group in the School of Physics Engineering and Technology at the University of York, said: "I am honoured to receive this year's Rutherford Medal and Prize. I want to acknowledge all the contributions to my work from staff and, especially, students at York as well as my international collaborators."
Under his leadership, the nuclear physics group has grown to be the largest in the UK with flourishing research programmes in experimental nuclear physics, nuclear theory, nuclear astrophysics and hadron physics. The IOP commended Professor Jenkins for building bridges between these interlinked themes that are answering key questions related to the nature of nucleon–nucleon correlations, fission in nuclei and the physics of neutron stars.
Widening participation
Professor Jenkins is also recognised for his contribution to widening participation. He held a Science and Technology Facilities Council Science-in-Society fellowship and worked with the National Science Learning Centre in York to provide continuous professional development courses for school teachers on nuclear physics.
In the last five years, he has been leading Global Challenges Research Fund projects with the University of the Western Cape and the University of Zululand in South Africa. Students from these historically disadvantaged universities have come to York to receive training in detector development and nuclear applications. Funding has been used to develop the Modern African Nuclear DEtector LAboratory (MANDELA) across the South African universities providing a strong legacy.
Impact
Congratulating this year's Award winners, Institute of Physics President, Professor Sir Keith Burnett said: "On behalf of the Institute of Physics, I want to congratulate all of this year's award winners. Each one has made a significant and positive impact in their profession, whether as a researcher, teacher, industrialist, technician or apprentice and I hope they are incredibly proud of their achievements.
"There is so much focus today on the opportunities generated by a career in physics and the potential our science has to transform our society and economy and I hope the stories of our winners will help to inspire future generations of scientists.
Dedication
Professor Andy Dougill, Dean of the Faculty of Sciences at the University of York, added: "I would like to congratulate Professor Jenkins on this well-deserved award. His exceptional work as a research leader in experimental nuclear physics and nuclear applications has pioneered new techniques and significantly advanced scientific understanding in the field.
"Professor Jenkins' dedication to widening participation in physics both in the UK and internationally is truly commendable. His commitment to inspiring the next generation of scientists and bringing the excitement of fundamental science to the wider public strongly resonates with our values as a diverse and inclusive institution that carries out research for public good."
Deformation versus Sphericity in the Ground States of the Lightest Gold Isotopes
News | Posted on Monday 20 November 2023
ISOLDE sees shape shifting in gold nuclei
Results published for York-led nuclear physics experiment at CERN
Our results from our study led by York scientists has been published in Physics Review Letters. The manuscript was highlighted as an "Editor's Suggestion", which is awarded for work that is "particularly important, interesting, and well written". The work is currently featured on CERN's homepage, with a dedicated news article produced by CERN's press team