Minster launch for Anniversary celebrations
More than 1200 people gathered at York Minster on Tuesday 12 February to celebrate the University of York's relationship with the city at the official launch of the University's 50th Anniversary year.
(click to enlarge)
The gathering at the Minster, where the University's inauguration was held in October 1963, launched a year-long calendar of Anniversary events.
The launch coincides with two striking free exhibitions – at the King's Manor and at the Ron Cooke Hub on Heslington East – that focus on the personalities and milestones in the University's first half-century and its close links with the city.

The Queen's visit to campus in 1965 features in a timeline exhibition in the Ron Cooke Hub
The Minster audience, which included York residents, former students, and staff, saw the Chancellor Greg Dyke confer honorary doctorates on David Hockney and four other people who have made outstanding contributions to York and Yorkshire in the last half-century.
They also heard the premiere performance by the University of York Orchestra and Choir, of music marking the Anniversary, composed specially by Dr Richard Shephard, Chamberlain of the York Minster Fund and an honorary graduate of the University.
David Hockney joined Janet Barnes, Chief Executive Officer of York Museums Trust; Robert Brech, the Chairman of York Science Park; John David, Master Mason of York Minster and Dianne Swiers, former Deputy Chief Nurse Scarborough and North East Yorkshire Healthcare NHS Trust in receiving 50th Anniversary honorary degrees.
The Vice-Chancellor, Professor Brian Cantor, said: "We are starting our 50th anniversary celebrations by acknowledging our relationship with the people of York at this great public event in the Minster.
"The University's success is attributable to the vision of our founding staff, the spirit of the pioneering students who chose to come to York in the early 1960s, and to the efforts of all those who have worked here and friends who have supported us over the last half century."
The Dean of York, the Very Revd Vivienne Faull, added: "York Minster, which was closely involved in the creation of the University of York, congratulates the University on its success over 50 years and looks forward to supporting its continued development".
The celebration event included performances of Bruckner, Parry and Vaughan Williams by the staff, students and alumni of the University's Department of Music.
Video: Vice-Chancellor's welcome
Vice-Chancellor Professor Brian Cantor reflects on our achievements over the past 50 years and pays tribute to the foresight of our founders.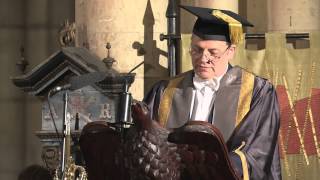 Related links
Anniversary events
The 50th Anniversary is an opportunity to reflect on our success, thank our supporters and celebrate our future. We want to involve everyone in our celebrations, including staff, students, alumni and the local community.