York's Black History
This week we'll be looking into examples of York's Black history, highlighting sections of the city's past and its wider impact on both UK and world history.
York is one of the oldest cities in the UK with an array of rich, lived histories. While many immediately think of Romans or Vikings, York also has a fascinating Black history - whether it's the creation of the booming chocolate industry of the 19th and 20th centuries, the beginnings of a boxing legend's career or one of the oldest known examples of a person of African descent living in Roman Britain.
The city of York continues to grow and strive to be a centre of diversity in the UK. We do that by sharing these moments in history and encouraging you to do the same.
Throughout October, we will be celebrating Black Britons, by sharing 'Black Britons you should know about' everyday on our Instagram stories. If you miss a day, you can catch up on our story highlights.
Follow us @uniofyork_outreach on Instagram to help us celebrate and continue learning!
Ivory Bangle Lady
The Yorkshire Museum, based right in the heart of York, contains, in their Roman York Gallery, the remains of a woman from the second half of the 4th century. This woman has become known as the Ivory Bangle Lady as a result of the ornate jewelry buried with her.
Research points to her being of high status in society but also of North African descent, therefore it is believed she is one of the earliest Black people to have lived in Britain. Read more from the York Museums Trust.
Making history profiles
This week we have highlighted some examples of York's connection to Black history but this month isn't always about looking to the past. We have asked alumni from the University of York to create profiles to display how they have been making history in their own way, to inspire you to look to your future.
Having studied English in Education at the University of York and always having an interest in education, equity and social mobility, I have always made an effort to ensure that my efforts impact these areas. I was the face of Teach First's Black History Month Campaign and after my successful campaigning, Teach First will begin to call for exam boards to ensure that at least a quarter of authors in their GCSE English literature specifications are from ethnic minority backgrounds.
This summer, I launched my education research Instagram account, @educationcubed where I have since surpassed 400 followers. This account is a space to share interesting news, research and resources from the world of education, equity and social mobility. I also, after exactly 1,000 hours of teaching, 17,881 words across 3 assignments, 12 observations, countless meetings, a week-long placement, LOTS of tears and more - gained my Qualified Teaching Status from UCL. Here's the picture to prove it!
I am a Nigerian woman. I came to the UK in 2007, through the Highly Skilled Migrant Programme (HSMP). Little did I know that my skills will not be recognised and my options will be limited only to low skilled jobs. It was a dent on my self-identity and a drain on my self-confidence.
I decided to re-train, enrolling for a postgraduate programme and graduating with Merits but even that didn't change my situation - some employers considered me overqualified for entry level jobs, others considered me under-qualified due to lack of UK working experience. I was determined to research the immigration and employment challenges of professional Nigerian women and enrolled for a PhD at York's Centre for Women's Studies.
My research journey was a roller-coaster ride. I was warned that the intellectual intensity of a PhD programme is not for everybody. I was told that as a mother of three, I did not stand a chance of completing such a Herculean project. The bit that got under my skin was when some "well meaning individuals" scornfully explained that even with a PhD, I would end up with low skilled jobs! I was resolute, determined and ready to work hard. My research was an eye opener - there are many immigrant women with huge human capital, battling depression and mental illness because of under-utilisation of their skills.
Today, my story is different. I am presently a lecturer at the Leeds Business School, Leeds Beckett University. You can do this.
I studied Politics, Philosophy and Economics at the University from 2013 to 2016 and to say those years flew by would be an understatement! As quick as those years came and went, I remember that I made a conscious choice to embrace university and show York what Black excellence can look like.
During my time at university I:
was a recipient of the Chancellor's Leadership Prize given to only three outstanding students

won the Vice-Chancellor's Award

co-founded York's first ever student-led teaching organisation

published a research paper

was selected as one of the 'Top 10 Black Students in the UK' 2015

was highly commended for 'Outstanding contribution to student life' award by the Students' Union.
Embracing what university had to offer allowed me to land my graduate job at Barclays Investment Bank and my role working for Uber. My time at York gave me the confidence to start my own startup WEKA, a digital lending and credit analysis platform for small businesses in Africa. The startup is backed by Google for Startups, Cambridge Businesses School and Clifford Chance among others.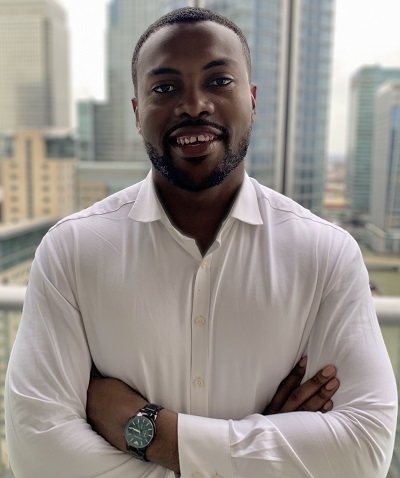 Black History highlight - Bill Richmond
Born into slavery, Bill Richmond began to gain fame as a fighter during his teenage years after he beat British solders in a tavern brawl during the American Revolutionary War (1775-1783). From this point onwards, the General of the British forces in New York arranged fights featuring Bill Richmond for the entertainment of his guests and troops. Then, in 1777, the general arranged for his freedom and passage to England along with an education and an apprenticeship waiting for him in Yorkshire.
After completing his apprenticeship as a cabinetmaker in York, he met and married his wife in 1791 while working around the county. While in Yorkshire, Bill Richmond faced prejudice and harassment. He was well-dressed, literate and a free man which made him very different to most other Black people in Britain at the time. However, historians think the main reason behind Bill Richmond's regular harassment was his marriage to his wife, a White woman. A confident man, he apparently challenged his tormentors to face him in boxing matches and brawls, and regularly won.
By 1795, Bill Richmond and his family moved to London. Here he began training and competing in numerous publicised boxing matches. The Pugilist Society (known as boxing today) was established in 1814 and Bill Richmond was likely the first Black member. At the age of 50, he was still fighting and winning matches against opponents half his age. He demonstrated his skills to visiting European royalty and instructed professional and amateur boxers at his boxing academy in the 1820s shortly before he retired. He was even selected to act as an usher at the coronation of King George IV in 1821, proof of his celebrity status.
He passed away at the age of 66 in December 1829. Bill Richmond rose from a slave to a boxing legend, proving that Black people have impacted the history of the nation even before the abolition of slavery in the UK in 1833. As such, Bill's story challenges the narrative of both British early modern history and the history of Yorkshire itself.
Read, watch and listen
Check out these resources to help educate yourself about Black History:
Untold Histories: Black People in England and Wales During the Period of the British Slave Trade by Kathleen Chater. A look into the life of the average Black person in England and Wales, where they came from, who they were and how they fit into society at the time seeking to overturn many assumptions made of the period.
Sophie Williams',

Millennial Black,

explores the experiences of Black women in the workplace. Jam packed with research, real stories and advice, this book is the new business manifesto that centres Black women.
Children of Blood and Bone

, by Toni Adeyemi takes you on an action packed adventure to a fantasy world where magic, West African mythology and the Yoruba culture come together beautifully.
Noughts + Crosses based on the novel by Malorie Blackman. Sephy is a Cross - a member of the dark-skinned ruling class. Callum is a nought - a 'colourless' member of the underclass who were once slaves to the Crosses. The two have been friends since early childhood. But that's as far as it can go. Highlighting a fictionalised alternate version of prejudice, Noughts and Crosses is a must watch.
Leigh-Anne: Race, Pop & Power

- BBC iPlayer - Leigh-Anne Pinnock shares her experience of being the only Black member of the pop band Little Mix, allowing us to share her exploration of racism across the music industry.
Reflections on Race

is a collection of short films exploring Black history and culture, as well as personal stories and perspectives on race and racism.
Black History Buff Podcast. Hear the stories of influential individuals and groups and learn more about Black communities from around the world.