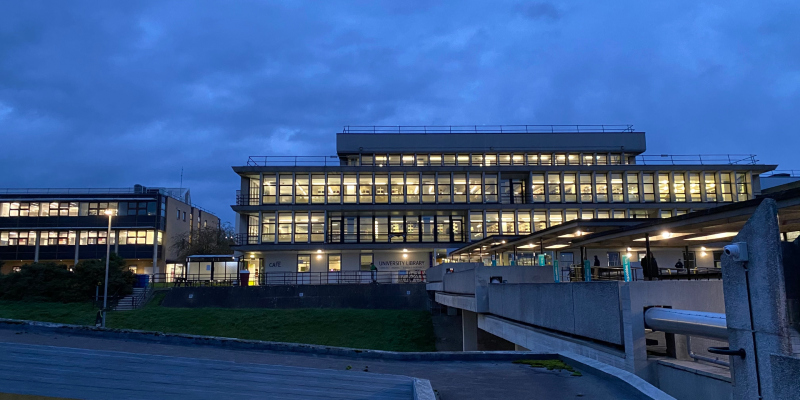 The Morrell, Fairhurst and Burton are on Campus West
Your library quickstart guide
Welcome to the library, new students!
The Library will play a big part in your experience while you're at York. There's a lot to take in if you're new, and we'll take you through some ways to get started on this page with a step-by-step Library To-Do List. Want more detail on any of these? You'll find detailed information on our #UoYTips guide.
The main library buildings are the Morrell, Burton and Fairhurst, all together on Campus West - and everyone is welcome. We've got Silent Zones, Quiet Zones, Studious Buzz Zones; bookable spaces, non-bookable spaces; group spaces, and individual spaces.
More information on study spaces and how to book
2. Access incredible resources
Our books are for everyone. You don't need to be a Postgraduate or member of staff, you don't need to put in a special request - just find what you need on the shelves, and borrow it using our self-issue machines.
YorSearch is our catalogue - search by keyword and find out what we have on any topic, in print and online.
3. Bookmark these essentials
What do you really need, right from the start?
4. Ask us anything
We can't stress enough how much we want you to ask us questions. Absolutely no one expects you to know how things work already, so just get in touch with us to find out!
Use our Chat Service at any time of the day or night. With a real person! Not a bot.

Visit our Help Desks in the Morrell and King's Manor Library

Ask us questions on social media: we're @UoYLibrary on Instagram and Twitter
5. Boost your skills
We provide videos, slides and interactive tutorials to help you develop your information skills, learn to code, work with data and get creative with digital technologies. We'll also show you how to follow good academic practice and develop your digital skills for effective reading, note-making, essay writing and problem solving.
Skill Guides
Our online Skills Guides allow you to learn in your own time and at your own pace
Workshops
See our face-to-face and online skills workshops in one place