Information for external visitors
The University of York Library is open to visitors and members of the public.
If you don't have a University Card, please visit the Library reception desk to the right of the turnstiles in the main Library building. You will be issued with a temporary card which will allow you to enter the Library for the day. Visitors can enter the King's Manor Library without a card.
If you would like to use the main Library on a long-term basis (eg. more than a month), please ask for a long-term access card at the Library Help Desk. York residents may also be able to take advantage of our York Community Membership and borrow items: follow the Membership link below.
Accessing books, journals and other physical resources
Anyone can visit the main Library or King's Manor Library to browse the resources on our shelves and use them for reference.
You can search our library catalogue from home, or from the Library Catalogue PCs on each floor of the Library.
In order to take books out of the Library building, you must be a Library member. Visitors and members of the public may be able to join the Library as members.
Getting here
Information about finding the Library, public transport and car parking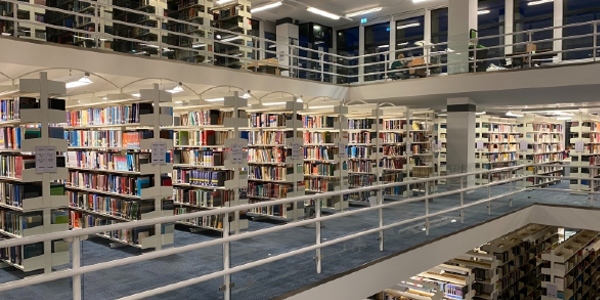 Membership
Find out how you can join the Library and borrow items
Library Catalogue
Browse all our resources on YorSearch
E-resources access for visitors
The Walk-in Access scheme can be used by external members and visitors to access a range of electronic resources whose licence agreements allow use by anyone on the Library premises. You'll find many of our online resources via the eResources Guide, but please note that not all will be available - see the 'Excluded e-Resources' below for more info.
Unfortunately, we are not able to offer full or remote access to our e-resources for non-university members due to the licence terms with our providers.
The service is available on a first come, first served basis during full service hours at the JB Morrell Library. It is not available during self-service hours or at the King's Manor Library.
Using the Walk-in Access service
To use the service, please ask at the Library and IT Help Desk. You will need to provide proof of identity and sign and agree to the Walk-in Access Terms and Conditions each time you use the service.
The Walk-in Access computer terminals have a USB port to enable you to save information. Unfortunately printing is not available for external visitors at this time.
Please ensure you bring with you one of the following forms of ID:
Driving Licence
Passport
Sconul Access confirmation email & home institution card
Photo ID card from home institution (FE students)
You won't be able to use the service without producing the specified identification.
You must only access the electronic resources from dedicated computers within University Library premises.
You must only access those electronic resources which are available to Walk-in Users.
Usage must be for educational purposes only e.g. teaching and training, course work, research activities, independent study etc. For the avoidance of doubt, use for commercial or business purposes is prohibited.
You must abide by the guidance on conduct in the University Library as outlined in the Library regulations. We require that you respect the needs of other users of the Library, and treat Library staff with respect and courtesy. Please observe signs and guidance on the use of the University Library.
You must abide by the University's Regulation 11: Using University Information, which applies to all networks and systems provided by the University.
[Library, Archives and Learning Services, November 2022]
We regret that we cannot make the following electronic resources available to Walk-in Users, due to licence terms and conditions imposed on us by the publisher or resource provider.
Individual ejournals
Acoustics Today
ALISS Quarterly
Annales Historiques de la Révolution Française
Babel: The Language Magazine
Balungan: A Publication of the American Gamelan Institute
Catalyst (Jacobin Foundation)
CEPR Discussion Paper series Centre for Economic Policy Research
Children and Young People Now
CIPFAstats archive services statistics
Community Practitioner
Crime, Histoire & Sociétés = Crime, History & Societies
Economist.com
Ends Report
EUobserver.com
Financial Times (FT.com)
Folio (Materials Development Association)
For the Learning of Mathematics
Interpretation: A Journal of Political Philosophy
Journal of Development Studies (Mattersburger Kreis für Entwicklungspolitik)
Journal of Mental Health Policy and Economics
Journal of Risk and Governance
Journal of the Audio Engineering Society
Journal of the North Atlantic
Lloyd's Law Reporter
Lloyd's Law Reports
Lloyd's Law Reports Plus
Lloyd's Maritime and Commercial Law Quarterly
London Review of Books
Marine Ecology Progress Series
Mental Health Nursing: The Journal of the Community Psychiatric Nurses Association
MIT Sloan Management Review
Monthly Review (Monthly Review Foundation)
New Left Review
Nursing Times (direct access)
Positive News
The Art Newspaper
The Journal of Nursing Education
The Pharmaceutical Journal
The Practising Midwife
Theatre Record
Times Higher Education (direct access)
Urban Morphology: Journal of the International Seminar on Urban Form
Wonkhe
Ejournal collections
Allen Press Miscellaneous journals
American Association for Cancer Research journals
British Editorial Society of Bone and Joint Surgery journals
Casalini Torrossa Journals
Duncker & Humblot eLibrary eJournals
Érudit Journals
Exact Editions journals
Harvard Educational Publishing Group journals
International Press journals
Kluwer Law Online Journals
Legalease Law Journal Collection
Peeters journals
Royal College of Nursing journals
Whiting & Birch journals
Databases including ebooks
Audio Engineering Society E-Library
BankFocus
Beckett Digital Manuscript Service
Box of Broadcasts (BoB)
British Standards Online Custom Collection
China Stock Market and Accounting Research Database (CSMAR)
Complete Anatomy
CRSP/Compustat
Datastream
Digimap
Ebook Central
Education Policy and Research Service
Elsevier E-Library
English Corpora
Euromonitor Passport
ExecuComp (Compustat ExecuComp)
Financial Times (FT.com)
Granth Sanjeevani
IBISWorld
Index of Medieval Art
ITER
Kanopy
Kluwer Arbitration Online
Lexis+ UK
Medical Law & Research (e-book)
Mintel Academic
Mintel Market Sizes
Nexis Advance UK
Practical Law
Refinitiv Workspace
SciFinder Scholar
SciFinder-n
Shakespeare's Words
Sketch Engine
Social Work Connect
TRILT: Television and Radio Index for Learning and Teaching
vLex Justis
Westlaw UK including Practical Law
Wharton Research Data Services (WRDS)
Wonkhe
Please note:
These resources may only be used for educational purposes. Use for commercial purposes is prohibited.
Library staff are only able to provide minimal support to individuals using this service. The resources have extensive online help pages and we would expect you to make use of these.
The service does not provide access to email, software (eg Microsoft Office) or the internet.
Information for alumni
York Graduates can join the Library as an external member, which will allow you to access the Library and borrow books. As a member, you will be able to access some of our e-resources through the Walk-In Access scheme.
Alumni and retired staff are also able to access JSTOR, an archive collection of academic journals covering a wide range of subjects. You do not need to join the Library for this service as access is provided by York for Life.
We are investigating extending the services we provide for York graduates, and value your input. Please get in touch if you have any questions or comments about the Library services, or if you have any ideas for services you would be interested in.