LibInspo
Have you ever had a great idea to improve the Library, Archives & Learning Services here at York, but not known what to do with it?
LibInspo is an occasional contest where we offer students the opportunity to work with us to shape our services and to improve the experience of fellow students for years to come.
The winning idea receives a prize of £1,000 and we work with the winning student to introduce the idea to the Library and wider services.
Ideas can be about the resources that we stock or how they are accessed; they may be about technology, or about activities we have within the library. Any ideas are welcome, no matter how big or small they are.
In addition to the main prize, we've also awarded smaller cash prizes for ideas that we were able to implement quickly and easily, improving the library experience for all.
Watch the highlights from our most recent LibInspo final, which took place in March 2023. You can find more info about all the ideas presented, in the Previous LibInspo events section further down this page.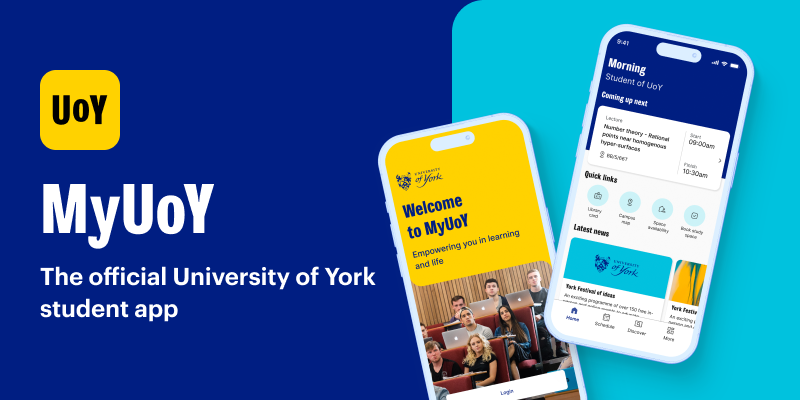 The six finalists ranged in departments and year of study.
Ioana Triboi, a foundation student from Health Sciences, led off the competition with their pitch for an Inclusive Outdoor Study Space.
This was followed by Samuel Harris, a first year psychology undergraduate, who presented their idea for a Library Sensory room to support student learning and study.
Up next was Holly Smith, a third year student from the School of Business and Society, who demonstrated their ideas surrounding an Interactive 360 library tour to help students navigate round the three buildings.
Brian Koo, from the Hull York Medical School, then explored the potential for silent mice and keyboards to support the silent zone (The Burton library) and reduce distractions.
First year biology student, Angharad Stables, was our penultimate speaker and presented their idea of autistic-friendly library pods.
Our final entry was Simrah Rubani, a third year Health Sciences student, with the idea of having a multi-faith prayer room within the library.
Congratulations to Samuel Harris who, after deliberation from the five judges, was announced the winner. They received the prize of £1,000 as well as the title "Library Innovator 2023." We will now work closely with Samuel to move forward with creating a sensory space within the library.
Ioana Triboi and Holly Smith also received "highly commended" awards and won £250 each for their idea. The other finalists also received £50 for their presentations. We now aim to take ideas from all the presentations to improve the library.
The final event was hosted by Gary Brannan, the Keeper of Archives and Research Collections at the University. We also had a fascinating speech from our keynote speaker, Alex Widdeson (Associate Director for Engagement and Innovation at the University of Liverpool Library) who focused on the changes of student behaviour and expectations within libraries and the ideas of co-creating with students.
Overall it was a fantastic event and we are excited to take on as many ideas as we can in future library plans.
The 2020 LisInspo was held on Wednesday 26 February 2020. It featured 6 finalists who pitched their ideas to the audience in a five-minute presentation window, followed by questions from the panel and audience.
The guest speaker and host was Alison Barrow - a sociology alumni of York and now PR director for Transworld Books, as well as Trustee of the Womens Prize for books.
The six finalists were from the Maths department, electronic engineering, education, health sciences and two students from psychology. Each presentation was excellent, with a series of sketches depicting the full extent of an outdoor nature study area and mock ups of room availability interfaces and digital screens.
The overall winner was Shelly Vipond with their idea for a family friendly space in the library. The idea was a response to NUS surveys and experiences of guilt when parents leave their children in order to study.
Annabel McMahon was awarded Highly Commended for their room availability and booking tablet idea.
The first LibInspo event took place on Thursday 28 February in the Ron Cooke Hub on Campus East. Five student finalists presented their pitch to a judging panel and audience members, including Library and Archives staff, other staff from across the University and a number of students. Each finalist gave a presentation of up to five minutes, followed by questions from the judges.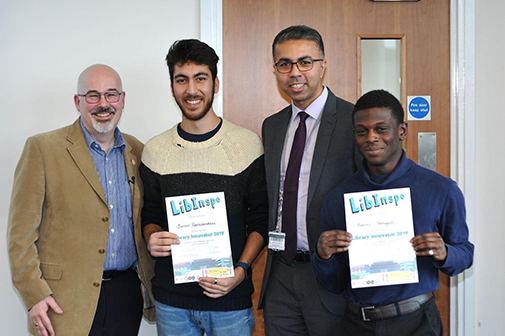 The event host was Richard Morris, a York alumnus and CEO of The Giving Machine. Richard introduced the event and each finalist, and gave a keynote about his career since leaving York whilst the judges selected the winning submission.
The Library Innovators 2019 were Yuveer Ramchandani (TFTI) and Daniel Famiyeh (Electronic Engineering) who pitched their app "Deskmate" to monitor study space availability within the library. Yuveer and Daniel created the app from scratch, utilising our publicly available live library data.
Eleanor Ingham (SPSW) was awarded Highly Commended for her idea "Electronic library card and UoY app". Eleanor impressed the judges with her market research.
Congratulations to the rest of our finalist who also gave great pitches:
Emily Mellows (Department of English): Wellbeing section
Katie Parton (Psychology): Escape room
Thomas Kent (History): Study room availability screens
What makes a good submission?
We're looking for ideas with plenty of detail! We need enough information about your idea to decide whether it's worthy of being a Libinspo finalist.
Space is a popular theme for LibInspo, with previous entries successfully developing spaces for wellbeing and family study. While we aren't discouraging any themes (if you have a fantastic idea about space, please tell us) here are a few ideas to get your creative juices flowing…
Library policies

- we've already gone fine free, have you got any other ideas related to our flexible loan policies, or rules in the library?
Collection and stock

- is there anything you would like to see on our open shelves, or the ways you can request or use our collections?
Technology

- have you got a unique idea that involves Yorsearch, or a way to navigate the library website?
Inclusivity & accessibility

- could our collections or services be more accessible? Whether for a complete new policy, facility or resources, let us know.
With £1,000 up for grabs you might want to spend time thinking how to promote your distinctive idea, and make it as attention-grabbing as possible. Here are some tips to ensure a good submission:
Do some research about what we provide at the University. We might already offer your idea in some form, so make sure you've looked on our website or social media, or have asked around before you submit.
See whether your idea exists at another university. This might give us some helpful inspiration about how the idea might work at York. Remember to acknowledge if you've seen the idea somewhere else and to tell us why it's a good fit for our university.
Be passionate! Explain what inspired your idea and help us to appreciate what makes it noteworthy. Perhaps you've experienced, or witnessed, challenges of using the library which can bring your idea to life.
Remember that we won't have seen your submission until after you've sent it in. Try to write it so that it makes sense for someone who doesn't know the background and who hasn't heard of the idea before. Why not ask a friend to check it before you submit.