Teaching and assessment
Work with world‐leading academics who'll challenge you to think independently and excel in all that you do.
Our approach to teaching will provide you with the knowledge, opportunities, and support you need to grow and succeed in a global workplace. Find out more about our approach to teaching and learning.
Teaching
Studying Philosophy is different from many other degrees. You need to be an active participant in your learning, asking questions and evaluating your own responses and those of others.
You will take part in discussions with academics and fellow students. We have regular visiting speakers who give lectures and workshops, and a student-run Philosophy Society - a social way to extend your interest in the subject.
Our staff are regularly available to give feedback and advice, giving you opportunities for one-to-one contact and informal discussions.
If you study a combined course, you'll benefit from specialist teaching and facilities, such as workshops, laboratories and field trips.
Contact hours and independent study
Your contact hours will vary based on a number of factors such as the time of year. These hours are an estimate based on a representative first-year student on this course.
Teaching type
Hours

Lectures
Large group sessions that will introduce you to the main themes of each module.

4-5.5 hours per week
Seminars
Small group sessions where you'll discuss a particular topic, usually based around an assigned reading.
3-5 hours per week
Workshops
Practical sessions for project work.
1-2 hours per term
Supervisor meetings


A chance to meet with an academic member of staff to talk through your progress, celebrate your achievements and raise any concerns.

1-2 hours per term
The rest of your time on the course will be spent on independent study. This may include preparation for lectures and seminars, follow-up work, wider reading, practice completion of assessment tasks or revision.
Everyone learns at a different rate, so the number of hours will vary from person to person. In UK higher education the expectation is that full-time students will spend 1,200 hours a year learning.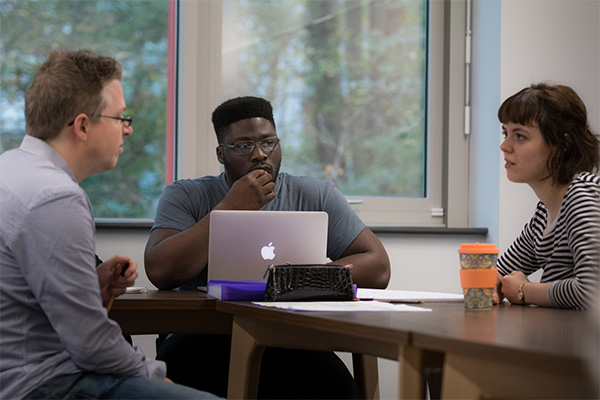 Assessment
You'll be assessed in different ways, depending on your course and the modules you choose. In Philosophy, essays and exams will make up most of your assignments. Your first and second year will have a fairly equal balance, with third year modules mostly assessed by essay. Combined degrees are weighted differently, and may use different types of assessment.
You'll submit summative work, which counts towards your final degree score, and formative work, which doesn't count towards your final grade but gives you the chance to practice techniques and identify areas to improve. We'll provide detailed feedback on the work you submit, supporting you to develop your academic skills.
Types of assessment
Essays are extended pieces of writing. Essay questions in your earlier years will usually be set by your tutors. As you progress through your course, you'll have the opportunity to set your own essay questions.
Closed exams take place within a set time limit (usually a few hours) under closed conditions in the presence of invigilators.
Presentations are an assessment of how well you can present your ideas or your argument to your coursemates and tutors.
Podcasts assess your ability to work as a team to present philosophical research in an engaging way for non-philosophers.
You need to pass your first year to continue your degree, but your marks won't count towards your final grade; we recognise that students are beginning to develop over the course of their degree.