RoboFish is made up of a series of jointed segments.
Splitting a protective and watertight enclosure into jointed segments brings many challenges to water tightness, particularly in deep water under high-pressure conditions.
In the literature, several potential solutions to body flexibility are introduced, but often are still in the development stage and lack the required robustness. A number of robotic projects rely on a watertight cover while others achieve water tightness through a dynamic seal around the shaft.
This page shows the design of an innovative sealed joint via magnetic coupling that uses inexpensive and accessible additive manufacturing techniques. It also introduces the modularly designed electronic system enclosed in RoboFish, as well as the head design.
Magnetic joint for multi-actuated body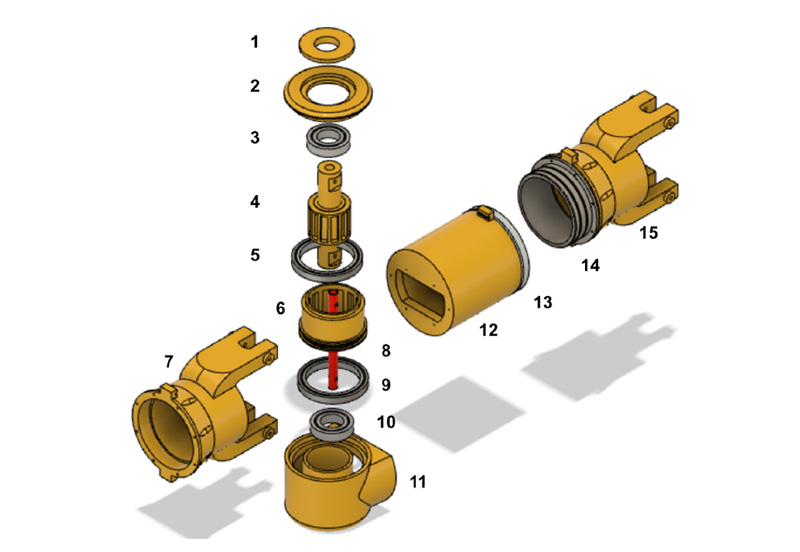 Click here to see how the RoboFish segment is composed.
All parts compromising one tested RoboFish segment: 1 - Inner joint housing lid; 2 - Outer joint housing lid; 3 & 10 - Zirconia full ceramic bearing; 4 - Driven shaft; 5 & 9 - Stainless steel bearing; 6 - Driving shaft; 7 & 15 - Electronic housing; 8 - Reinforcement Aluminium bar; 11 - Joint housing; 12 - Servo housing; 13 - Female Stainless steel ring; 14 - Male Stainless steel ring
An innovative magnetic joint design has been developed as part of the construction of RoboFish. It is designed as a solution for a jointed watertight body made using current 3D printing techniques that achieve water tightness and resilient composite metal-polymer bonding.
The design avoids dynamic interfaces and the need for rotary seals yet achieves robustness and strength. Test results prove a successful implementation of the magnetic connection between a free rotating inner shaft and a driven outer shaft in the jointed body.
Body segment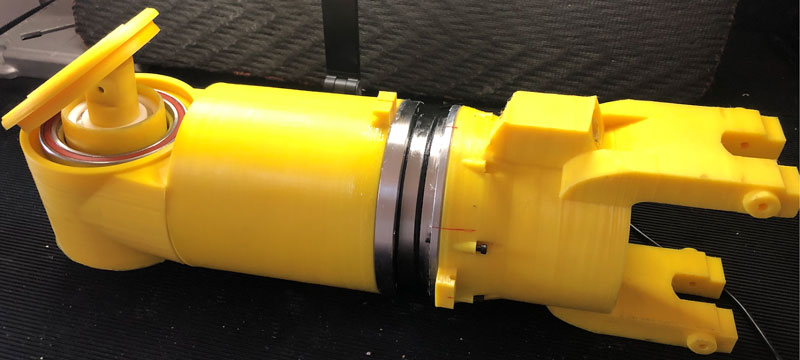 Following a number of tests using a simple RoboFish body consisting of the magnetic joint and two PVC pipes, we have designed a new body segment allowing O-ring sealing to work with 3D printed parts robustly. To provide the 3D printed parts with the toughness and tolerance that O-rings need, two stainless steel rings are incorporated in each segment as an intermediate connection, allowing disassembly if needed.
Electronic design
RoboFish uses a modular software and hardware architecture. Each segment is self-contained and includes self-managed battery power, internal and external sensor data, and actuator control using an ST STM32F417 microcontroller.
Communications and power transfer between segments are performed through a customised 100Mbit Ethernet bus, and RoboFish can charge autonomously underwater by docking with a source such as EC-OG's Subsea Power Hub.
The head segment contains a powerful Xilinx Zynq SoC that serves as a master control node, communications router, and FPGA-accelerated vision platform with an acoustic rangefinder for position detection.
While wifi communication is only available on the surface, RoboFish can also communicate at low rates underwater by an acoustic modem.
Communication and machine vision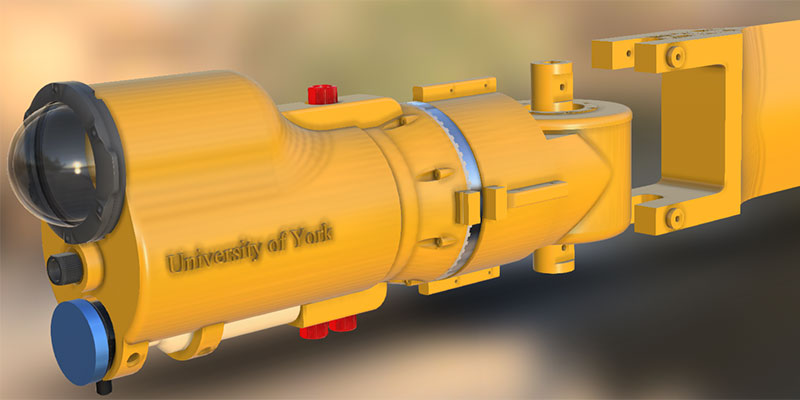 RoboFish currently uses vision for close-range navigation and inspection of structures, with the ability to build complete visual models of the structure by using 3D reconstruction methods.
We are also working on the use of a range of on-board sensors to record data as well as localising and communicating using underwater acoustic modems. All of this will be installed in the head.
Following a number of tests, the WL-11003 M64 acoustic modem has been chosen for communication and the PING-SONAR-R2-RP Echosounder for distancing.
Contact us
Dr Mark Post
Lecturer (Assistant Professor) in Robotics and Autonomous Systems

Contact us
Dr Mark Post
Lecturer (Assistant Professor) in Robotics and Autonomous Systems