The changing mind: A neuroscientist's guide to ageing well Professor Daniel Levitin, Minerva Schools at KGI and McGill University
Talk
This event has now finished.
Date and time:

Thursday 27 February 2020, 6.30pm to 7.30pm

Location:

Room SLB/118, Spring Lane Building, Campus West, University of York (Map)

Audience:

Open to alumni, staff, students, the public

Admission:

Free admission, booking required
Event details
Psychology Lecture
Author of the iconic bestsellers This Is Your Brain on Music and The Organized Mind, Daniel Levitin turns his keen insights to what happens in our brains as we age, why we should think about health span, not life span, and, based on a rigorous analysis of neuroscientific evidence, what you can do to make the most of your seventies, eighties, and nineties today no matter how old you are now. Using research from developmental neuroscience and the psychology of individual differences, Levitin shows that sixty-plus years is a unique developmental stage that, like infancy or adolescence, has its own demands and distinct advantages. Levitin looks at the science behind what we all can learn from those who age joyously, as well as how to adapt our culture to take full advantage of older people's wisdom and experience. Throughout his exploration of what aging really means, Levitin reveals resilience strategies and practical, cognitive enhancing tricks everyone should do as they age.
About the speaker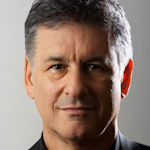 Professor Daniel Levitin
Daniel J Levitin is Founding Dean of Arts and Humanities at the Minerva Schools at KGI and James McGill Professor Emeritus of Psychology at McGill University.
Dr Levitin earned his PhD in Cognitive Psychology with a minor in Music Technology from the University of Oregon, his BA from Stanford in cognitive psychology, and completed post-doctoral training at Stanford University Medical School and UC Berkeley.
He is the author of four consecutive international bestselling books This Is Your Brain On Music, The World in Six Song, The Organized Mind: Thinking Straight in the Age of Information Overload, and A Field Guide to Lies: Critical Thinking in the Information Age. A Field Guide to Lies was winner of the Quebec Writers' Federation 2016 Mavis Gallant Prize for Non-Fiction, the 2017 National Business Book Award, and the Axiom Business Book Awards 2017 silver medal for Business Ethics. His fifth book, The Changing Mind: A Neuroscientist's Guide to Aging Well will be released on 27 February 2020.
Levitin has published more than 100 scientific articles in leading journals, including Science, Nature, PNAS, Neuron, and Cognition. He is credited with fundamental discoveries about the nature of musical memory and absolute pitch, the neural correlates of musical structure, and the role of the cerebellum in mediating musical emotion.
Prior to entering academia, Levitin was a record producer and engineer with artists such as Blue Öyster Cult, Santana, and Stevie Wonder.
Venue details
Wheelchair accessible
Hearing loop