Congratulations on getting an offer to study with us, we hope we'll get to meet you soon! In the meantime, we wanted to give you a chance to learn more about one of our lecturers in social work, Katie Graham.

My research is about people being able to take control of their own lives
I was a social worker before I started working at the University. I worked with people with learning difficulties, and in safeguarding as well. I often found myself thinking if things could be done differently, so that's when I started studying for my PhD.
My research has stemmed from there - from seeing things first hand. On my second placement as a student social worker I worked with people with learning difficulties, and now my research focuses on the personalisation of adult social care. It's about people with learning difficulties being able to take control of their own lives and living the life they want to live, as well as the challenges associated with that. I'm also generally interested in working with people with learning difficulties to see how we can improve opportunities and develop more inclusive communities.
It wasn't an area I'd ever thought about working in until I started it, but from then on it was pretty clear to me that that was where I wanted to be.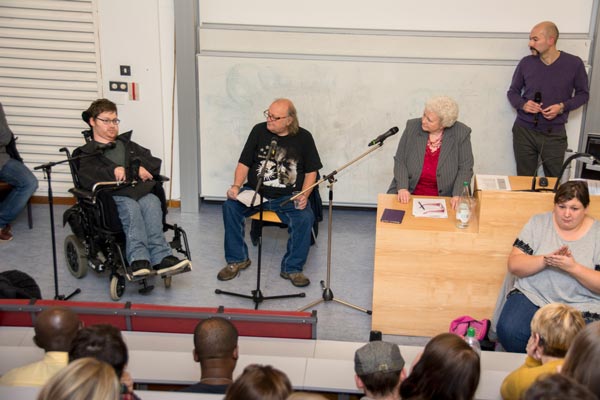 It's exciting working with people who are trying to seek change
We're currently working on a project around parenting in collaboration with York People First, which is a self-advocacy group for people with learning difficulties. I've been working with its members for quite a long time, having a lot of conversations and finding out what's important to them; how the University and I can help support their agenda and advocate for change. I'm excited about working with people with a lived experience of having a learning difficulty, and trying to seek some sort of change.
Social work is a really broad profession
We do lots of different things in lots of different organisations. Although it's very often thought of as child protection focused - and that's what the high-profile media cases tend to be - it actually works in loads of different settings.
Our degree prepares you for work in a vast array of organisations. You might go on to work in local authority, safeguarding, working to protect children and support families, working for a non-governmental organisation or in the Calais refugee camp. You'll be using all the same skills that you learn as a social worker. Our programme really aims to prepare people for any sort of social work, so we're interested in voluntary as well as statutory social work.
An international outlook
Social work is an international discipline. It's used differently across the world, and obviously it's employed in a variety of professions, but we utilise the same skills and face similar challenges. So we offer placements abroad and we're always looking to develop more. For instance, one of our students went to America and worked for a six-week placement in a women's refuge in Philadelphia.
Culturally, social work is very different from country to country - in the USA it would be more therapeutic, so more akin to counselling. In the UK it's more about access to services and managing risk and protection of people. In Australia it's more community based, and we're kind of moving in that direction ourselves.
We draw on the expertise of professionals and practitioners
Social work has always been part of our department; it was founded on it in some respects. Our commitment to social work is very important to us.
It's always seen to be vocational rather than academic, but our programme is very academic, and it's focused on essentially the same first two years as social policy. The relationship between Social Policy and Social Work is very important, and at York we recognise that and encourage working closely together from the start.
We draw on the expertise of everyone in the Department. A lot of us have trained and qualified in social work and have years of experience as practising social workers. Social policy expertise around housing and welfare is also critical for social workers. This collaboration helps us and our students to become thoughtful and challenging professionals that can shape the discipline and hopefully improve it as we go on.