Congratulations on receiving an offer to study with us!
With a strong research background in health economics, one of our lecturers, Mathilde Peron, talks here about her ongoing research, teaching, and what it's like to be an Economics student at York.
Contact us
For any support or guidance on completing your journey to York, we're always close at hand.
Economics has always been my main academic interest
That said, in addition to economics, my undergraduate studies included philosophy, mathematics, sociology and management. So, I have quite an eclectic background.
I completed my undergraduate and graduate studies in France. After my PhD, I spent a year in Princeton, USA as a Fulbright scholar. I then joined the Centre for Health Economics (CHE) here at York as a research fellow, and moved to Economics as a lecturer in 2017.
York has a huge legacy
York is a pioneer in health economics, and the CHE is a world-renowned research institute.
As a research fellow at CHE, I worked as part of the Technology Assessment Reviews Programme, which carries out economic evaluations to inform the National Institute for Health and Care Excellence (NICE) for the approval of new drugs.
Although new drugs can have important, life-saving health benefits, they can come at a high cost for healthcare systems. Funding a new drug can mean giving up funding for other types of care. Approval has to increase overall health outcomes, and that is why economic evaluations are so important.
Our research helps students see how economists can have an impact
I've been carrying out research into health economics, and the way in which we teach and learn it. I'm using data to measure the impact of health insurance design to see how it affects healthcare consumption and prices. I'm particularly looking into the risks of creating a two-tier system - the rich and relatively healthy versus the poor and sick. I use this research when teaching our 3rd-Year Health Economics module with my colleague, Nigel Rice. In it, we also cover topics such as health insurance, economic evaluation, and the economics of obesity.
It's very rewarding for us to use our research in our teaching because it's something we're passionate about, and we can also show you how economics can be used to look at real-world problems.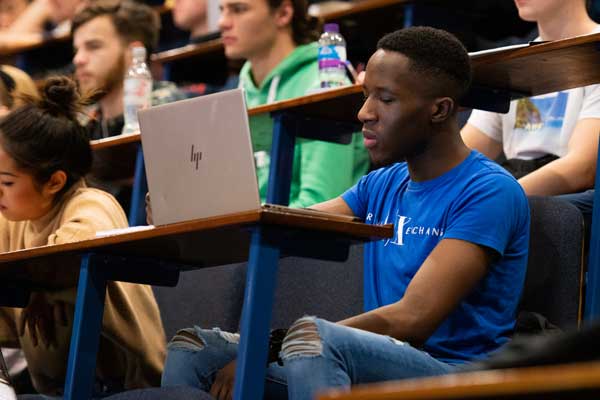 Active learning
I'm also involved in research into active learning, especially how we design our courses when faced with larger classes. We need to ensure everyone can engage in learning, and are able to ask questions and work with peers before, during and after lectures.
As part of this research, I've run projects with the Learning Technology team at York to see how we can encourage active learning and interactions during lectures. This is especially helpful for you, as a 1st-Year student, to transition easily to university.
Teaching in the first year
I teach Economic Data Analysis, a 1st-Year core module that deals specifically with data literacy. This is an important skill for economists but also, I believe, for any citizen. I cover topics on defining data, how to appraise data quality, and the methods used to collect, analyse and visualise data. As an economist, you will learn the power of data and its limitations.
If you're on a joint degree, like PPE, or History and Economics, you'll take Economics I. We cover how economics applies to a number of real-world subjects, including inequality and climate change.
What makes York special
Economics at York is a vibrant community of staff, students and visitors from all over the world. Our lecturers are all experts in their fields - not just health economics, but also political economy, economic theory, applied microeconomics, econometrics, macroeconomics and finance.
You'll find that your lecturers are very approachable. We do care about you individually, and you will have your own supervisor throughout your time here.
You can also benefit from the Open Lectures series, our own Economics Society and magazine, and everything else that the city of York has to offer.