Design the new David Kato College shield
Posted on 27 January 2022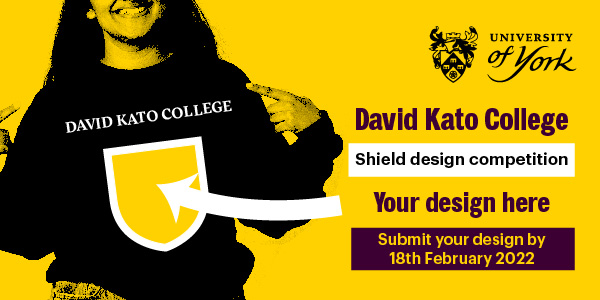 The brand new David Kato College on Campus East is scheduled to open in September 2022. All of our existing colleges have their own unique identity, including the college shield and colours.
That's where we need your help
Take part in a competition to design the new David Kato College shield.
The shield and its associated colourway is an integral part of a college identity and is something that lives on within the college.
You don't have to be a budding graphic designer- submit draft ideas or a completed design.
About David Kato
We cannot wait to see how you interpret David Kato College in your thoughts and design ideas. David Kato was a Ugandan human rights defender and gay rights activist. He came to the University of York in 2010 for six months as a Protective Fellow on the Human Rights Defenders Programme at the Centre for Applied Human Rights (CAHR).
His time at York provided respite from his role in Uganda as a human rights activist, and his legacy supports the University's continued commitment to the lesbian, gay, bisexual and transgender communities (LGBT+). David returned home to Uganda to fight the country's controversial anti-homosexuality act. But he was murdered in Kampala in 2011, weeks after winning a court victory over a tabloid paper that called for homosexuals to be killed.
Design advice
Colourways must be simple and a flat colour. Limit your design to three colours max.

Remember the design must be accessible. This is something that the in-house graphics team will work through but bear it in mind.

Consider the fact that the shield will be reproduced over time in black and white.

Our graphics team may need to make some small adjustments to your design, but will work with you to keep it as true to the original as possible.
See our design guide for more details on size options: David Kato Design Guide (PDF
, 818kb)
How to submit a design idea
Simply upload your idea / design / draft / concept as a .jpg, pdf or vector and let us know about any extra inspiration or detail in the space provided.
Submission deadline: Friday 18 February 2022.
Next steps
The deadline for submissions is Friday 18 February

A small working group (including college staff) will review all of the entries

We hope to be able to announce the winning concept by April 2022

The winner will then have the opportunity to work with our in-house graphics team to work their idea into a final design and will win a package of college merchandise featuring their very own design
Important stuff you need to know
The winning design will be fully owned by the University of York and incorporated as a University of York brand asset for the David Kato College.