CANCELLED - Psychedelics and anomalous experience: From neurodivergence to the transpersonal Dr David Luke, University of Greenwich
Talk
This event has now finished.
This event has been cancelled.
Date and time:

Tuesday 8 March 2022, 7pm to 8.15pm

Location:

Online only

Audience:

Open to alumni, staff, students, the public

Admission:

Free admission, booking not required
Event details
Psychedelics in Medicine Society talk
Please note that this event will be held online, not on campus as previously advertised.
Now that the psychedelic renaissance has found its way out of the birth canal and enters its childhood there is an ever-increasing need for psychedelic psychotherapy, integration, sitting, welfare and aftercare. While many therapists and counsellors may be well equipped to engage with the autobiographical material that arises there a number of unique dimensions to how people, especially those with neurodivergence, process the transpersonal nature of psychedelics that warrant special attention and treatment. Furthermore, there is a great deal that can learned about consciousness through studying these unique anomalous experiences.
This talk explores some of the range of transpersonal experiences that may arise, their ontological complexities and challenges, and the metaphysical shifts that may occur. Some consideration will also be given to the nature of neurodivergence and the use of psychedelics. Topics likely to be covered include inter-species communication, eco-consciousness, mediumship, possession, entity encounters, near-death and out-of-body experiences, psi, alien abduction experiences and lycanthropy, alongside congenital blindness, aphantasia, synaesthesia, HPPD and autism/ASD.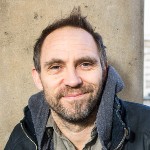 Dr David Luke
Dr David Luke is an Associate Professor of Psychology at the University of Greenwich. His research focuses on transpersonal experiences, anomalous phenomena and altered states of consciousness, especially via psychedelics, having published more than 100 academic papers in this area, including ten books, most recently most recently DMT Entity Encounters. When he is not running clinical drug trials with LSD, conducting DMT field experiments or observing apparent weather control with Mexican shamans he directs the Ecology, Cosmos and Consciousness salon and is a cofounder and director of Breaking Convention: International Conference on Psychedelic Consciousness.
Partners