MSc Digital Systems Engineering
Matt Reynolds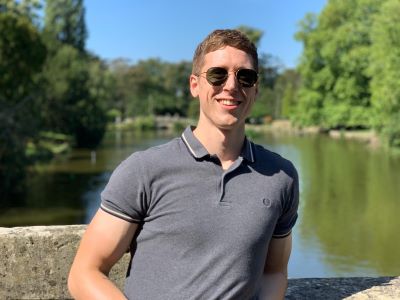 "Following the completion of my undergraduate course in Electrical Engineering, I spent a few years in the defence industry still uncertain what I wanted to focus my career on. Through a series of fortunate opportunities, I ended up on a secondment working with FPGAs. I instantly knew that this is what I wanted to do, however I felt I lacked the right background to be effective in my role. I decided the best course of action would be to leave my position and return to full-time study.
When looking for an MSc course I knew I didn't just want to study to gain a qualification. Instead I wanted to learn a very specific skill set that would make me more employable in the area of digital design and give me the confidence to tackle complex digital design problems when I returned to work. Digital Systems Engineering at York did exactly this.
I selected this course because of its heavy focus on lab-based learning, with lots of hands on experience being consistent throughout. It certainly delivered on this and I became particularly confident with FPGAs, VHDL, and the C programming language. Of course, it is appropriately supplemented with the necessary theory but there is a clear emphasis on learning how to implement solutions rather than just thinking about them.
There's also a fantastic module on IC design and layout, which also helps to prepare you for positions in ASIC design, stepping outside the comfortable realm of FPGAs. It is in this field that I have begun my new career, working as a Graduate CPU Design and Verification Engineer at Arm in Cambridge. This is of course an amazing opportunity and I am confident that had it not been for my time at York I would not be in this role."
Bernard Gunčić
"Getting a bachelor in electrical engineering at the Zagreb University of Applied Sciences made my goal clearer to further specialize in the field of digital electronics and hardware design. At the first glance from the website, Digital Systems Engineering modules seemed well-defined and fully aligned with my field of interests which facilitated my decision quite a lot. Apart from the MSc course, views of the incredible city of York said the final word which later on turned out to be the best decision so far.
I found the DSE course comprehensive to certain extent, not only that DSE modules covered the IC design, hardware design (FPGA, PCB) along with the tools used, but I also had the opportunity to gain knowledge in low level software (drivers) programming. What I found most beneficial was significant practical work in the labs where we were translating theory into solving real world tasks (custom CPU in VHDL, SPI Protocol, pipelining). That wouldn't be possible without having the highly knowledgeable and helpful lecturers.
As the DSE is structured to work in teams in order to gradually build the final project, I had the chance to experience the management side of the project as well as the writing technical documents (tender, QAM…) and presentation.
Overall experience with the VHDL, xilinx vivado/SDK tools, flow of the project along with the familiarity of up-to date trends in hardware design put me in a position to successfully secure a job as Junior FPGA Engineer before I finished the course. Needless to say that I wouldn't be in that position if I hadn't had the skills and knowledge taken from the MSc DSE, hence I highly appreciate the given opportunity to study at the University of York! "
Spyros Chiotakis
"Before coming to York, I studied Computer Engineering at the Technological Educational Institute of Crete in Greece where I got interested for the holistic view of low-level computer systems (Hardware/Software). The MSc in Digital Systems Engineering was a great opportunity for me to study at a highly recognized university and expand my knowledge and career prospects. Having already been once at York and in the university as a tourist I knew that the city was amazing to live in as a student, so I decided to apply.
My experience with the course modules was overly positive with the professors being the friendliest and most supportive I've ever had. The courses in both VHDL, low level drivers and integrated circuit design covered blank spots regarding my comprehension of the computer stack. The project in designing our own FPGA and architecting a music player in it allowed me to get a glimpse of how my future would be, in regards to working with other people towards a common purpose, since I lacked work experience.
During my course I was able to apply and land a job in Virtual Open Systems in France as a hardware engineer on FPGAs. The aforementioned course provided me with all the tools needed to tackle the interview questions that I faced and get the job. To conclude, my one year stay at the University of York was a perfect match for my ambitions and a stepping stone for my future."
Adam Wilson
"My undergraduate summer placement with SSI UK at the Redcar Blast Furnace had given me an interest in heavy industry, and being from a family of engineers and based in the North East a career in industry seemed like a natural choice.
Therefore, after finishing the DSE course I accepted a role with a company specialising in marine power & automation - their past projects include the production of control and drive systems for various offshore applications, primarily renewables, oil rigs, and large sea vessels.
I have already supervised several projects including the design and installation of a supervisory control system for an experimental renewables project, currently located off the Welsh coast.
This job has given me responsibility for my own projects at a very fast rate, and requires that I drive a project right from its conception through client negotiations, specification, procurement, design and testing, factory testing and client acceptance, to the final stage of commissioning and site acceptance, followed by the provision of documentation and support to the client. This is a tough learning process and requires a lot of effort, however I feel that the project management and time management skills I gained from the DSE have helped me immensely.
The theory I learned from the DSE has also proven extremely useful, as FPGAs are used in a lot of industrial hardware and a wide variety of communications protocols are standard, including RS-232/485 variants and CAN. I primarily program PLCs and HMIs for control applications, but I also do a lot of desktop programming in C#.
I don't believe that I would have been prepared for this intense role without having done an MSc DSE, partially because of the knowledge it provided but mostly due to the ability I now have to adapt very quickly to new environments and to new challenges, which is necessary in a career where the goal posts are constantly changing and there is very little stability."
Jiashun Lin
"After my bachelor degree in Telecommunications Engineering in Shenzhen University, I initially worked as an Engineer at MINDEO, which is a leading bar code scanner manufacturer in mainland China, for two years. Talent is the lifeblood of every business, and I know York University courses equip students with a range of practical and theoretical skills, so my company decided to send me to undertake a Master's Degree in order to use my industrial experience and specialize in Digital Systems.
I enjoyed the great benefit of the Digital Systems Engineering course with a good theoretical background and hands-on experience of the techniques used in modern digital systems design. My approach towards Digital Systems designing and VHDL programming was enhanced significantly and over the course of the final project with Project Management process, it is very helpful to understand Project Management.
Finally I obtained my Master's with Distinction in DSE. I went back to China and took on the role of Embedded system Engineer at MINDEO and successfully designed several scanner products for many countries. Thanks a lot for having a fantastic one year at York University."
Bharath Venkatasubramanian

"After a degree in Electronics Engineering, I initially worked with Wipro Technologies handling hardware verification for 5 years. I decided to undertake a Masters Degree in order to utilize my industry experience in specializing on Digital Systems. This led me to become a student at the Department of Electronics in the University of York doing Digital Systems Engineering.
The course emphasized Digital System Design and development with challenging hardware programming. The overall DSE experience enhanced my approach towards Digital Systems and VHDL coding. There was also a track on Project Management which helped in each stage of the Final project right from the start of the course. With very helpful and understanding professors, it was a great experience completing the Masters Degree.
The Electronics Job fair during mid-term made me dream about a career in ARM Ltd., the Digital giant. With Distinction in my Masters degree and 5 years experience in the Electronics industry and with timely help from the Careers advisor about my profile and resume, I landed the role of Implementation Engineer in my dream company and am currently working in the role. Although only a short span, I had a fantastic one year at York and I am so glad I made the decision to study there."