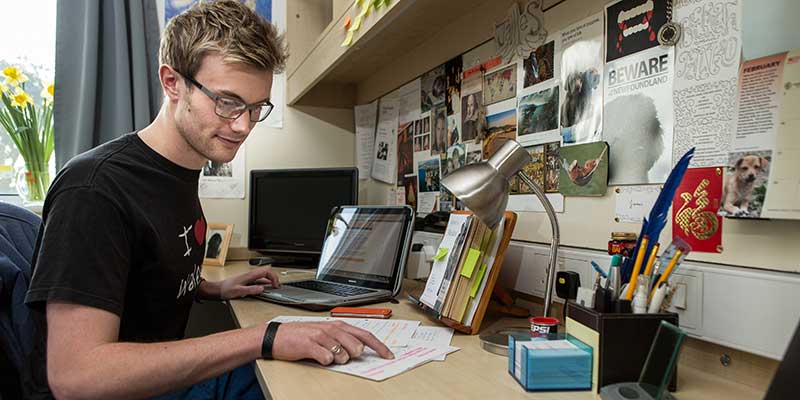 Study skills and revision tips
There are many different resources out there to support you with your learning, but sometimes, you might not know where to start.
If you need extra information or haven't quite understood something, we've put all the resources you'll need together here.
These web pages are a great source of information but may have adverts for their products and third parties. We encourage you to stay on the free versions of the platforms.
Got some resources you'd like to tell us about? Share them here!
Revision techniques
Struggling to find the motivation to revise? Don't even know where to start? Well, look no further!
Firstly, watch the video below for a summary of some different revision techniques to get you started. Then click through the presentation for a real life worked example of something you might study in biology - the human digestive system. We've taken a big chunk of text and then condensed it down into different formats so you can see how it works!
Revision techniques challenge
Use the template provided (or your own) to express a concept you find difficult, using all of the different revision techniques. If you're stuck for ideas, a good Key Stage 3 example would be photosynthesis, and a Key Stage 4 example could be meiosis!
Scan or upload your techniques and send them into us at pre16provision@york.ac.uk to be in with a chance of winning a voucher!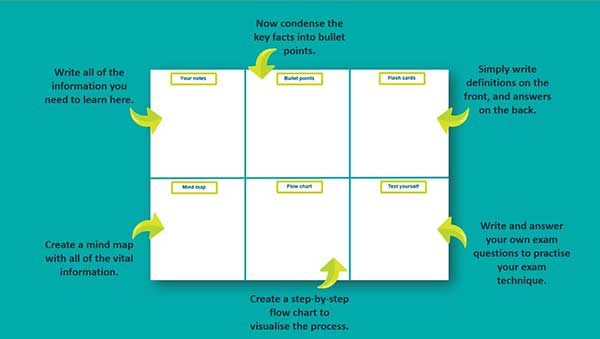 Subject resources
For more fantastic online study support, see our guide to our favourite BBC Bitesize resources.
Top tips for studying and learning
Want to hear what some of our students have to say? Watch Amy and her friends share their top tips for studying and learning.
Tips for learning and studying at home
Get dressed
It's easy to stay in your pyjamas and work from your bedroom, but you're guaranteed to become less motivated and more distracted. Simply having a shower and getting dressed in the morning will wake you up and set you up for the day.
Create a clutter-free study space
A messy desk will significantly lower your productivity. If your study space is clear, your head will be too. How about a plant to keep the oxygen level up too?
Set regular working hours
Whether you're an early bird or a night owl, choose which working hours are best for you and stick to them! Otherwise, it's so easy to procrastinate and put off your work, when you'll inevitably have to come back to it later on.
Create a timetable - and stick to it
Designate time to each subject, as it's easy to fall into the trap of focusing all of your time and efforts towards the subjects you enjoy or perform best in. This will ensure your work is always ready with plenty of time before a deadline, dissipating the need for any last minute panicking.
However, don't overwhelm yourself
Use a productivity app like Forest
Forest stops you getting distracted by stopping you using other apps on your phone. You can also download it onto your web browser and blacklist certain websites - some people use this to block things like Facebook, Instagram, Buzzfeed and Youtube, but it means they can still carry out work and research.
Vary your work
Simply reading your notes won't help. Make summaries, posters, flow charts, flashcards or mind maps to learn your subject content, then use past paper questions to test how much you have learnt. There are so many study Youtubers too, and channels like Crash Course, if you find that watching videos is your best way to learn.
Don't be scared to ask for help
Your teachers are still there to help you, and they will be more than willing to answer your questions - they don't want you to fall behind just as much as you don't want to. Remember that if they take a while to respond to you, everyone may be struggling in the current circumstances and they'll get back to you as soon as they can.
Don't lose touch with friends
It is completely understandable that you'll be missing your school friends, but it's important not to let those feelings of isolation cause you to drift apart. It is amazing how much of an effect the occasional text or Zoom quiz can have on someone. We definitely feel so energised after talking to friends, as it gives a sense of normality so don't forget to check up on them.
Look after yourself
And finally, but most importantly, take care of yourself. You can do this by doing work when it's best for you, taking regular breaks and getting some fresh air. It may sound obvious, but getting plenty of sleep, staying hydrated and eating healthily will really help you stay focused
Study apps
When you're faced with a long list of school work, getting started can be the hardest part. Once you've got past that initial hurdle, everything becomes a lot more clear! We understand that finding the motivation to work, especially at the moment, can be tough, so here are some tried and tested study apps to help you get going!
Everyone is having to learn how to use new technologies, and Google Classroom is one example of the new, innovative ways of teaching online. If your school is using this but you're finding it difficult to navigate, have a look at this video.
Study skills
Presentation Skills
Though presenting can sometimes be a little daunting, it's a really important skill, and something to practise - each time you have a go, it gets that little bit easier! Here is the University of York's guide to presentations.
Listening
Active listening involves fully concentrating on a speaker, without daydreaming or interrupting them. This is not only useful in day to day conversations, but at school too, for example in English presentations and modern foreign language speaking exams. Watch this video to find out how you can develop your listening skills.
Note-taking
Check out the University of York's guide for note-taking. Using apps like Evernote to electronically store and organise your notes can be useful, as a huge pile of notes and worksheets can appear daunting when you come to revise!
Revision
The key to successful revision is starting exam prep early, revising little but often and looking after yourself, all whilst remaining calm. This article shows you how to get the most out of your revision, instead of wasting your valuable time being unproductive!
Essay writing
Here is the University of York's guide for essay writing. With the majority of essays, you start with a broad introduction, then get into the finer detail relevant to your question, and finally finish with a broad conclusion about how your essay fits into the wider context.