Audio Visual Centre
Equipment User Guide
Marantz PMD620 Viva / MP3 Recorder
Kit Contents:-
Marantz PMD620 MP3 recorder.
1Gb USB Card.
USB SD Card reader
Power supply
Instruction card
Identifying Controls and Accessories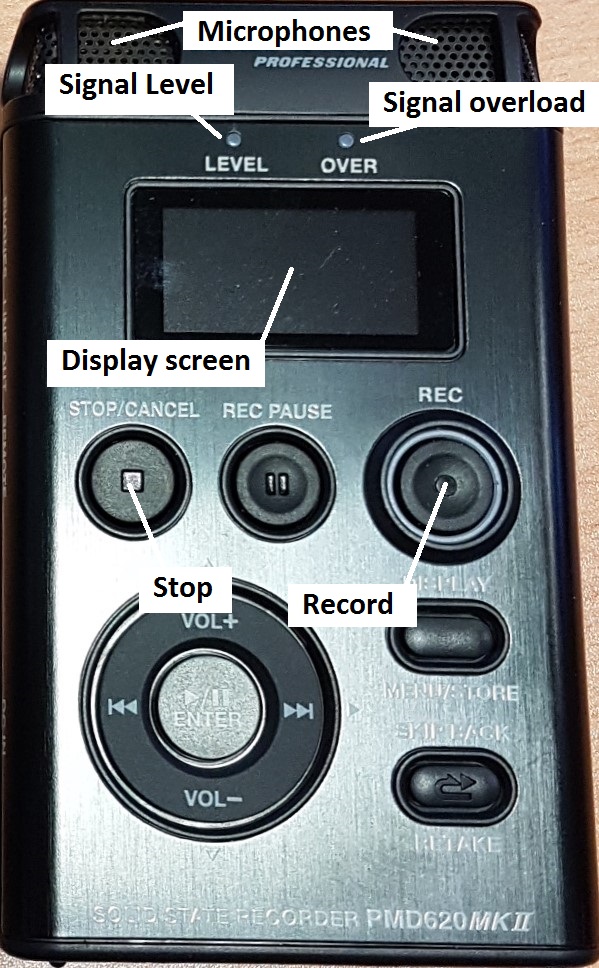 The recorder should be used with the power supply for all recordings.
To use the recorder, slide the SD card into the base of the recorder, then slide and hold the power button on the right hand side of the recorder to turn the unit on.
The display will show how many hours and minutes of recording time remain - usually 60 or 99 hours.
To start recording, press the large REC button, this will light up red whilst recording and flash red whilst the recording is paused.
At the end of the recording press STOP and wait for a couple of seconds before turning the recorder off. NOTE: FAILURE TO DO THIS MAY RESULT IN THE RECORDING NOT BEING STORED ON THE MEMORY CARD.
To eject the card, push it into the recorder and it will spring out.
Whilst recording the green light marked LEVEL will flicker or stay lit depending on the volume level that is being recorded. The red OVER light beside it should be avoided but an occasional flash will not be an issue with most recordings.
Your Recordings
The recorders are set by default to record in mono mp3 files to give high quality, compact, easy to transfer audio files.
To save your recordings, eject the SD card from the recorder and insert into the side of the card reader. Insert the card reader into a USB slot on your computer. The card will now appear as a drive and your recordings can be copied off the recorder onto your conputer.
Returning the Equipment
For Viva exams, please treat the memory card as an exam script and it should be returned to the Exams Office. If you need to use the supplied spare memory card then please inform us as soon as possible so that we can arrange a replacement.
For other bookings, please ensure that you have copied all content off the recorder and that all accesories are in the case and the kit is left at the agreed location by the end of your booking for us to collect.
We will format the SD card once it is returned to us and all content still on the card will be PERMANANTLY DELETED.
Need More Help?
If you need urgent assistance, please call the duty technician on x3036 (01904 32 3036). This will be transferred to a mobile phone after 30 seconds.
If you have equipment booking queries, please consult the attributes list on the web, or call 01904 32 3035.
If you have technical queries, please call the workshop on 01904 32 3035.
We can provide 5 minute briefings at the start of your teaching session - these are bookable on our standard equipment booking form.
www.york.ac.uk/campusservices/avcentre/bookings
We can also provide 1 to 1 and group training sessions on request. Please email av@york.ac.uk to arrange these.
Please report all faults with this equipment as soon as possible, to enable us to repair them quickly.

Printed:20/07/2019