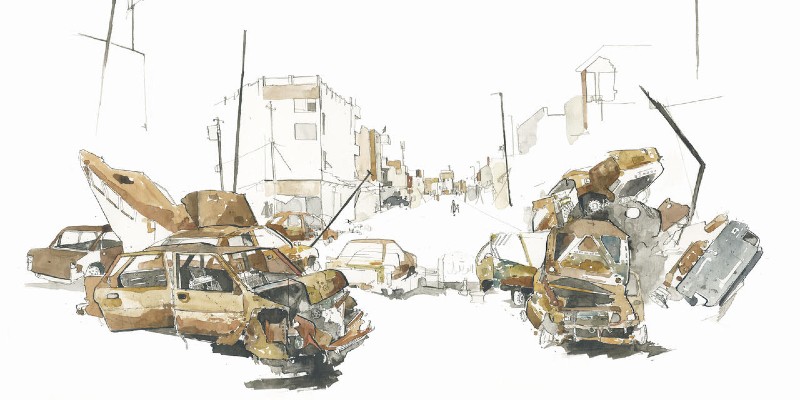 Drawn Across Borders George Butler, reportage artist and illustrator
Talk
Date and time:

Tuesday 19 October 2021, 6.30pm to 7.30pm

Location:

Online

Admission:

Free admission, booking required
Event details
York Ideas Lecture
This event is co-hosted by the York Migration Network and reflects the University of York's commitment to being a University of Sanctuary. The talk is chaired by Alice Nah.
Reportage artist George Butler talks about his work drawing on front lines, in refugee camps and on the move. He tells some of the stories of the people he has met and recorded whether leaving their homes, travelling into the unknown or trying to make a new life. His book Drawn Across Borders is a powerful portrait of migration are a timely reminder of the humanity we all share and our universal need to seek safety and a better life. 'The humanity of this artist shines out of every stroke of his brush.' Mishal Husain.
George Butler drawing scenes of devastation.
About the speaker
George Butler (Speaker) is an award winning artist and illustrator specialising in travel and current affairs. His drawings, done in situ are in pen, ink and watercolour. Over the last ten years his desire to record scenes in ink rather than with a camera has meant he has witnessed some extraordinary moments; refugee camps in Bekaa Valley, in the oil fields in Azerbaijan, in Gaza with Oxfam, in Tajikistan, Afghanistan, Myanmar, in a neo-Nazi murder trial in Munich, on an oil rig in the north sea, down a Ghanian gold mine... the list goes on. His work has been published in The Times, New York Times, Guardian and by the BBC. His latest book is Drawn Across Borders published by Walker Studio.
Alice M. Nah (Chair) is a senior lecturer at the Centre for Applied Human Rights and the Department of Politics at the University of York. She conducts research on the security and protection of human rights defenders at risk and asylum and migration in Asia. Her research projects have involved working collaboratively with artists to create, imagine, and tell stories in ways that inspire action and reflection. Her recent edited book Protecting Human Rights Defenders at Risk, published by Routledge in 2020, proposes ways in which the protection of human rights defenders at risk should be reimagined and practised.
Partners