Dreams, Dice and Divination: Islamic Art and the Supernatural
Tuesday 31 January 2017, 6.30PM to 8pm
Speaker(s): Dr Francesca Leoni (Ashmolean Museum)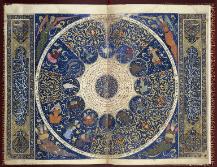 Dream manuals, talismanic shirts, horoscopic charts and magico-medicinal bowls testify to the changing roles of divinatory practices within Islamic traditions from the medieval period to the present day. Despite critical attitudes and bans, in fact, various techniques to foretell the future and influence daily events were used by elites and ordinary people alike in order to address all sort of concerns. Dreams, Dice and Divination: Islamic Art and the Supernatural will explore the themes and debates surrounding these common yet controversial arts through the lens of art and material culture.
Location: Bowland Auditorium BS/005
Symbolism and Memory in Imperial Mughal Tombs
Thursday 2 March 2017, 6.30PM to 8pm
Speaker(s): Dr Mehreen Chida Razvi (SOAS, University of London)
The Mughals, the Muslim rulers of South Asia between 1526 and 1858, created incredible works of funerary architecture, that have remained until today some of the most iconic examples of this genre. This talk will examine the four monumental Imperial mausoleums constructed during the Mughal era and their symbolic, temporal and political importance: Humayun's in Delhi, Akbar's in Sikandra, Jahangir's in Lahore, and the Taj Mahal in Agra. As conquerors from outside the region, it was imperative for the Mughal rulers to create visual stamps of their authority and rulership in their empire. They thus imbued their tombs with multiple layers of meaning, including notions of dynastic importance and lineage, the visualisation of power, commemoration for both the deceased and the patron, and paradisical symbolism.
PLEASE NOTE THIS EVENT HAS BEEN RESCHEDULED FROM 23/2/17. THE ADVERTISED DATE, TIME AND LOCATION SHOWN HERE ARE THE NEW DETAILS.
‌
Location: K/133 King's Manor
The Islamic Garden as Sacred Art and as an Opportunity for Bridge-building between Cultures
Thursday 9 March 2017, 6.30PM to 8pm
Speaker(s): Dr Emma Clark (The Prince's School of Traditional Arts)
This talk is an introduction to the concept of the Islamic garden as sacred art with a brief definition of sacred art first of all, followed by a definition of an Islamic garden and finally how its design and spiritual significance may contribute to inter-faith dialogue today.
‌
Location: Bowland Auditorium BS/005