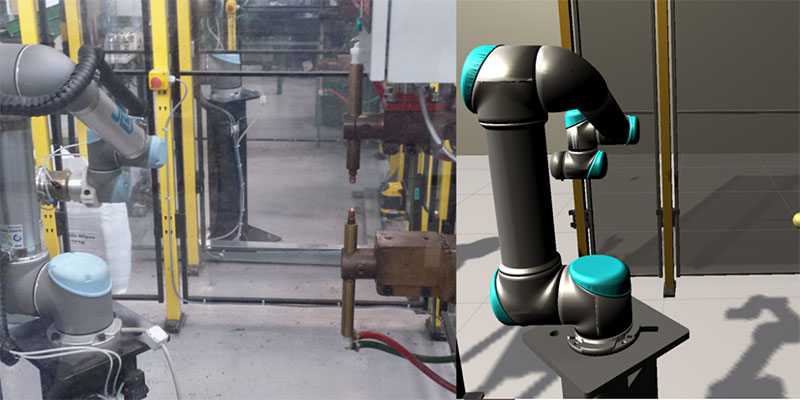 CSI:Cobot
Removing the cage and curtains: how can we assure the safety of cobots to support increased productivity in manufacturing?
The challenge
Safety and trust issues are hindering the deployment of collaborative robots (cobots) in manufacturing. This project demonstrated how novel safety techniques can be applied to build confidence in the deployment of uncaged cobot systems operating in spaces shared with humans.
The research
The team has identified the unique safety and security issues relating to cobots and developed tailored solutions based on their expertise in perception, hazard analysis, cyber security, and safety controller design. The outputs include methods for ensuring the safety of collaborative robot systems and support the further deployment of collaborative robots in manufacturing environments.
The outcomes
An industrial partner provided a case study environment and with this, the team has demonstrated methods to increase confidence in the safety and security of cobot applications where a robot is installed on a stationary base.
In response to the restrictions imposed by Covid-19 much of the research focussed on a digital twin of the industrial case study. Their bespoke twinning environment enabled the team to capture the data relevant to the research, build safety and security tools, and deploy these on a model of the real-world system. This has been invaluable in enabling the team to:
Train a vision-based safety system to detect and track humans and robots based on a mix of synthetic data captured from the digital twin, and real-world data incorporated from a public dataset
Create methods to synthesise safety controllers that enable a system to autonomously respond to a hazardous situation and return the robot to a safe mode of operation
Identify potential hazards and develop analysis tools and automated testing strategies to identify these occurring in the digital environment and validate the designed safety controllers
Detect security intrusions that affect the operation of the robot and cause it to deviate from known behaviours. The team's work in security has also identified potential security threats for cobots, developed security policy for their operation and explored the use of behavioural biometrics to authenticate the users of such systems.
(left) The digital twin constructed for safety investigation. (right) A depiction of the duality between the real-world environment and the corresponding digital twin.
A three-day manufacturing challenge, held in partnership with the Advanced Manufacturing Research Centre and the UK Robotics and Autonomous Systems Network, provided safety and security training for a group of ~40 international students and early career researchers and engineers, and practical experience using the digital twin to develop processes on a physical collaborative robot.
In phase 2 of the project, the team will extend their methods to address the more complex safety and security issues posed by mobile collaborative robots. Working with the Health and Safety Executive they will seek to move their methods towards industrial application, and shape regulatory change in relation to the use of novel approaches to robot safety.
Body of Knowledge guidance
Presentations and papers
Gleirscher, M., Calinescu, R., Douthwaite, J., Lesage, B., Paterson, C., Aitken, J., Alexander, R., and Law, J. "Verified synthesis of optimal safety controllers for human-robot collaboration" in Science of Computer Programming (April 2022).
Douthwaite, A., Lesage, B., Gleirscher, M., Calinescu, R., Aitken, J.M., Alexander, R., and Law, J. "A modular digital twinning framework for safety assurance of collaborative robotics" in Frontiers in Robotics and AI, December 2021.

Almohamade, S. S., Clark, J. A., and Law, J. "Mimicry attacks against behavioural-based user authentication for human-robot interaction" at 4th International Workshop on Emerging Technologies for Authorization and Authentication (ETAA), October 2021.

Lesage, BMJ-R., and Alexander, R. "SASSI: Safety analysis using simulation-based situation coverage for cobot systems" in proceedings of SafeComp 2021.
Lesage, B., and Alexander, R. "Situation space description, prototype testing simulation, and evaluation (PDF , 598kb)"

Gleirscher, M. "

Yap: Tool Support for Deriving Safety Controllers from Hazard Analysis and Risk Assessments

", in Luckuck, M. & Farrell, M. (Eds.), Formal Methods for Autonomous Systems (FMAS), 2nd Workshop, Electronic Proceedings in Theoretical Computer Science, 329, 31-47. Open Publishing Association, 2020.

Gleirscher, M., Johnson, N., Karachristou, P., Calinescu, R., Law, J., and Clark, J. "

Challenges in the Safety-Security Co-Assurance of Collaborative Industrial Robots

". To appear in Industrial Human-Robot Collaboration, edited by S. Fletcher and I. Ferreira.

Gleirscher, M. and Calinescu, R. "

Safety controller synthesis for collaborative robots

" in Engineering of Complex Computer Systems, 25th International Conference, 28 - 31 October 2020, Singapore, 2020.

Foster, S., Gleirscher, M. and Calinescu, R. "

Towards deductive verification of control algorithms for autonomous marine vehicles

" in Engineering of Complex Computer Systems, 25th International Conference, Singapore, 2020.
Project team