Whether you're captivating listeners in the concert hall or crafting the perfect mix in the studio, our courses are designed for musicians looking for a flexible and challenging education in music and sound.
Why study music at York?
We are internationally recognised for our creative, practical and scholarly approach to music. You'll receive a rigorous musical education that gives you the flexibility to pursue your own passions and shape your assessments to suit your interests and career aspirations. You'll join a close-knit, thriving community where renowned performers, composers, producers and researchers work with you individually. A busy programme of masterclasses, workshops, research seminars and concerts complements a wide palette of option modules, allowing you to create a tailor-made degree - with practice and scholarship always hand in hand.
Course options
There are many ways to gain valuable industry experience during your time at York. Through placement years and study abroad programmes, you'll be given the opportunity to develop much needed skills and experiences. Recent opportunities have seen students obtain placements in recording studios, film production companies, concert halls and venues, and an international school.
Funding for these opportunities is available to help you achieve your aspirations and gather valuable real-world experience.
If you're studying at a university outside the UK, you may be able to spend up to a year in York as a visiting student.
You'll benefit from use of the Arthur Sykes Rymer Auditorium, one of the finest listening spaces for reproduced sound in the UK. Designed for electroacoustic performance, the fully sound-proofed Rymer features a completely neutral acoustic and industry-standard monitoring speakers.
The Sir Jack Lyons Concert Hall features a unique hexagonal design, resulting in a beautiful acoustic environment that is ideal for instrumental and vocal performance. As well as our pipe organ, our concert hall features two Steinway grand pianos, a chamber organ, a full complement of percussion and high-end recording capabilities including a Decca tree.
Furthermore, you'll have access to five recording studios, as well as rehearsal spaces, performance venues, practice rooms and lecture rooms. All spaces are flexible and can be used for your projects, seminars, ensemble rehearsals and recordings.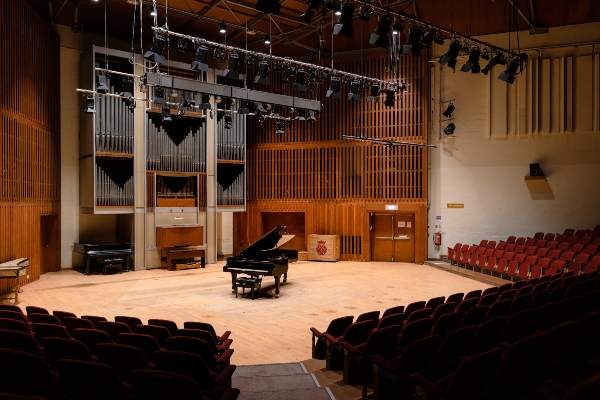 You'll develop creativity, professionalism, and critical thinking in our Music degrees, setting you up for a wide variety of careers, both within music and beyond.
You'll collaborate with a variety of ensembles, each allowing you to hone your practical skills in performance, recording, composition, mixing or editing. Our ensembles include staff-conducted and professional associate ensembles, such as I Fagiolini, Quatuor Diotima and the Yorkshire Baroque Soloists, as well as invited musicians and groups.
As part of our careers support for Music students, your BA programme will include careers elements throughout your studies and a dedicated careers module in your final year. These will help you develop entrepreneurial skills, performance skills and technical abilities, as well as your ability to work as a facilitator in schools and community settings.
Recent graduate destinations include major orchestras such as Philharmonia Orchestra and London Symphony Orchestra, high-end recording and specialist mixing studios, radio production (Proms, Radio 3, Radio 4, Classic FM, Global), a range of publishing houses, audio technology companies, film composition and much more.
Student stories
Hear from our current students and graduates.
Scholarships and funding
Learn more about funding options in the School of Arts and Creative Technologies.