Immerse yourself in York's unique creative environment. Our two MA programmes provide opportunities to develop your craft in a supportive and challenging creative environment.
Why study theatre at York?
At York, you'll be studying and developing your craft in an environment with strong links to the creative industries. Our industry-focused, practical courses are taught by practitioners and academics who will equip you with the skills to work across the breadth of the theatre industry as a writer or theatre-maker. You'll also benefit from a rich programme of theatre trips, visiting practitioners and industry speakers. Working in our highly-equipped, industry-standard facilities, you'll have the opportunity to focus on your artistic development in a supportive and professional environment.
Distinguished visiting speakers
We have a wide range of industry connections and regularly host visiting speakers, performances and masterclasses. We have previously worked with Simon Stephens, Alistair McDowell, Xolani Crabtree, Butshilo Nleya, and others.
Unique creative environment
We bring together world-leading researchers, dynamic teachers and industry professionals in a vibrant creative community.
Work in industry-standard facilities
You'll have access to a range of industry-standard facilities including a professional scenic stage theatre, a multipurpose black box theatre/sound stage with a full lighting grid and gantry and two fully equipped rehearsal rooms.
Our facilities
Find out more about our facilities.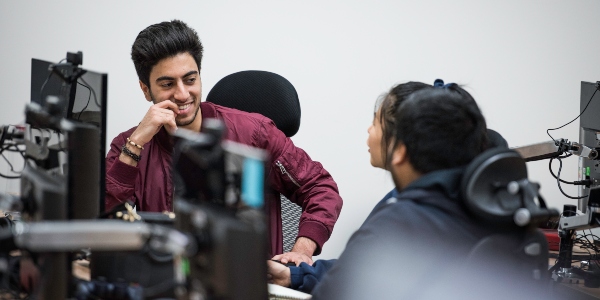 Scholarships and funding
Find out more about funding your Masters degree.
You'll learn a range of critical, practical and professional writing skills for theatre-making and playwriting.
With practice-based and research-based learning, you'll find a wide variety of careers open to you across theatre and academia.
Our close links to industry and regular guest speakers mean you'll be developing your network from day one.
Our graduates
Our graduates are working in a wide range of sectors, from theatre to public relations. They've gone on to become screenwriters, actors, directors, stage managers and arts administrators. A significant number of our graduates have set up their own theatre companies.