Decolonizing the syllabus: Teaching China through Black History Dr Keisha Brown, Tennessee State University
Talk
This event has now finished.
Date and time:

Friday 9 October 2020, 3.30pm to 4.30pm

Location:

Online

Audience:

Open to alumni, staff, students, the public

Admission:

Free admission, booking required
Event details
Black History Month Lecture
Hosted by the Department of History and York Asia Research Network (YARN)
Dr Keisha Brown will address the question of "how should the academy respond and reflect the current moment?" through her own work on what she terms "Sino-Black relations". Inspired by her Fairbank Center blog post, "Teaching China through Black History". and the AAS Digital Dialogue: Asian Studies and BLM, Dr Brown will examine how we can address diversity, equity and inclusion in our teaching, service and research.
Dr Brown's talk is part of a programme of events marking Black History Month. It will be followed by Q&A, hosted by Dr Jon Howlett, YARN's East Asia Regional Coordinator.
How to sign up
Please book using the button above (via Google Forms) before 5pm on Wednesday 7 October. An invitation will be sent to the email address you provide before the event.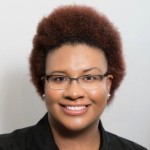 Dr Keisha Brown
Dr Keisha Brown is an Assistant Professor of History at Tennessee State University in the Department of History, Political Science, Geography, and Africana Studies. She graduated with her bachelor's degree from the University of Notre Dame, earned her doctorate from the University of Southern California, and was a 2018–2019 postdoctoral fellow at the James Weldon Johnson Institute for the Study of Race and Difference at Emory University.
Dr Brown's research examines networks of difference in China used to understand the Black foreign other through an investigation of the social and political context that African Americans navigated and negotiated during their time in Maoist China. Her publication, Blackness in Exile: W.E.B. Du Bois' Role in the Formation of Representations of Blackness as Conceptualized by the Chinese Communist Party (CCP), analyses W.E.B. Du Bois' performativity of race in China. Dr Brown is currently extending her research on Sino-African American transnational relations to examine ideas of race and ethnicity and Afro-Asian diasporic connections.