Welcome to Constantine College!
Opened in 2014, our scenic Campus East location is surrounded by open space and wildlife for our more than 600 residents and over 2,500 student members to enjoy.
We're named after the Emperor Constantine the Great (declared so in York), who was known for promoting religious tolerance throughout the Roman Empire. As a college focusing on volunteering and enterprise, we hope our members share Constantine's tolerance too; through an open-mindedness to new ideas, an understanding of different ones and an inquisitiveness to learn more about all.
Constantine really embraces the social side of uni life. We've all got different interests and different personalities, and Constantine is here to cater for them all.

Joe
Contact and support
Constantine's team of staff and student volunteers are to offer support and guidance.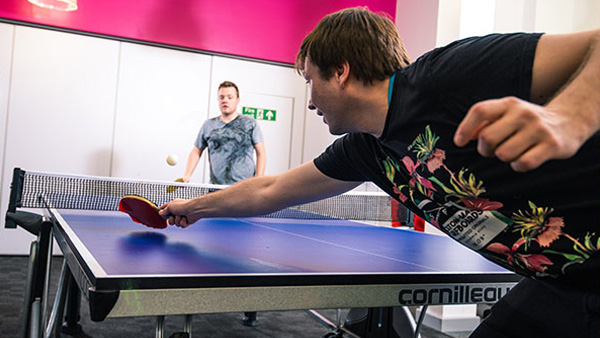 College facilities
Useful information on facilities such as laundry, post, receptions and more.
What's on
Check out what's going on at Constantine or, if you're feeling creative, contact us about starting your own event or activity.
College sport
From casual to competitive play and whatever your level, sport starts with your college.
College music
Sign up to the College Music Scheme to access practice rooms, the instrument lending library and other musical activities.
Constantine merch
Wanting to add some Constantine pride to your outfit?
Get your very own Constantine merch on arrivals day, or through our student committee.
STYCs and STYMs
Our Second and Third Year Contacts (STYCs) and Mentors (STYMs) volunteer their time to welcome new students to Constantine and help them settle into uni life
Alumni
Even after you leave our awesome campus, you'll never stop being a member of Constantine College! Keep in touch with other Alumni and give back if you wish to.