Langwith College on Heslington East
Project information

Images and documents
Langwith College provides self-catered accommodation for 645 students.
Costing £30 million, this new facility is located on the eastern side of the central vista on Campus East, facing Goodricke College, and just to the south of of the bus interchange.
It consists of a number of large blocks forming the perimeter and smaller blocks of town houses in the middle, with a social centre building, the Glass House, at its heart.
Langwith accommodation is designed to provide a variety of living experiences to suit all students from new first-year undergraduates, returning students in their second, third or fourth years, through to postgraduate students studying on masters courses or PhDs.
The design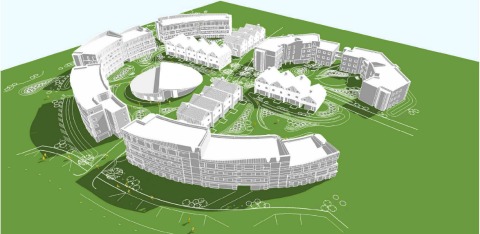 The College is made up of four informal irregularly shaped courtyards, which are separately named after people who have been important in shaping or supporting the University over the years.
The larger buildings round the edge have corridors of 12 en-suite rooms with fully-fitted shared kitchens, together with some six bedroom flats with shared showers and kitchens.
The short terraces are town-houses, housing eight students, sharing showers, kitchens and social space which will replicate modern city dwelling. The chimneys on the town houses, which are conduits for flues rather than open fireplaces, are picked out in gold – the college colour.
The egg-shaped Langwith centre named The Glasshouse, is a single-storey building housing a cafe, bar and social space bar for both Langwith and Goodricke students, a common room and a fully-fitted launderette.
Overlooking the central vista and with a variety of landscaping around each court, the College connects with the landscape, providing pleasant views and outdoor spaces for students. The bus interchange with bus services linking to the rest of the University (free of charge) and on into the City is just at the north of the College.
Due for 2014 is a further college to be located next to Langwith - see college nine for more details.