Dr Sarah Olive chairs online launch of podcast 'Women and Shakespeare'
Posted on 27 May 2020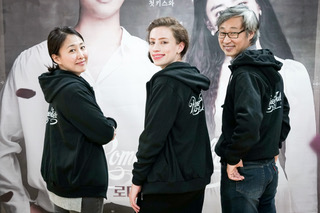 The podcast 'Women and Shakespeare' for the Renaissance Society of America was launched on 23 May 6pm (British time) using Crowdcast. Sarah is the author of the monograph Shakespeare Valued (2015) and Founding Editor of Teaching Shakespeare magazine for the British Shakespeare Association.
The 'Women and Shakespeare' podcast featured conversations with diverse women directors, actors, writers, and academics who are involved in making and interpreting Shakespeare. In the conversations, we found out both how Shakespeare is used to amplify the voices of women today and how women are redefining the world's most famous writer. In this episode, launched with SRS, renowned actor, Dona Croll, talks about her experience of being the first black actor to play Cleopatra on the professional British stage, playing John of Gaunt in the all-women-of-colour production of Richard II at Shakespeare's Globe, and about the politics of black actors in Shakespeare productions.
Funded by NYU (New York University), Series 1 of the 'Women and Shakespeare' podcast included guests ranging from the Orwell prize-winning author, Dr Delia Jarett Macauley to Head of Higher Education and Research at Shakespeare's Globe and Vice-President of the Shakespeare Association of America, Professor Farah Karim-Cooper, to multiple award-winning playwright Chris Bush. The series is designed to harness digital humanities to redress the gender and racial disparity in academic citational practices, public discourse, and rehearsal room power dynamics in the field of Shakespeare studies and performance.
Find out more about the series and to listen to the podcast.