Wellbeing: Investigating Singing Health in Ensembles using Digital Technologies (WISHED)
Imagine singing in a choir, in the performance venue of your choice, reaping the rewards of this shared experience from the comfort of your own home. This project uses state of the art Virtual Reality (VR) technology to quantify the health and wellbeing benefits of group singing. We have developed a prototype immersive virtual reality reconstruction of a choral singing scenario, where a player can sing along with the rest of a virtual quartet using an immersive audio-visual system.
This work explores the use of VR technologies to design an experiment that investigates the social and interactive aspects of singing, whereby participants perform both as part of a live quartet and in a virtual setting. For the latter, they will wear a VR headset that allows for complete immersion in the virtual performance venue. The user hears and sees themselves as a member of a vocal quartet, singing with pre-recorded singers. Measures of health and wellbeing will include self-reported stress, arousal and enjoyment levels as well as heart-rate, galvanic skin response, neural activity and vocal fold activity.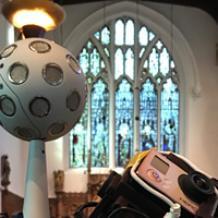 Members

Gavin Kearney
Helena Daffern
Jude Brereton
Haroom Omodudu
Lewis Thresh
Callum Armstrong
Research