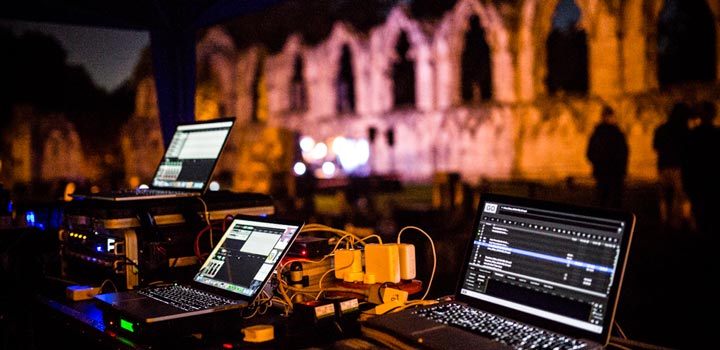 Immersive and interactive technologies
The group includes an outward facing multi-disciplinary team with specialist expertise on core audio and acoustic engineering research, who work in partnership with key collaborators from industry, cultural and creative sectors. One of our key application areas is Virtual Acoustic Environments, bringing together much of our research in interactive audio, acoustic modelling, measurement, performance and soundfield rendering.
Example current work in this area makes use of enhanced motion-tracked spatial audio systems in conjunction with advanced auralisation techniques for the purpose of creating new and exciting virtual environments that not only entertain, but also have the potential to contribute to the health and wellbeing of the participants.
Interactive audio systems can now readily utilise non-tactile data such as listener location, orientation, gestural control and even biometric feedback, to intelligently evaluate and adjust sound output. Acoustic modelling and measurement research includes the development of new Higher Order Ambisonic and binaural audio algorithms for realistic soundfield creation and reproduction. Real-time auralisation systems allow users to acoustically interact and perform within the virtual environment in which they have been placed, and enables strategies for motion-tracked 3-D sound in the home.
Such end-to-end virtual acoustic environments offer new creative possibilities for a diverse range of applications ranging from virtual reality, mobile technologies, in-car audio, gaming, social media, film and TV production.
Collaboration and partnership ensures our research is far-reaching, maintains real focus and delivers transformative impact. Output from our Virtual Acoustic Environment research is currently being used by leading developers and creators of media content, including the BBC, Google, Propellerhead, Presonus, and Ableton. We are delivering novel Virtual Acoustic Environment content for partners such as York Theatre Royal, Houses of Parliament, Westminster, and York Museums Trust, and this work is a core aspect of Digital Creativity Labs (DC Labs) research into the impact of digital games and interactive media. This is leading into new application areas defining audio pipelines for 360 Virtual Reality productions as well as enhanced accessibility services within film, television and VR through novel interactive and spatial audio techniques.
Partners

Previous or current non-academic collaborators include:

AECOM
Arup
BBC
Codemasters
Dolby
DTS Licensing/Xperi
Google
Houses of Parliament
Huawei
Meridian Audio
York Theatre Royal
York Museums Trust