Overview
‌
The Narrative and Complex Systems theme spans the "two cultures" divide in academia, bringing together researchers from across the humanities and sciences. Such a far-reaching dialogue is made possible by an inversion of the usual principles of interdisciplinary collaboration: rather than seeking common ground, it begins with the premise that narrative and complex systems are fundamentally incompatible, and that this incompatibililty is itself extremely interesting to researchers in both fields.
The Centre is the home of the NarCS group, an international network of researchers with expertise in narratology and complexity science extending across the disciplines from literary and film studies to life sciences and robotics. The group's research includes case studies and theoretical research, addressing complexity science challenges such as engineering emergence and the public communication of complex systems ideas, as well as narrative topics concerning the systemic affordances of new media and the place of narrative sense making in human cognition.
The Narrative and Complex Systems theme is grounded in the relation between the ICNS and YCCSA, the York Centre for Complex Systems Analysis. YCCSA itself has a broad interdisciplinary sweep, and this research theme arose out of the radically interdisciplinary conversations made possible by their Friday seminar series, and by the enthusiasm of YCCSA members Susan Stepney and Leo Caves in particular. The collaboration was brought to a head by a 2012 paper in that series given by Richard Walsh, entitled What have stories got to do with systems?
The formation of the NarCS network quickly followed, and with the help of research priming awards (intially from the English Department and subsequently from the University Research Priming Fund) we were able to hold a series of exceptionally stimulating workshops. These have generated a range of grant applications, as well as a collection of exploratory essays by members of the network.
NarCS Members
York members

Richard Walsh
English
Susan Stepney
Computer Science
Leo Caves
Biology
Claire Westall
English
Jason Edwards
History of Art
Paul Andrews
Computer Science
John Forrester
SEI
Dan Franks
Biology
Elva Robinson
Biology
Romana Turina
TFTI
Network members
Marco Bernini
University of Durham; English
Jim Bown
University of Abertay; Systems Biology
Mathias Clasen
Aarhus Univerisity; Aesthetics and Communication
James Dyke
University of Southampton; Electronics and Computer Science
Erika Fülöp
University of Hamburg; Interdisciplinary Centre for Narratology
Olga Goriunova
University of Warwick; Centre for Interdisciplinary Methodologies
Marina Grishakova
University of Tartu; Comparative Literature
Stine Grumsen
Aarhus University; Aesthetics and Communication
Will Douglas Heaven
Journalist, New Scientist
Adam Lively
Royal Holloway, University of London; English
Celia Lury
University of Warwick; Centre for Interdisciplinary Methodologies
Maria Mäkelä
University of Tampere; Literature and the Arts
Henrik Nielsen
Aarhus University; Aesthetics and Communication
Lynn Parker
University of Abertay; Arts, Media and Computer Games
Federico Pianzola
Institute for Cultural Inquiry, Berlin
John Pier
University François-Rabelais, Tours; English

Merja Polvinen
University of Helsinki; Literature Studies
Maria Poulaki
University of Surrey; Arts
Emma Uprichard
University of Warwick; Centre for Interdisciplinary Methodologies
Alan Winfield
UWE, Bristol; Electronic Engineering
Marthe-Sophie Zeevenhooven
Documentary researcher
Activities
Workshops
The NarCS group provided the lead for a 2014-15 "Complexity in the Humanities" research strand in the Centrre for Modern Studies, beginning with a two-day workshop built around draft contributions for the Narrating Complexity volume.
From 2012 to 2013 the NarCS network held a series of exploratory workshops in order to test the potential of the interdisciplinary dialogue between narratologists and complexity scientists, to define the scope of the collaboration and identify productive lines of research, and to generate grant application projects. These occasions proved to be intellectually exciting in themselves, and a fertile source of bold new research directions. The calendar of events was as follows:
NarCS workshop 1: 11th-12th July 2012, Ron Cooke Hub (funded by an English Department Research Priming Award)
NarCS workshop 2: 10th-12th April 2013, Berrick Saul Building (funded by the University Research Priming Fund)
NarCS workshop 3: 15th-17th July 2013, Berrick Saul Building (funded by the University Research Priming Fund)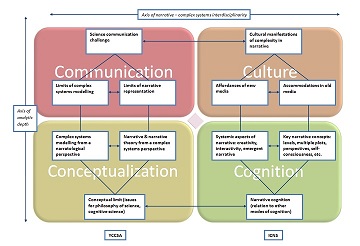 ‌
Projects
The NarCS group has developed a series of projects designed to foreground different elements and dimensions of the research potential generated by this unique interdisciplinary network:
Reading group
The Narrative and Complex Systems theme is also closely related to the interdisciplinary Complexity Reading Group, a monthly discussion group alternately hosted by YCCSA and the Centre for Modern Studies, with the discussion texts chosen by the guests.
Publications
In Preparation
O‌ne of the immediate outcomes of the NarCS group workshops was the concept of a volume of essays scoping the implications of the narrative-complexity relationship from the perspectives of diverse disciplines. The volume, entitled Narrating Complexity, is to be published in the Springer Complexity series. It is edited by Richard Walsh and Susan Stepney, with essays written by members of the NarCS group, and serves not only to disseminate the research directly generated by the workshop series, but also to provide a solid platform from which to develop further research projects in this area.
For a provisional table of contents, see Narrating Complexity ToC.
Related
Prior publications that feed into the narrative and complex systems theme include:
Richard Walsh (2011). Emergent Narrative in Interactive Media. Narrative, 19(1), 72-85.