Borthwick Newsletter - September 2021
Posted on 26 August 2021
September in the Archives - delve into our catalogues with this month's featured description
Notebook used for questionnaires of likes and dislikes among family and friends. Inscribed "Mary Maria Tuke, September 19th. 1865"[Tuke Taylor Papers, TAY/75]
What's New?
Welcome to our twelfth Borthwick Newsletter! We published our first one at the start of October 2020 as a way to keep in touch with our research community in these difficult times and we're pleased to continue bringing you all our news and events, even as things begin, albeit slowly, to move back towards normality. At the Borthwick we are looking forward to the new academic year and the return of staff and students to campus. In some ways the Borthwick has been rather quiet in August as many members of staff have taken the opportunity to go on leave before term starts. But our searchroom has been open as usual and, as you will see below, we've certainly been active with new archive deposits, shelving more than 400 new boxes of material in the past month.
Our colleagues from the genealogical site Ancestry, Mary and Lauren, have nearly finished digitising our parish registers and are about to move on to the parish register transcripts, aka the Bishops' Transcripts. These are copies made from parish registers each year (and sent to the Bishop) and they can augment or even supplement missing original registers and difficult to read entries. Whilst the registers won't be added to Ancestry for some time yet, eventually we will be represented on both of the main genealogical research websites - Ancestry and Find My Past (where you can already find our parish registers and probate indexes).
New Accessions
August was a very busy month for new accessions. As well as taking in small additions to our parish record, Church Monument Society and Alcoholics Anonymous UK archives, we also received two large archive deposits. The first was the archive of the British Orthopaedic Association, or BOA, which was founded in 1918 by doctors who specialised in orthopaedic surgery, meaning surgery of the musculoskeletal system. Today the organisation represents some 40% of the surgical workforce of Britain. The 86 archive boxes we received include everything from the original meeting minutes and reports to cassette tapes, photographs and glass lantern slides dating back to the earliest days of the Association. Together, this material makes a valuable and fascinating addition to our health archives.
The second, even larger, addition consisted of a further 311 boxes to add to our Joseph Rowntree Reform Trust Archive. The Borthwick holds the archives of all of the Joseph Rowntree Trusts, the JRF, JRHT, JRCT and JRRT.
The Reform Trust occupies a unique place among the Trusts as it was created not as a charity, but as a company with the power to fund political and other non-charitable causes. At its foundation, Joseph Rowntree expressed the hope that the Trust would use its income to influence public thought in right channels and support work 'influenced by the spirit of human brotherhood and alive to the claims of social justice'. As a result, and for more than a century, the JRRT has supported a wide range of important, forward thinking, and sometimes even controversial causes. From their early days of running liberal regional newspapers and publications like The Nation, to supporting anti-Apartheid groups in Southern Africa, campaigning for electoral reform and devolution in the UK, and housing what the press dubbed a 'counter civil service' of political pressure groups out of a property at 9 Poland Street in London through the 1970s and 80s. They have also long been an important financial supporter of the Liberal Party and consequently of the Liberal Democrats. This enormous addition to their archive continues their story from the 1960s to the present, providing a unique insight into British society from the point of view of an organisation which has on many occasions offered crucial support to fledging groups and emerging political figures, and which has supported causes long before they became mainstream concerns.
News from Conservation
We hold archives that have been created right the way up to the present day, and our Conservation team need to care for them just as carefully as those that have been around for hundreds of years - sometimes more so. Modern materials can be cheaper and less durable than their predecessors (e.g. newspapers, or mass produced office notebook paper). New technologies such as printing and photography also introduce new materials, which again can introduce different risks of deterioration.
This month a colleague highlighted to me one of the archives within the Centre for South African Studies, a set of papers relating to Dr Salazar, a Portuguese statesman and economist who served as the prime minister of Portugal from 1932 to 1968. A significant proportion are photocopies, made from originals in the 1970s by/through Franco Nogueira, who'd been Portugal's Foreign Minister, 1961- 69. For us, to all intents and purposes they are considered 'originals'.
They have been made by an electrostatic printing process, where electrophotography manipulates electrical charges and light to fuse toner particles onto a substrate. The prints look as though they are faded, which is why the collection has been brought to our attention. Although the carbon black toner pigment is relatively stable to light, the main risk for this process on uncoated papers like these is abrasion of the image/text. The toner is fused on top of the paper rather than resting within the paper fibres, and as a result is susceptible to image loss.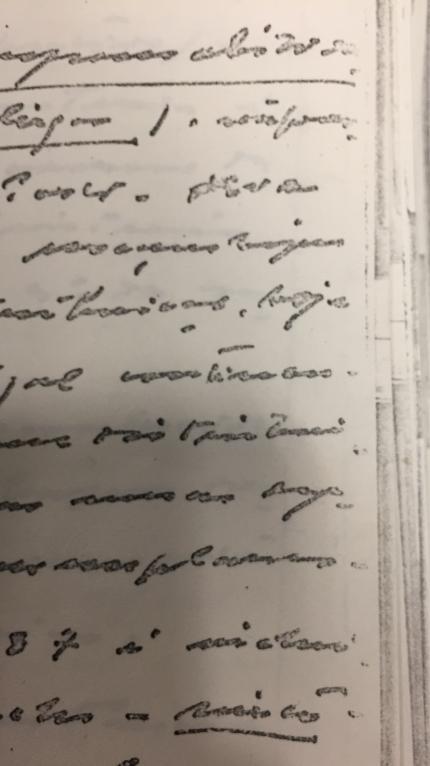 Assessing these copies, it looks like many of them have already suffered this, some to a significant extent. This is why the text appears faded. This means that handling could cause further image loss. As a result this collection will be passed on to our digitisation colleagues, to prioritise the material for creating preservation surrogates. We will also need to conduct a more in depth survey of the rest of these collections, to assess whether there are any other areas where this might be an issue.
New Catalogues
Number of archival descriptions on Borthcat on 1st September 2021: 82,228
We haven't added any new complete catalogues to Borthcat this month but progress is being made behind the scenes. Among the catalogues currently underway are the papers of solicitors Dibb and Clegg relating to the extensive estates of the Wood family, Earls of Halifax. This includes not only records of land ownership, but also Lord Halifax's mine workings in Yorkshire and the history of Hickleton Brewery and Hickleton village and its residents. In the meantime we are continually adding new 'fonds level' descriptions to Borthcat. In the world of archives 'fonds' means a group of records with the same origin, and every catalogue begins at the 'fonds level' - the highest level - in which an archive is described in summary. When you browse our online catalogue Borthcat you will see fonds level descriptions for more than 680 separate archives.
At the fonds level archivists give the title of the whole archive, for example 'Rowntree Family Papers', the covering dates, a summary of the whole contents of the archive and where it came from, who created it etc. While a full catalogue might take many weeks or months to create, here at the Borthwick we aim to add at least fonds level descriptions for all of the new archives we receive, as soon as possible. This way, our users know that we have the archive and that it is available - albeit not yet as neatly arranged as we would like! Examples of fonds level descriptions added in the past month include the new Drax Pension Charity Archive and the Friedmann Papers on South African Politics.
Borthwick in the Media
We started the month with Yorkshire Day, a perfect occasion to launch the print version of the Yorkshire Historic Dictionary. Based on the extensive research of the late Dr George Redmonds, the dictionary includes more than 4000 terms, dating from 1100 to c 1750, that were in use in Yorkshire. Our own Alexandra Medcalf was responsible for turning Dr Redmonds' research into an online database and she also edited the print version, a monumental task and a significant achievement. The dictionary has already attracted a great deal of interest, making a 'major contribution to the study of dialect vocabulary in Britain' (to quote Alexandra).
If you'd like to hear more about what we do at the Borthwick (and see our strongrooms), our Keeper of Archives Gary Brannan starred in a short video for UK Research and Innovation, talking about the importance of not just preserving our records, but making them accessible to anyone. Although we are based at the University of York, we are a public archive and are open to all.
Finally, we have two dates for your diary. The Northern Way virtual conference on the Archbishops of York and the North of England, 1304-1405, is happening on the 23-24 September. You can see the conference programme and register to attend on their website. And we have a very exciting project launching in the second week of September (final date TBC). PhD student Rachel Feldberg has created a series of short dramatic films based on case studies used by Seebohm Rowntree to write his study of 'English Life and Leisure' in the late 1940s. The case studies capture a time of rapid change in post war England and the short films, scripted by Rachel, filmed on location and with professional actors, not only bring the voices captured in the case studies vividly to life, but also demonstrate the creative ways archives can be used to tell people's stories. Look out for more details on our Twitter and Facebook accounts, we can't wait to share them with you!
Archive of the Month: Chest Clinic, York, Archive
What is it? The archive of the York Tuberculosis Dispensary, founded in 1912 and renamed the 'Chest Clinic' following the creation of the National Health Service in 1948.
Where can I find it? The catalogue of the Chest Clinic, York, Archive can be found on Borthcat.
Why is it Archive of the Month?
In the early 20th century tuberculosis was a serious problem for York and, indeed, for most of Britain. An infectious disease that mainly affected the lungs, TB (as it was commonly known) was responsible for 12% of annual deaths in the city by 1900. Its spread and severity was exacerbated by poverty, especially poor ill-ventilated housing, impure milk and meat, and a lack of isolation hospitals and sanatoria for patients. People with TB were also not required to report it to health authorities, making it harder to track and contain outbreaks.
The York Chest Clinic was part of a vigorous local campaign to address the problem, supported by the introduction of national public health legislation that made it compulsory to notify authorities of any and all cases of TB. The city held a week long exhibition on TB in 1910, with lectures and demonstrations attracting some 27,000 people. TB wards were opened at Yearsley and York County Hospital and a Tuberculosis Officer was appointed to co-ordinate efforts. Finally, at the end of 1912, the TB Dispensary was opened on Castlegate. It was central to the city's whole TB scheme, tasked with investigating the history and treatment of cases, identifying improvements to home conditions, offering help and advice, and administering treatments and providing after care.
The dispensary kept extremely detailed records - many of which, sadly, have not survived. However the archive represents what remains of the dispensary, later clinic's, administration. It includes applications for treatment, dating from 1912 onwards, glass slides used to illustrate talks on TB, and a street index of patients - recording the distribution of tuberculosis through the city from 1912-1948. The archive of the Chest Clinic captures a time when modern medicine and public health measures were beginning to turn the tide against a much dreaded disease. When the clinic closed in 1976, it was for the best possible reason. Cases of tuberculosis were by then low enough that it was no longer needed.
We'll be back in October with more news from the archives!