Forum magazine
Forum is the in-house learning and teaching magazine, published biannually by the Learning and Teaching Forum to disseminate good practice and discuss issues relating to learning and teaching.
Current issue of Forum magazine‌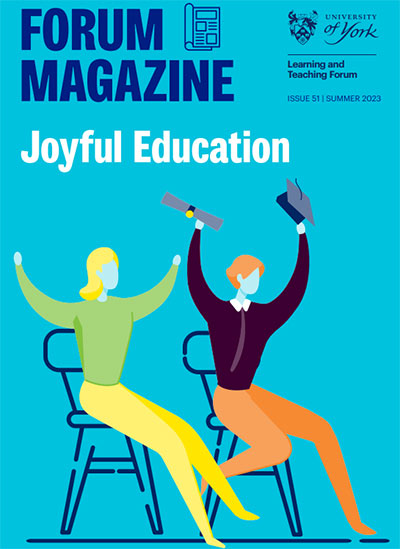 Summer 2023 - Issue 51:
This issue is also available to view in a screen-reader optimised format (Google Doc).
Write for Forum magazine
‌
If you are interested in contributing an article for the next issue of Forum magazine, please contact the editor, Dan Jones. Please see the author guidance for details about how to prepare your article.
Submit an article

We welcome articles on areas of interest or controversy, 'Letters to the Editor' relating to past articles or current hot topics and news items.

Please contact the Editor or Sub-Editor if you are interested.

Lucy Turner Voakes
Forum Sub-editor
lucy.turner-voakes@york.ac.uk

Editorial Committee: Lisa Clark, Kelly Devenney, Rachel Hope, Rebecca Hudson-Tandy, Claire Illingworth, Andy Needham, Josie Rawes, Jane Neal-Smith
Archive

Find all back issues in the Forum Magazine Archive.