News
22 September 2009
10 June 2009
Final eBulletin now availaible along with updated presentations and photos from the Beyond Pattison final conference.
27 January 2009
GERON's spinal cord trial and its regulation
As most of our readers of this site will have heard, Geron has secured FDA approval to use hESCs in the treatment of spinal cord damaged patients and over the coming year 10 or so patients will be chosen in the US to be the first to be given the therapy. See summary in Nature here - html. The treatment is based on the understanding that demylination causes conduction failure in nerve cells and the hESC-derived oligodendrocytes will, it is hoped, replace the myelin and so encourage regeneration.
What's interesting about this case from a social science perspective is the way in which the FDA/Geron negotiations have not only taken a considerable period of time (and 22000 pages of text for review) but also that the agency has had to be quite flexible in its approval. For example, they have not required Geron to go up from rodent to monkeys/primates in its pre-clinical tests which is normally part of the IND process. Back in 2005, when Geron's first proposals were being discussed, Jerry Silver, a neuroscience professor and stem-cell researcher at Case Western Reserve University in Cleveland commented 'Frankly, I cannot conceive of a human trial with the use of human embryonic stem cells following immediately from experiments in rodents only...Many treatments that work in rodents to alleviate disease fail miserably in humans'. Moreover, the initial lines were grown on murine feeder layers (they were derived from those few pre-2001 lines the Federal government during Bush's era had approved for use) and, though the cells for use on patients have been developed using murine-free cultures, this will still mean that Geron will have to monitor for xeno-transmission (ie for transfer of any mouse-derived virus). Geron also had to secure approval for a new clinical device (a stable frame) to deliver the cells into the spine.
The Geron case is a good example of the gradual move towards regulation which is giving more space for the negotiation of risk, as well as more priority to translational medicine. Both may lead eventually to new models of regulatory monitoring in the tissue field that are distinct from those in the more conventional world of pharmaceuticals.
It is also worth noting that other companies working in the same stem cell area found their shares rising on the news of the Geron approval. As on previous occasions, expectations rise steeply in both corporate and clinical circles, and this time, despite the credit crunch. Clearly, it's in Geron's interests that the trial is clinically successful to ensure their stock remains high so the trial will be kept under extremely close review, by those in and outside of the company.
---
13 January 2009
UK Stem Cell Scientists now have to compete harder for funding.
The initial pump-priming funding, provided as a result of the Pattison Report, has been spent up. Scientists in the UK are finding the competition much harder now that they have to apply direct to the funding councils. Some views as to why it has become particularly difficult are explored in the Independent Newspaper article 'Funding halted for stem cell research'
www.independent.co.uk/news/science/funding-halted-for-stem-cell-research-1332000.html
---
27 November 2008
Europe rejects patent governing use of embryonic stem cells
The Wisconsin Alumni Research Foundation (WARF) originally lodged the patent thirteen years ago. Based on the work of stem cell pioneer Prof James Thomson, it describes how to culture primate (including human) embryonic stem cells in the lab for a long period of time without sacrificing their potential to differentiate and develop into any other cell type in the body.
The board denied the appeal on two grounds under the European Patent Convention. It decided the application would be contrary to public order or morality, and it would contravene the EPC's ban on using human embryos for industrial or commercial purposes.
The full article is available here - htm.
---
23 October2008
British lawmakers approve plans to allow scientists to use hybrid animal-human embryos for stem cell research.
In the House of Commons Legislators voted 355 to 129 on Wednesday to authorize the proposals.
The vote took place after months of debate involving the government, scientists, religious leaders, anti-abortion campaigners and others anxious about medical advances.
The UK Prime Minister, Gordon Brown, believes scientists seeking to use mixed animal-human embryos for stem cell research into diseases such as Parkinson's will help to save or improve millions of lives.
---
22 August 2008
Stem Cell Research and Society: Lessons from Social Science
A BIONEWS Commentary written by SCI Co-ordinator Andrew Webster
There is considerable hype as well as hope invested in the stem cell field. The Economic and Social Research Council currently funds a major UK research programme - the Stem Cell Initiative (SCI) - that explores the social, economic and political implications of stem cell research. The research focuses on the interaction between the social and the biomedical and asks if new social relationships are generated as a result and if so, whether these in some way change the way we think about our bodies, cultural identities, and existing ways of managing science.
The full article can be found here
www.bionews.org.uk/commentary.lasso?storyid=3947
---
5 August 2008
HTA to consult on new code of practice for human tissue:

The UK's Human Tissue Authority (HTA) initiated a consultation programme, involving the public, research community and other stake holders to express their veiws on a new code of practice for the storage of tissue specifically for research purposes and includes stem cells.
Feedback from stakeholders has enabled the HTA to understand a variety of issues regarding storage and use of human tissue which has raised a number of ethical issues; particularly those derived from embryos and aborted fetuses.
The HTA regulates the storage of human tissue for research under the Human Tissue Act in England, Wales and Northern Ireland and was set up as the Competent Authority under the European Union Tissue and Cells Directive, which is effective throughout the UK .In addition to the one on research, there are six other codes of practice that relate to other issues, including consent and the disposal of human tissue.
The overall aim of the consultation and subsequent codes is to improve standards for the storage of human tissue for research purposes in order that greater public confidence may be achieved and in turn help encourage people to donate their tissue for research.
---
1 August 2008
2008 World Stem Cell Summit
Dr Lena Eriksson will be attending the 2008 World Stem Cell Summit on behalf of the SCI.
Further details are available here - html
---
21 July 2008
Delay to final reading of the UK human fertilisation and embryology bill
The Department of Health was angered by the delay to the passing of the bill which will allow the formation of human-animal hybrid embryos for research. The bill will now be read in the autumn.
Further details here - html
---
23 June 2008
CORD BLOOD BANKING FOR STEM CELL RESEARCH - ANTHONY NOLAN TRUST SURVEY
The UKNSCN has been asked by the Anthony Nolan Trust to circulate details of the Trust's on-line survey to assess the UK stem cell research community's short and longer term needs for umbilical cord blood for research, together with the associated quality assurance and cost issues. If you are a researcher interested in accessing cord blood for research, please participate in the survey. Full details, including the weblink, are provided in the attached Word document. The Anthony Nolan Trust is establishing the UK's first integrated National Cord Blood Bank (based on cord donation at delivery) for clinical transplantation and research needs.
---
20 June 2008
SCI Coordinator secures International Visiting Fellowship to Sydney
Andrew Webster has been awarded a six week Fellowship from mid-July by the University of Sydney to undertake research on stem cells activity and policy in Australia, and build stronger links with local social scientists working in the area, notably Professor Cathy Waldby with whom he will be working while there. He will be giving various seminars and a public lecture on the ESRC SCI, including this paper (abstract - word)
---
12 June 2008
Researchers back egg shortage compensation scheme
Stem cell researchers in the
US are supporting an attempt to relax state laws that prohibit the compensation of egg donors for research. (Nature, 12 June)
---
2 April 2008
SCI Coordinator in Tel Aviv for British Embassy
SCI Coordinator Andrew Webster was invited by the British Embassy in Tel Aviv, and later on the same day (March 27) by the British Council in Jerusalem, to present SCI-related work to academic and lay audiences. He was accompanied by Lord Patel, Chair of the UKNSCN, Dr Lyle Armstrong, Newcastle University, and Dr Chris Mason, UCL. A photograph of the party including Dr Adee Matan, Science and Technology Attaché from the Embassy.
5 February 2008
Science as Culture Special Issue
"Stem Cell Stories 1998-2008"
This special issue analyses how stem cell stories build potential futures in ways which attract investments. The articles look back at the past decade since a 1998 scientific paper reported a 'breakthrough' in the first isolation of human embryonic stem cells. Contributors address questions such as: What stories are being told? Who is interested in stem cells and why? What does stem cell science promise to deliver? And what is left out?
Participants from the Stem Cell Initiative involved with this issue are starred below.....

Guest Editors:

Ingrid Geesink *
Barbara Prainsack
Sarah Franklin *
Contents:
Therapeutic Promise in the Discourse of Human Embryonic Stem Cell Research
Beatrix Rubin
From Bedside to Bench? Communities of promise, translational research and the making
of blood stem cells
Paul Martin *, Nik Brown * and Alison Kraft *
The UK Stem Cell Bank: securing the past, validating the present, protecting the future
Neil Stephens *, Paul Atkinson * and Peter Glasner *
Standardising the Unknown: practicable pluripotency as doable futures
Lena Eriksson * and Andrew Webster *
Articulating Contextualised Knowledge: focus groups and/as public participation?
Inna Kotchetkova, Robert Evans and Susanne Langer
Debates on Human Embryonic Stem Cell Research in Japan: minority voices and their
political amplifiers
Margaret Sleeboom-Faulkner *
Further details available here - pdf
---
29 November 2007
Nature journal says research on human embryonic stem cells must go on....
Despite two labs now successfully differentiating adult stem cells (see news from 21 November), embryonic stem cell work needs to continue inorder to fully understand the mechanisms. To read the full article go to
www.bionews.org.uk/new.lasso?storyid=3654
---
21 November 2007
Two labs turn adult stem cells into brain or heart cells
for the first time two labs have independantly managed to differentiate adult stem cells - a breakthrough which might lead to a lowering of dependancy on the controvertial use of embryonic stem cells. To read the full article go to
news.independent.co.uk/sci_tech/article3179631.ece
---
9 October 2007
Government publish response to Scrutiny Committee report on Human Tissue and Embryos bill
The UK government has paved the way ahead for the Human Tissue and Embryos
(HTE) Bill in its response to the Bill Scrutiny Committee, which was
released today.
Several consessions were made including the rejection of plans to merge the current regulator, the Human Fertilisation and Embryology Authority (HFEA), with the Human Tissue Authority, to form a new Regulatory Authority for Tissue and Embryos (RATE).
To see the full response go to the Department of Health website - here
---
3 October 2007
Launch of Stem Cells for Safer Medicines Limited

SC4SM

For the press release visit here - pdf
For a list of Questions and Answers here - pdf
---
10 September 2007
The HFEA'S 'Cybrid Embryo' decision is good news for patients
The UK 's Human Fertilisation and Embryology Authority (HFEA) has agreed in principle to allow the creation of embryos that contain both human and animal material. The HFEA's decision follows a public consultation, which found that 61 per cent of around 2000 respondents agreed with the research, if it might improve understanding of diseases, while a quarter opposed it.
The HFEA launched its consultation earlier this year, after considering applications from two research teams who want to use cow or rabbit eggs to generate ES cells. The two groups, lead by Dr Stephen Minger, of King's College London, and Dr Lyle Armstrong, of the University of Newcastle, are now expected to be granted licences to carry out their work.
The scientists want to use enucleated animal eggs - those from which the nucleus, containing the vast majority of an egg's genetic material, has been removed. Genetic material from human patients could then be added to these empty eggs, and the resulting embryos used to create ES cells that are virtually human. The scientists hope that this approach will overcome the lack of human eggs available for such research, which offers hope for understanding and treating serious illnesses such as diabetes and Parkinson's disease.
For the full article by Dr Jess Buxton, please visit the BioNews website
---
17 August 2007
Obituary: Anne McLaren
by Roger A. Pedersen and Brian Salter
The July 7 automobile accident that claimed the lives of Anne McLaren and her former husband, Donald Michie, marked the end of a 5 decades long era that gave birth to the fields of mammalian reproductive genetics and stem cell biology. Anne McLaren made pioneering contributions to two major pillars of both fields: mammalian embryonic development and the ethical implications of embryo research.
To see the full transcript please visit the Stem Cell journal website - here
---
2 August 2007
UK National Stem Cell Network announces first national research conference
The UK National Stem Cell Network (UKNSCN) has today announced that its first national research conference will be held at the Edinburgh Conference Centre at Heriot-Watt University, 9-11 April 2008.
Over 300 delegates are expected to congregate in Edinburgh to hear UK leaders in stem cell science present the latest stem cell research highlights and findings. High profile international stem cell researchers will be invited to deliver keynote speeches at the conference. The conference will represent the diversity and quality of stem cell research in the UK, with a focus on up and coming young investigators.
The conference will become an annual feature of the scientific calendar, visiting a different UK centre of excellence in stem cell science each year. It will not only be an outstanding opportunity to learn about the latest advances, but will also function as a unique forum for developing improved co-ordination of research efforts in this strategically important field for the UK.
Lord Naren Patel, chair of the UKNSCN Steering Committee, said: "The inaugural national research conference of the UKNSCN in 2008 will be a celebration of the best and latest advances in UK stem cell science.
"The 2008 conference will be the starting point to the national research conference becoming an annual fixture in the scientific calendar. The UKNSCN is looking forward to visiting Heriot-Watt University next spring."
Further details will be made available on the UKNSCN website: www.uknscn.org
---
18 May 2007
Government proposes human-animal egg research
After an initial rejection the government now says that scientists should be allowed to create hybrid embryos combining animal eggs with human cells for research.
Full story here - html
---
17 May 2007
LAUNCH OF NEW ESRC BULLETIN ON SOCIAL SCIENCE OF STEM CELL RESEARCH
Bulletin 1 of the SCI is now available - please visit the link in the right-hand column.
---
3 May 2007
House of Lords debate on stem cells
Today Lord Patel lead a debate on Stem Cells in the House of Lords.
He started the debate by giving a brief background to stem cells; their potential future uses; media hype; types of stem cells and the work currently being carried out in theUK and world wide. He expressed his concerns over the apparent lack of commitment through funding from the Government and the need for the UK to remain a world leader by not being constrained by current policy but also to be mindful of public concerns.
For a full transcrip visit the link here - html
---
13 April 2007
Sociology Works its magic on science
Andrew Webster and other members of the ESRC Stem Cell Initiative talk to Rebecca Attwood of the Times Higher Educational Supplement.
For the full article go to - www.york.ac.uk/depts/soci/SocMagic.pdf
The article was written as a follow-up to the SCI's attendance at the 2007 BSA Annual Conference.
SCI ran a stream of papers highlighting recent research findings from projects, fellowships and the Genomics Centres. For a full list of papers please go to www.york.ac.uk/res/sci/events.htm and scrole down to 12th April 2007.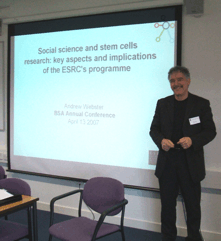 Andrew Webster speaking at the
BSA Annual Conference 2007
---
17 January 2007
Greater transparency urged about the use of aborted foetuses in stem cell research
Press releases were sent out today from the Royal Society, UWE and London Met University based on research from Julie Kent and co-worker's SCI project .
Visit the RS link for further information and the project link for a pdf of the paper. www.rsm.ac.uk/media/pr231.htm
---
15 January 2007
Job Opportunity: Chair in the Sociology of the Life Sciences, University of East Anglia. Closing date 2nd Feb
For an informal discussion contact Professor Brian Salter: e-mail
brian.salter@uea.ac.uk tel: 01603 597135
---
14 December 2006
Brian Salter, SCI Project leader, named as one of the first Steering Committe for the UK National Stem Cell Network
Brian, who is Professor of Biopolitics and Director of the Global
Biopolitics Research Group in the Institute of Health at the University of East Anglia, was appointed a member of the UKNSCN committee along with 7 other members including:
* Professor Sir Martin Evans FRS, University of Cardiff
* Professor Jon Frampton, University of Birmingham
* Dr Chris Mason FRCS, University College London
* Professor Roger Pedersen, University of Cambridge
* Professor Dame Julia Polak FRS, Imperial College London
* Professor Michael Whitaker FIBiol FMedSci, University of
Newcastle
The UKNSCN will be formally launched in early 2007 and has been set up following the recommendations of the 2005 Pattison Report of the UK Stem Cell Initiative.
ALSO....!
First International Stem Cell Research meeting to talk place in London in 2009
The BBSRC, co-ordinators of UKNSCN was successful in its bid to host the first ISSCR meeting in London.
---
Experts Lead Debate On Egg Donation For Stem Cell Research
27 November 2006
Dr Sarah Parry and team lead a public debate in Edinburgh.
Further information here - html
---
Stem Cell
Decision Impacts on ESRC Research
1 August 2006
After a long debate the EU finally decided to continue funding on stem cells. This shows that the work the ESRC Initiative carries out on governance, policy and regulation will have continued future importance in understanding the field of stem cell science.
For the full report visit the link here - html
---
BBSRC Consultation on the establishment of the UK National Stem Cell Co-op
6 June 2006
The SCI network has collectively responded to the consultation. To read their response see here - pdf
---
London Regnerative Medicine Network 13 June Meeting
5 June 2006
Paul Martin, one of our SCI project leaders, will be giving a presentation at this meeting on the 'The commercial development of regenerative medicine'
Further information can be found at www.regenmednetwork.com
---
Report on the East of England Stem Cell Network Symposium.

Stem Cells: From Tissue Engineering and Regenerative Medicine to Policy
9 May 2006
Now available here (html)
---
Phase II funding NOW AVAILABLE!
5 May 2006
Click on Funding Opportunities in the left-hand menu for further details.
---
We've arrived!
Launch of the Social Science Stem Cell Initiative
1 November 2005
The Economic and Social Research Council has funded a new Initiative to the value of £1.7m, over 3 years, to facilitate capacity building and awareness raising amongst the social and related sciences. The Social Science Stem Cell Initiative (SCI) is coordinated by Professor Andrew Webster, and administered by Stephanie Hazel-Gant both formerly managing the ESRC Innovative Health Technologies Programme.
For further information about SCI please click on SCI Home in the left-hand menu.
---