Air Quality Drivers for sub-Saharan Africa (AQD-Nairobi)

AQD-Nairobi aims to identify the drivers of personal and community exposure through measurements of air pollutants and air quality monitoring.
This NERC/SEI funded project is a collaboration between SEI (York and Africa centres) and NERC Centre for Ecology and Hydrology (CEH) Edinburgh who will deploy a variety of sensors to assess the drivers of air quality (AQ) in Nairobi, Kenya.

Nairobi is a city with poor AQ which frequently exceeds limits for particulate matter (PM) set out by the World Health Organisation. Information on the chemically specific drivers of the poor AQ in Nairobi are poorly understood.
CEH has developed low cost low-time resolution air quality monitoring methods: the active low flow sampling method, DEnuder for Long-Term Atmospheric sampling (DELTA) for measurement of inorganic trace gases and speciated aerosols, and a passive sampler method (ALPHAS) for measuring ammonia. Both methods have previously been applied in networks across the UK and Europe but is the first time these instruments have been used in a developing country context.
Over the course of a year it will deploy DELTA samplers at the Kenya Meteorological Department meteorological station and at UN Environment measurement station and 9 ALPHAS sensors across Mukuru, an informal settlement in Nairobi. They will be used to assess the chemical composition of air, which is important for determining mitigation actions.

This data will be complemented with an intensive citizen science pilot study to determine personal exposure to indoor and outdoor PM carried out by trained community members. This builds on the pilot project conducted in Nairobi in 2015 by SEI.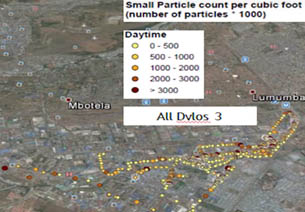 ‌Using citizen science communication techniques, simple maps and AQ driver metrics will be disseminated to the Muungano Wa Wanavijiji/Slum Dwellers International and the Air Quality Network for Kenya stakeholders. Data interpretation and visualisation will be used to deliver information to both individuals and policy-making stakeholders.
---
For more information about this project please contact:
Dr Sarah West


Email: sarah.west@york.ac.uk
Tel: +44 1904 324577