Release of a Special Issue on the Protection of Human Rights Defenders in the Journal of Human Rights Practice
Posted on 6 December 2013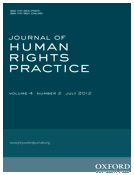 On the occasion of the 15th anniversary of the Declaration on Human Rights Defenders, CAHR staff member Alice Nah – along with James Savage and Danna Ingleton of Amnesty International and Karen Bennett of the Human Rights and Social Justice Research Institute of London Metropolitan University – have co-edited a Special Issue on the Protection of Human Rights Defenders for the Journal of Human Rights Practice.

This ground-breaking Special Issue brings together reflections from practitioners and human rights defenders around the world on the risks involved in human rights work and the strategies and tactics used to protect human rights defenders.

Contributors focus on the situation of human rights defenders in Palestine, Egypt, Colombia, Mexico, Burundi, Uganda, the North Caucasus, Mesoamerica and the East and Horn of Africa. They raise critical questions about the socio-political impact of the use of the term 'human rights defender'; the specific challenges faced by women human rights defenders; the stigmatization and criminalization of defenders; and the effectiveness of mechanisms, institutions and strategies to protect human rights defenders.

In their article, the co-editors draw attention to the need for more research in eight specific areas: the definition and use of the term 'human rights defender'; perceptions of risk, security and protection; culture, gender and diversity (with particular emphasis on protecting women human rights defenders); the use of legal and administrative mechanisms for repression; the effectiveness of protection mechanisms; strategies and tactics for protection; fostering enabling environments for the defense of human rights; and technology and digital security.

Professor Michael O'Flaherty, Director of the Irish Centre for Human Rights and former member of the UN Human Rights Committee commends the release of the Special Issue, saying:

On 26 October 2013, journalist and human rights defender, Mr Mohamed Mohamud Tima'adde died in Medina hospital where he was being treated for multiple gunshot wounds to his neck, stomach, chest and shoulder. According to the NGO Front Line Defenders, he is the 7th journalist killed in Somalia in 2013.

The situation in that country is emblematic of a worldwide assault on those who struggle for human rights. In response, there has been a growth in awareness and understanding of the plight of human rights defenders, coupled with such initiatives as the establishment of the mandate of a UN Special Rapporteur. Until recently, however, academic discourse lagged behind, failing to provide the reflective analysis that would support more effective engagement.

This is why this Special Issue on the Protection of Human Rights Defenders in the Journal of Human Rights Practice is so significant. The various articles, practice notes and essays offer valuable insights and frame key questions. In so doing they constitute an important intellectual contribution for the better protection of human rights defenders everywhere. The Journal is to be congratulated for this initiative.

This Special Issue available for free access for three months, until 28 February 2014.