Valedictory Messages
In summer 2008, the Department of Archaeology at York celebrated its 30th anniversary. Claire McNamara, the Department's administrator, collected these messages from former students and colleagues on this occasion.
Congratulations Martin, + all the best for your retirement. We will try not to break the department while you're away. All the best
Steve Ashby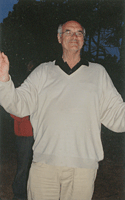 Click to enlarge
I hope you enjoy your new life of leisure! I am sure you'll find something to keep you from getting too bored. I am not sure GSB and BOS meetings are going to be as fun without you, though... Congratulations!
Aleks McClain
Have a fantastic and well-deserved retirement! Congratulations! Thank you for much excellent teaching. The department won't be the same without you. All the best
Hayley Saul
Congratulations Martin. Thank you very much. I am so glad of having met you on Castelseprio. All the best
Stefania Merlo Perring
I remember when I first started at York, the rumour was that only ladies with blonde hair got through the interview for a place (if they had been interviewed with you Martin) - however, this clearly was not the case and I was relieved to see a whole range of interesting and fabulous people to share my time with, doing archaeology. You were a truly flamboyant and fun Head of department - Thank you.
Alexis M. Willey (1993-1997)
Martin - I can't imagine 'retirement' is really in your vocabulary! However, do enjoy it. My abiding memory of Tarbat is of a soggy ceilidh and you calling for 'Flower of Scotland', beer-glass in hand. Many thanks for all your help during my time at York. Best wishes
Abigail (2000/1)
Martin, very best wishes - I'm sure you shall not be bored and will enjoy as ever life with archaeology!
Friederike Hammer
I find you, Martin, the most exciting, cheerful and enthusiastic person in the King's Manor. All the best!
Navin Piplani, Hamlyn Feilden Fellow 2008
Martin - you've been my hero, my friend and the reason that I am still in archaeology (if only just, these days). Thanks for all your help, support and continuing enthusiasm. I know where to find you. Love
Annette Roe
I can't believe you'll actually retire Martin, but enjoy yourself! All the best
Claire C...
Best wishes for your 'retirement' Martin ... hopefully it will provide a period of relief from rebellious slide projectors ...
Kathryn Turner

Click to enlarge
Martin,
Who would have thought when you interviewed me in 1992 (aged 16 years!) that it would be the start of a hero worship that has lasted me all this time. You are one of the main reasons I am an archaeologist and I cannot thank you enough for so many giggles and glasses of whisky! Good luck with Antiquity and the Tarbat write-up. The department will be a worse place for your retirement. With much love
Candy
You may recall our first meeting, I do. Not knowing I would move to York in a few years, I told you (at a reception held at Jorvik) that actually most of bioarchaeological science was in my opinion oversold. Since arriving at York, it has been a great pleasure to work with you, although I don't think I have proved myself wrong. It has been great fun nevertheless, not in small part because of you.
MJC

Click to enlarge
Martin,
Wishing you + your family the very best of things in your 'retirement'. Many, many thanks for making the undergraduate degree what it was, and thanks most of all for spawning the Tarbat Discovery project, which has been a big part of my life - though memories are a bit hazy! All the best my dear
Jools (Juliet Reeves/Giecco)
Martin,
All the best for your 'retirement'. I'm very grateful that you asked me some searching questions in the kitchen one year at Tarbat, which changed my path! Thank you and best wishes for your ongoing projects
Leo O'Brien
Martin,
Retirement? Surely not! Being one of those 'eldest children of ex-hippies' I really feel the York course was created with me in mind! Thank you so much for masterminding an undergraduate course that truly gave me the best possible start to a colourful (if not particularly erudite) archaeological career ... Best wishes to you & all the family
Nellie Finch

Click to enlarge
Fondly remember all the tents blowing down at Sutton Hoo (in '91?) ... and sand in the food! Many best wishes on your retirement
Catherine Rousseau
The scene is the Museum gardens, following Martin's inaugural lecture. A somewhat huffy Eminent Archaeologist comments that he doesn't believe in the Sutton Hoo 'Sand men'. "Carver by name, carver by nature" he harrumphs. Martin is quite unconcerned. "Surely" he says mildly, "you don't credit me with that much imagination?". One simply could not have asked for a more supportive, insightful, constructively eccentric friend and colleague. Thanks, mate
T... (illegible)
Enjoy your retirement Martin - I'm sure you'll end up busier than ever, and still involved with the department. I have so many great memories of my time as a student and of course at Antiquity. Many thanks!
Emily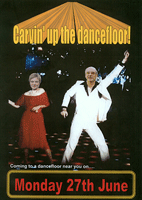 Click to enlarge
Well I never dug at Tarbat, but I still remember your lectures and also your dancing at the end of term parties! I had a wonderful 3 years at the department and much of the atmosphere was attributable to you. Many thanks
Sarah
Enjoy your retirement - enjoy many years of rest & reminiscing
Kate Bowden
'Retirement' and 'archaeology' are two words which don't sound believable together, and especially so for a man like yourself - however, I sincerely hope that you enjoy your time. All the best,
Mark R...
Best wishes on your retirement. I went to Sutton Hoo for the first time this last year and was very impressed - great to hear your voice coming through the headsets! You have been a true ambassador for York archaeology. Best wishes
Helena Carr
Martin, all the very best for your future retirement. It was a wonderful 3 years as an archaeology student at York, I really enjoyed your lectures - thank you
Wendy Lloyd-Sweet
Ciao Martin
I do thank you for the inspiration and enthusiasm I have learned during the years I have worked on your projects. Good luck for the future
Gigi
Dear Martin,
It's been a long time since I first turned up (late) to your lecture in my first year. I spent many a time in my degree wondering what it was all about! From the time I turned up late for Sutton Hoo to the end of my days at FAS I must have raised an eyebrow at least. Best wishes for your retirement. You have taught me more than you will ever know and I thank you dearly for it. Keep the faith and enjoy life. Best wishes
Steve
Dear Martin,
With all best wishes for your retirement (!) Coming to York/Sutton Hoo determined the course of my life for good/bad/indifferent. Thank you for your part in making my life what it is - always interested in what happens above ground and below! Hope you can enjoy the future with your inspirational family, friends and work & all good things to come!
Katie Timms (Lister)
Hi Martin,
You never taught us. but the stories were flowing and we've seen the photos.
Matt, ..., Laura, Dan.
And finally, Jay Carver, who has followed his father's footsteps in archaeology - he is Principal Archaeological Consultant at Scott Wilson Ltd - sends his love and his thoughts on retirement:
Dictionary: 1 a: an act of retiring : the state of being retired b: withdrawal from one's position or occupation or from active working life.
Dad I hear you're retiring but of course we all know that there is no such word to describe yourself! Retiring no! Energy comes to mind, creativity and real enjoyment developing new ways of understanding our planet-earth-history (archaeology is too narrow for your interests) and new ways of translating that knowledge into the present and future, yes. Tirelessly! You have been a constant inspiration although it may not be the way of all of us (!): the early (really early!) riser with tea and toast/cereal (whatever to hand) to hit the keyboard (today, earlier it was paper and pen!) to craft another account, thought, synopsis, synthesis from data wrought with careful method from the ground and archives - to provide a story, an interpretation of social human beings' actions (those you love and admire) for the benefit of future human endeavours - all before most of us are about ready for a day's work and of course after that day then late into the night debating the real meaning of it all! No I can't imagine you'll ever retire from your mission! Only perhaps, after so astonishing a contribution to so many people's personal and professional lives, to be able to expand some of your other 'sideline' interests: Travel! Poetry! Art! Music! Friends! More books! Especially I demand, that soon to be classic 'Field Archaeology'! Xronia Polla; Stο μeλλον;
All my love.
Jay
Back to top