Welcome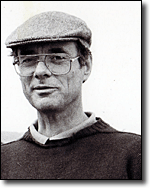 These webpages are dedicated to MARTIN CARVER. They have been put together by friends and colleagues on the occasion of his retirement from the post of Professor at the Department of Archaeology of the University of York. They come in the form of an electronic scrapbook, illustrating aspects of the career of this ground-breaking field archaeologist, original thinker, generous mentor, inspiring speaker and skilled writer.
The webpages are organised in 5 sections which reflect 5 main areas of interest: towns, field archaeology, Sutton Hoo, Tarbat, teaching at York and editing Antiquity. On each page will be found images and short notes as well as references to Martin's publications in each of these sectors.
Martin's curriculum vitae gives the bare bones of a remarkable career, fleshed out in the appreciations left on these pages. They reveal a true champion of archaeology, always ready to embrace new ideas and generous with his own. He has encouraged countless students at York and in the field. He is also very good company, as the valedictory messages collected from former students show.
Retiring from the Department of Archaeology marks the passage from one phase of Martin's career to another, and the interface is, unsurprisingly, indistinct. We look forward to the next phase, with current and new projects, teaching, talking, editing and writing.
This website is available to download for printing as an Adobe .pdf file:
Contact
M.O.H. Carver
Professor Emeritus, Department of Archaeology, University of York, King's Manor, York YO1 7EP, UK.
Email: martincarver@yahoo.co.uk
Editor, Antiquity, King's Manor, York YO1 7EP, UK. Tel/fax 0044 (0)1904 433994.
Website: http://www.antiquity.ac.uk.
Email: editor@antiquity.ac.uk
Director, Tarbat Discovery Programme, Portmahomack, Easter Ross, Scotland IV20 1RE
Director, Field Archaeology Specialists Ltd, Unit A3, Parkside Commercial Centre, Terry Avenue, York YO23 1JP