Students film interview with Baroness Morris
Posted on 1 December 2011
Students in the second year of our BSc in Film and Television Production programme recently formed the production crew responsible for recording, mixing and editing an interview with Baroness Estelle Morris which will be presented as her Keynote Speech at the Cultural Equalities Now conference, taking place on December 9th at the British Museum.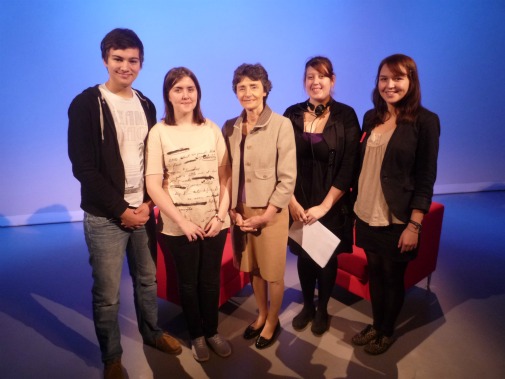 The interview, was the first of its kind to take place in the Department's state-of-the-art Television Studio 2 in conjunction with University of York colleagues from the Institute for The Public Understanding of the Past. The student crew, pictured with Baroness Morris above, included Liam Brady (Camera), Grace Jamieson (Camera), Sara Trzupek (Floor Manager) and Zivile Meskauskaite (Gallery - PA and Graphics) and were supervised by Patrick Titley, Lecturer in Multi-Camera Production, on the Film and Television Production programme. The Department is fortunate to have sophisticated production and post-production facilities combined with strong industry connection which propagate a range of opportunities and events for its students, including auditions, masterclasses and job opportunities.
To find out further information about the undergraduate or postgraduate programmes available in the Department please see the relevant web pages.