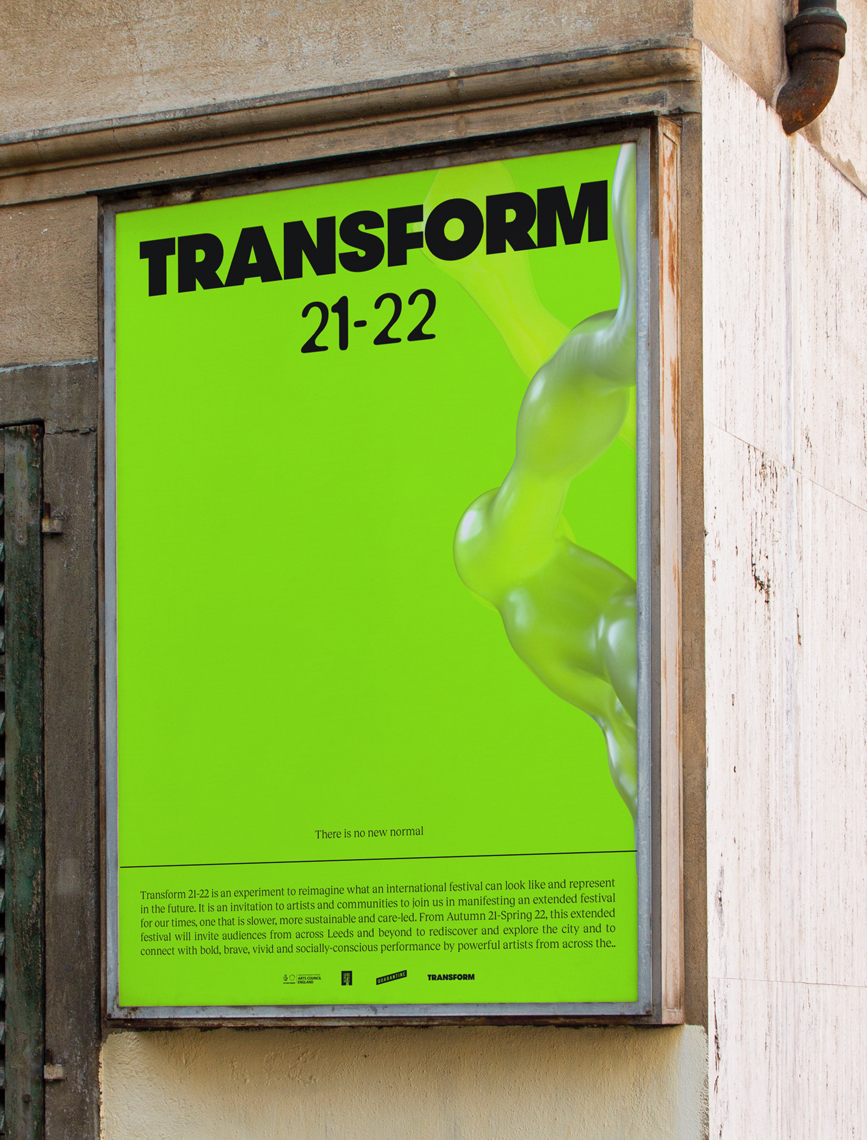 TFTI IN CONVERSATION WITH...Transform Festival
Date and time:

Thursday 27 January 2022, 7.00pm to 8:30 pm

Location:

Scenic Stage Theatre
Admission:

https://tftv.ticketsolve.com/shows/873630790
Event details
We are delighted to bring Transform Festival's Artistic Director, Amy Letman and Producer, Ali Ford to TFTI. Amy and Ali will be speaking about Transform, and sharing their experience of working as creative producers of live performance. Amy Letman was recently featured in The Stage as one of 25 theatremakers to watch out for in 2022 and beyond! Please join us for this careers focused event and bring any queries you may have about working in the theatre production industry, as there will be time for questions.
Discussion and Q&A - THIS EVENT WILL NOW BE IN PERSON
Tickets are available to all TFTI staff and students
About Transform
Transform is an engine room for powerful performance. We create exhilarating international festivals and work year-round to catalyse future-gazing artists and creatives to reimagine what theatre can be. We bring Bold, Brave, Vivid & Socially-Conscious international performance to the Leeds City Region and beyond.
Transform's mission is to shift perceptions of what theatre can look like and represent in the Leeds City Region and across the North. To enable artists and creative people to take their agency to a new level and create remarkable, internationally resonate performance.
Amy Letman (Artistic Director)
Amy is an independent producer and curator based in Leeds. She is Creative Director of Transform, taking responsibility for the organisation artistically and strategically.
Amy was previously Associate Producer at Leeds Playhouse, one of the largest producing theatres in the North of England, for four years. During her time at the Playhouse, she established the artist development programme, produced special projects and shows, and led on Transform as a venue based festival. She left the Playhouse in 2014 to focus on developing Transform as an independent, citywide and international organisation. Amy has curated and produced eight festival editions, alongside curating Spirit of Change for the Barbican, London and a guest programme for Battersea Arts Centre. Her commissioning and production credits include the UK Theatre award winning Three Sisters by RashDash, and the Fringe First award winning The Believers Are But Brothers by Javaad Alipoor. She has participated in the European Festivals Association Atelier for Young Festival Managers, and has been a recipient of the Artists International Development Award on two occasions. Amy is a mentor to a number of artists and producers, and lectures on producing and festival management at University of Leeds and Leeds Beckett University.
Amy originally trained with Fuel, London Artists Projects, HERE Arts Centre (NYC) and studied BA Drama & Theatre Arts at Goldsmiths College, University of London.
Ali Ford (Programmer and Producer)
Ali is Producer at Transform, taking responsibility for the producing and delivery of our projects and festivals.
She is a producer, programmer and practitioner specialising in multi-disciplinary devised work, socially engaged practice and non-traditional, site-responsive experiences. Excited by bold, innovative, politically-charged performance on a local and international level, she is passionate about bringing communities together, developing creative people/projects and reimagining what theatre can look like and who gets to make it.
As an independent producer, Ali has worked with political site-specific theatre company Common Wealth (I Have Met the Enemy (and the enemy is us)), award-winning performance storyteller Debs Newbold (Outrageous Fortune) and the Nesta-awarded 'Democracy Pioneers' TheatreState (Say Yes to Tess), of which she is a Co-Director alongside partner in crime Tess Seddon. Ali was previously Programmer and Producer at Square Chapel Arts Centre (Halifax) where she led on the programme of new work, artist development, co-production and commissioning.
After graduating from the University of Leeds with a Theatre and Performance BA in 2011 and spending the first summer of many at the Edinburgh Festival Fringe, Ali went on to train at the Royal Exchange Theatre in Manchester as a Young Leader, where she gained professional development, expert mentoring and hands-on experience in producing, directing and facilitating.
PLEASE NOTE: We are working hard in covid conditions to reinvigorate TFTI's programme of visiting practitioners, events and masterclasses. Where possible we are trying to make these in person and face to face. Please support our commitment to bringing you the leading industry professionals - if you sign up, please remember to show up! :)