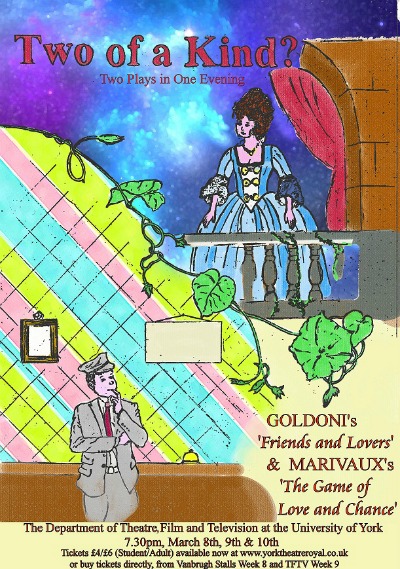 Two of a Kind? Two Plays in One Evening
Date and time:

Friday 9 March 2012, 7.30pm

Location:

The Theatre, Department of Theatre, Film and Television, University of York, Heslington East Campus
Admission:

£6 adults, £4 students & under 16yrs Tickets available from York Theatre Royal www.yorktheatreroyal.co.uk
Event details
Carlo Goldoni's Friends and Lovers and Pierre de Marivaux's The Game of Love and Chance
Friends and Lovers
Set in the heart of Bologna, audiences are welcomed into a space that captures mid eighteenth century Italian culture, traditions and values. The play explores the obstacles that confront true love and how they are managed by those in love. It identifies whether happiness comes to those who are honest, or those who are cunning. Overall questioning whether the right set of lovers end up together? The characters will encourage you to laugh at, pass judgement and reflect upon their actions and decisions.
The Game of Love and Chance
The play appears to be a light and digestible farce with ridiculous situations and equally ridiculous characters. However, all is not as it seems. Beneath the comedy lies a much darker play; a play full of cheating, lying and mischievous game playing. It is those tragic elements though, that help the comdy to be unlocked.
Our production re-houses the action to the lobby of a 1950s English hotel. Servants have become maids and bell-boys, corsets have become swing dresses and devious plans to trick daughters and disguise yourself in order to spy on potential spouses, have stayed just as they are. This production modernises and re-imagines Marivaux's comedy but stays faithful to his detailed, dark and hilarious story.
Tickets are available online from York Theatre Royal.
Tickets will also be sold on Vanbrugh Stalls - Week 8 - Mon, Fri and Sat and Week 9 - Monday 12-2pm and in the TFTV Department Foyer - Week 8 - Tues, Wed, Thurs and Week 9 - Mon - Sat 11-2pm.
Follow the productions on Facebook and Twitter.