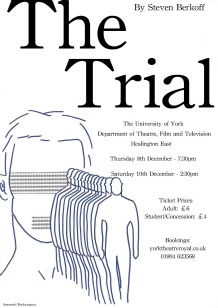 Student Performance of The Trial by Steven Berkoff
Date and time:

Saturday 10 December 2011, 2.30pm

Location:

The Black Box Theatre, Department of Theatre, Film and Television, Heslington East Campus, University of York
Admission:

Tickets are £6 and £4 for students/concessions - York Theatre Royal
Event details
Joseph K is under arrest. What he has been accused of and by whom he does not know. Steven Berkoff's adaptation of a Franz Kafka novel thrusts audiences into the nightmarish world of unjust bureaucracy and an unfair judicial system. K is left to fight his case in the dark as he battles against an ensemble of increasingly grotesque characters. The play follows the psychological and physical journey of K as he enters the surreal world in search of some answers and a way to break the binds of unyielding red tape. The Trial demonstrates why Berkoff is one of the most influential and innovative playwrights of the modern age. Our enthusiastic cast give fresh life to this groundbreaking play, presenting audiences with an exciting revival of a Berkoff classic.
Tickets are available through York Theatre Royal , by telephone 01904 623568 or from the Theatre Royal Box Office (York Theatre Royal, St. Leonard's Place, York, YO1 7HD).
Alternatively, tickets can be purchased in the Department of Theatre, Film and Television on the Heslington East Campus throughout week 9 (please note: there are no cash machines on the Heslington East Campus). Subject to availability, some tickets may be available on the door for cash sales only.
Follow the rehearsals now on Twitter and Facebook.